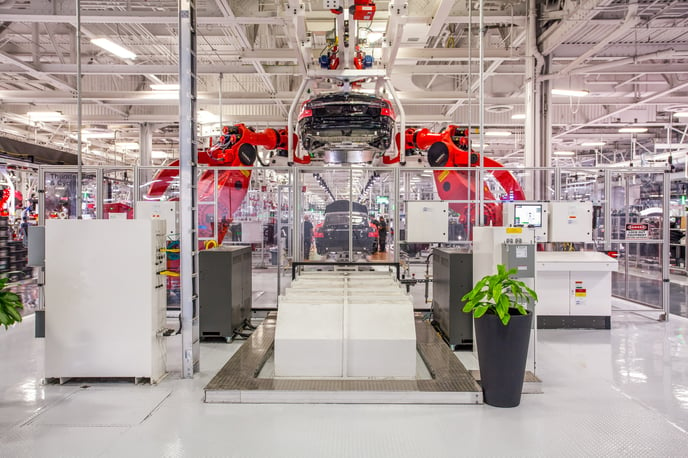 Photo courtesy of Tesla Motors
Though it's not a holiday on par with Halloween or Christmas, we're just days away from National Manufacturing Day (it's October 7th in case you weren't aware). According to the official website, Manufacturing Day is described as "celebration of modern manufacturing meant to inspire the next generation of manufacturers."
It seemed like a good time to share some of the highlights from a list of manufacturing factoids compiled by the National Association of Manufacturers (NAM). Armed with this information, you are sure to dazzle the folks at your next dinner party.
---
Here we go:
1. That's Trillion with a capital T
According to data from the Bureau of Economic Analysis (BEA), manufacturers contributed $2.17 trillion to the U.S. economy in 2015, and accounted for 12.1 percent of GDP.
2. Two times two equals more than four
Manufacturing has the highest multiplier effect of any economic sector, according to NAM's calculation using IMPLAN. For every $1 spent in manufacturing another $1.81 is added to the economy, the highest multiplier effect of any sector. Not only that, but for every one worker hired in manufacturing, four more employees are hired elsewhere.
3. Size surprise
Of the 251,857 firms in the manufacturing sector in 2013, all but 3,702 firms are classified as small (e.g., having less than 500 employees). In fact, says the U.S. Census Bureau, three-quarters of these firms have fewer than 20 employees.
4. Bouncing back
Since the end of the Great Recession, manufacturers have hired more than 800,000 workers. There are 12.3 million manufacturing workers in the United States, accounting for 9 percent of the workforce — that's 7.7 million and 4.6 million workers in durable and nondurable goods manufacturers, respectively.
5. Driving innovation
Manufacturers in the United States perform more than three-quarters of all private-sector R&D in the nation, driving more innovation than any other sector. Manufacturing R&D has risen from $126.2 billion in 2000 to $229.9 billion in 2014. Pharmaceuticals accounted for nearly one-third of all manufacturing R&D, spending $74.9 billion in 2014.
6. Export analysis
The U.S. Commerce Department reports that in 2015, manufacturers in the U.S. exported $634.6 billion in goods to FTA countries, or 48.2 percent of the total.
7. More than a living wage
In 2014, the average manufacturing worker in the United States earned $79,553 annually, including pay and benefits. The average worker in all industries earned $64,204. Additionally, manufacturers have one of the highest percentages of workers who are eligible for health benefits provided by their employer. 92 percent of manufacturing employees were eligible for health insurance benefits in 2015, according to the Kaiser Family Foundation.
---
Not to get too corny, but since its founding, the U.S. has always been a nation of builders. Innovating, designing and manufacturing are in our national DNA. At East West Manufacturing we support the National Manufacturing Day inititative that champions the work of those engaged in making things, while introducing the next generation to this vital industry.
---