Are you a fan of podcasts? I am. I love hearing experts share the who/what/where/when/how of their field. I've always heard that you learn something new every day. With podcasts, that's certainly true.
"Podcasts were created in direct response to our à la carte, on-demand lifestyles," wrote Laura Jane Standley on The Timbre website in 2015. "They are one part of the shift in entertainment our smartphones, social media, and global living have inspired. They are the part that doesn't adhere to traditional notions of time and space. Podcasts are built for highly specific groups of people."
That includes people in manufacturing. A simple Google search led me to a wealth of podcasts that touch on manufacturing techniques, philosophies, and stories of success and failure. There are podcasts devoted to the topic of supply chain and entrepreneurship. There are so many podcasts that this list will only be a jumping off point. I hope you'll use the comments space to let me know of other podcasts that you enjoy on the industry topics that matter most to you.
Happy listening!
"A podcast dedicated to and created for metalworking professionals. Our mission: educate, enlighten and empower our listeners for professional growth."
Follow on Twitter @Making_Chips
"We are the premier source for news and technical info about advanced manufacturing, and the media arm of the Society of Manufacturing Engineers (SME @SME_MFG)."
Follow on Twitter @MfgEngNews
"Manufacturing Talk Radio is a weekly live Internet Talk Radio show broadcast to manufacturers of all sizes across America. Show host, Lew Weiss, and co-host, Tim Grady, present breaking news and tackle business trends and economic forecasts in manufacturing for small, medium and large manufacturers across America. 'Putting the cool back in manufacturing'"
Follow on Twitter @MFGTalkRadio
"The Advanced Manufacturing Podcast (AMP) is a regularly published podcast for the manufacturing industry. Each episode will feature some of the biggest rockstars in manufacturing and related fields. New technology, processes, ideas, and approaches, are just the surface of what we'll cover in each episode."
"How I Built This is a podcast about innovators, entrepreneurs, and idealists, and the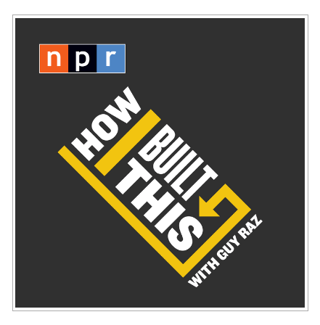 stories behind the movements they built. Each episode is a narrative journey marked by triumphs, failures, serendipity and insight — told by the founders of some of the world's best known companies and brands. If you've ever built something from nothing, something you really care about — or even just dream about it." — hosted by Guy Raz @guyraz.
Follow on Twitter @HowIBuiltThis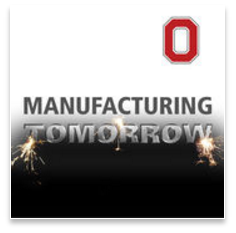 "Manufacturing Tomorrow is a podcast series brought to you by the Ohio Manufacturing Institute at The Ohio State University. Featuring the perspectives of manufacturing leaders, we focus on the advanced manufacturing innovations, solutions and partnerships that exist in our region now and that will propel industry in the future."
"Supply Chain Insights will keep you updated on our latest research reports and

infographics, webinars and podcasts, survey and training opportunities, and our annual Supply Chain Insights Global Summit."
Follow on Twitter @SCInsightsLLC

"Do you have the next big idea, but are not sure how to launch it? Or do you have a small

business and want to take it to the next level? Welcome to the Surf Goggles Chronicles – a bipolar business roller coaster. From concept to market, through horror and success learn how Kurtis and Jon launched Kurtis Eyewear from their garage to 65 countries worldwide. From a prototype of tin foil and rubber bands, learn how these 2 guys navigated patents, trademarks, sourcing, manufacturing, e-commerce and worldwide sales. Plus learn from their interviews with entrepreneurs, business owners, best selling authors and brand creators so you can avoid the horror and achieve success by learning from their adventures."
Follow on Twitter @SurfGoggles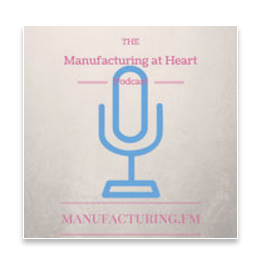 "A weekly podcast which brings together manufacturing stories from across Europe. The show interviews CEOs, Ops People, Innovators, Academics and Journalists alike who all have one thing in common – they have Manufacturing at Heart!"
Follow on Twitter @MFGatHEART
If you like podcasts, you might also like TED talks. Check out these posts for TED talks about manufacturing:
Looking for a contract manufacturing partner but not sure about what to do next? Download our free guide to discover your next step!