If you do business in China, taking note of Chinese holidays is a must. While most American holidays are a single day, some Chinese holidays last one week or more. Plan your trips and meetings around major holidays like Chinese New Year (CNY) and Golden Week, during which business shuts down and traveling becomes a nightmare. If you will be in China leading up to CNY or Golden Week, bringing appropriate gifts to meetings would be appreciated.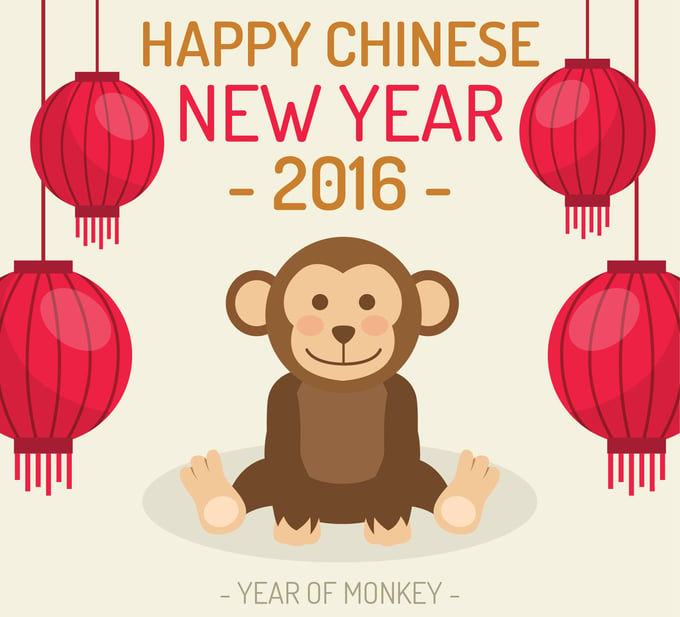 Photo Source
Note: The dates listed below are the official China holiday dates. Closures may vary from business to business.
Chinese Holidays 2016
New Year |
January 1 - 3
You're probably familiar with Chinese New Year, which takes place anywhere from mid-January to mid-February depending on the lunar calendar, but the Chinese celebrate the traditional New Year as well. Expect business closures and fireworks displays as you would see elsewhere.
Chinese New Year |
February 7 - 13
Chinese New Year (also called Lunar New Year or Spring Festival) goes mostly unnoticed here in the US, but there is a very good reason you should pay close attention to, and plan for, the most important (and longest) traditional Chinese holiday of the year.
Celebrations last two full weeks, kicking off on Chinese New Year's Eve and lasting until the Lantern Festival on the 15th day of the new year. During the weeks leading up to CNY, millions of migrant workers from all over China begin making the long journey home to celebrate the new year with their families. For some, this is the first time in a year or more that they have been able to return to the rural villages where they grew up. This chaotic rush of travel (called Chunyun in Chinese) is the largest annual human migration in the world.
Business shuts down completely during Chinese New Year, so expect your calls and emails to go unanswered and your shipments to sit on the docks. Failing to plan for delays caused by CNY can have detrimental effects.
Download our FREE CNY guide here: Ultimate Planning Guide for Chinese New Year 2016: 10 Tips to Keep Your Supply Chain on Track
Tomb-Sweeping Day (Qingming Festival) |
April 2 - 4
Tomb-Sweeping Day (also known as Qingming or Pure Brightness Festival), is one of the Chinese 24 Solar Terms. After this date, temperatures rise and rainfall increases, which makes it a key time for plowing and sowing. In addition to its agricultural significance, it is also a day to pay respect to the dead.
Labor Day |
May 1 - 3
Labor Day (also called May Day), is China's celebration of International Workers' Day and offers time off for travel and rest. China established the holiday in 1949.
Dragon Boat Festival |
June 9 - 11
The Dragon Boat Festival (Duanwu) has been celebrated in China for more than 2,000 years and commemorates the poet Qu Yuan (340-278 BC) who served as the king's advisor in the state of Chu during the Warring States period. Following Qu Yuan's advice to ally with another city, he was accused of treason and exiled. During his exile, Qu Yuan wrote patriotic poems that earned him the love and respect of the Chu people. Upon hearing of his city's defeat in the war, Qu Yuan took his own life, and the Chu people rowed down the river looking for his body, which was never found. Their rowing evolved into the Dragon Boat Festival. You can read about common festival traditions here.
Mid-Autumn Festival |
September 15 - 17
The Mid-Autumn (or Moon) Festival is the second largest celebration in China after Chinese New Year. The festival takes place mid-season, when the moon is brightest, and has been celebrated since the Zhou Dynasty (1046-256 BC). The ancient Chinese recognized a close relationship between the moon phases, seasonal changes and agriculture. To show their appreciation to the moon and honor a bountiful harvest, the people would offer sacrifices to the moon in the fall. This is how the Mid-Autumn Festival came to be.
National Day / Golden Week |
October 1 - 7
National Day is held annually on October 1 to celebrate the founding of People's Republic of China. The holiday extends for an entire week, known as Golden Week, until October 7. Lots of traveling is common during this period, and businesses are usually closed all week.
Take our advice and plan business and trips around these major Chinese holidays. Slowdowns are unavoidable, but planning for them will make a significant difference for you and your customers.
12 Tips for Mastering Chinese Business Etiquette
Can a Contract Manufacaturer Help with Intellectual Property Protection in China?
3 Quick Ways to Fail Your Made in China, in a Hurry!