Have you ever wondered when a shipment is going to arrive or how you could get a packing list for a container that is about to deliver? Have you ever wondered what an item carton quantity is and its export carton size and weight? Have you ever needed a copy of an Order Confirmation or needed to print out an invoice? The East West Manufacturing Customer Portal has all of this information available to you without leaving your desk or even making a phone call and it's as easy as logging into Facebook. With this secure website you can view a wide range of reports specific to your company.
A few examples of the reports the East West Customer Portal offers:
Open Order Detail – Shows the customer their open orders and their status either unconfirmed, on-the-water, in-the-air, or in production along with other information about your recent orders. There are several filtering options and links to our freight forwarders to check exactly where your containers are.

Open Order Summary – is just that, a summary of all open orders by Customer PO Number with Arrive Customer Dates. When an order is confirmed the Customer Requested Date will also display.

Order History - is a history of orders placed with in the current year and 2 years previous. This information can be helpful if you want to order the exact same container quantities from a past order.

Aging Report – Displays all invoicing information for current open orders.
Item Information – Shows all information pertaining to our items. For example: Item Number, Description, Project, UOM, Pricing, Status, Carton Quantity, Carton Length (cm), Carton Width (cm), Carton Height (cm), Gross Weight (kg), and Estimated Freight and Duty.
Shipment Detail – Displays shipping information, such as shipment ID and container numbers. You can click on these links and they will take you to a digital packing list. You have the option to simply view them on your screen, as well as the ability to print out a hard copy. You can also go to our freight forwarders websites to track exactly where your container is; just follow the instructions on the top of the web page.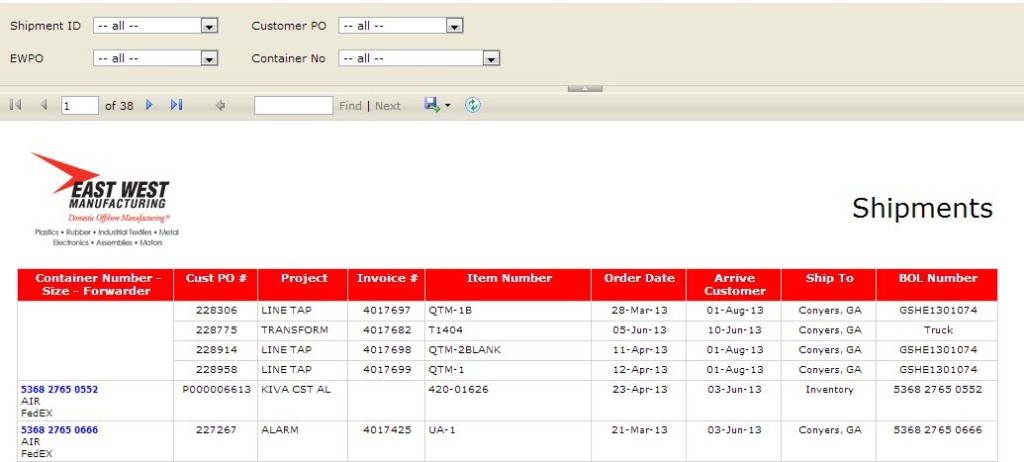 In-Transit Container Summary – Is a basic summary of your containers. It includes who the freight forwarder is, the FOB date, the Arrive Customer Date, and where it is being shipped to. You can also get your container packing list from this report by clicking on the blue container number.

EW Information – Displays valuable information about upcoming events like Chinese New Year 2013 and how to plan for it. Please check this section often as it frequently changes, giving you the most up-to-date information possible.
East West Manufacturing offers our customers several useful tools in addition to the Customer Portal. Check out our Customer Tools Webpage for access to your Container Wizard account as well as monthly updated raw material pricing. Don't have a login account for your customer portal at East West? Contact us today and we'll get you all set up. East West Manufacturing offers exemplary customer support and if you need help navigating through your own customer portal, one of our Customer Service Representatives will be happy to set up a phone call to walk you through.
404.252.9441 | www.ewmfg.com | info@ewmfg.com