Becoming familiar with the driving forces behind less-than-truckload (LTL) freight rates will not only help you set reasonable expectations – you'll actually be able to anticipate and project your shipping costs better than before. While full-truckload (FTL) shipments are usually rated on a per-mile basis, LTL rates are driven by a slew of factors that can be difficult to digest if you're new to the shipping world.
The good folks over at Cerasis outlined 10 factors that affect LTL freight rates. Below we've taken 8 factors from their list and added our own insights. Continue reading to get a better grasp on what exactly makes up your freight rates.
Photo Source
8 LTL Freight Rate Determining Factors
1

Weight
Weight is always the starting point when gathering information for a freight quote. You may think this is a no-brainer – the heavier the shipment, the more it will cost to ship! What you may not realize is that price breaks will be your best friend. In a nut shell, the more a shipment weighs, the less you pay per hundred pounds. So, although the total shipment cost increases, the freight cost per pound actually decreases. LTL shipments usually weigh between 151 and 20,000 pounds.
Tip: Ask your carrier where their price breaks fall – it might make sense to hold your goods until you have slightly more to ship to take advantage of a discounted rate.
2

Density
Alright, here's where the math kicks in. To receive an accurate less-than-truckload freight quote, you must classify your freight. And to classify your freight, you first need to calculate the shipment's density. Density is based on the shipment's dimensions and weight.
To calculate density, divide the total weight of the shipment by the total cubic feet.
Step 1: Measure the height, width and depth of the shipment in inches
Step 2: Multiply these numbers together to determine the cubic footage
Step 3: Divide the total weight by the total cubic feet OR use the handy calculator tool at freightquote.com to do the work for you.
Once you know the shipment's density, you can determine its freight class.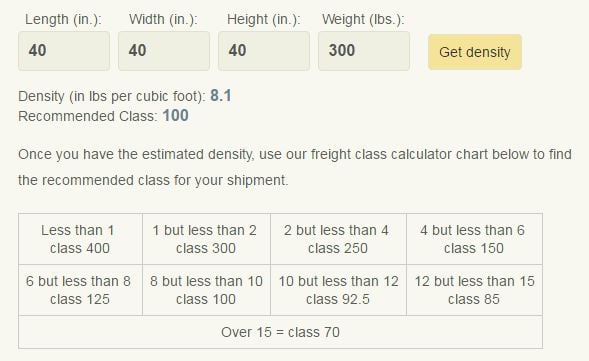 snapshot of density calculator tool // freightquote.com
3

Freight Classification
Freight classification is a major consideration when it comes to calculating less-than-truckload costs. Hailing from the National Motor Freight Classification (NMFC) book published by the National Motor Freight Traffic Association (NMFTA), these classification codes carry a lot of weight (figuratively, at least). The NMFTA outlines a total of 18 unique classes, ranging from 50 to 500.
Classes are assigned based on a shipment's density, total value, freight stowability, handling and liability. Durable (not easily damaged), easy-to-handle freight is assigned a lower class and a lower rate. Larger, more fragile freight is assigned a higher class with a higher rate.
4

Distance
It's no surprise that a longer haul comes at a higher price, but distance is a much more complex consideration than sheer mileage. Most less-than-truckload carriers are regionally based, meaning they only deliver within a certain area of the country.
If you wish to use your favorite local carrier for a long-distance move, the shipment will likely be transferred to a secondary carrier for final delivery. Known as interlining, this practice will increase your shipping tab and also adds a greater level of risk due to increased handling by multiple points of contact.
Now You Know: Interline freight is cargo that moves between different transportation companies on its journey from origin to consignee.
5

CWT Rates
While less-than-truckload rates are determined on a case-by-case basis – literally! – most carriers have pre-established base rates (called CWT rates) that are calculated per hundredweight. These calculations are derived directly from freight classifications. You might be tempted to call CWT rates "fixed rates," but they do fluctuate depending on a carrier's demand at any given time, much like airlplane ticket prices.
Fun fact: In the US, a hundredweight = 100 lbs. and is known as a "short hundredweight." In the UK, however, a hundredweight =112 lbs. and is called a "long hundredweight."
6

Freight All Kinds
Freight all Kinds (FAK) is a pricing mechanism that groups multiple classes of freight into a single class. Basically, a wide range of products that have been assigned to multiple freight classes (e.g., classes 85-125) can be shipped and billed at the same freight class (e.g., class 100).

Not only does FAK offer immense cost savings for the shipper – it also helps the carrier streamline transactions and eliminate billing discrepancies for companies that ship a multitude of different products. This type of agreement also encourages continued business between shipper and carrier.
Read more: Does a FAK Strategy Help or Hurt You?
7
Discounts
C'mon, who doesn't love a discount? Sometimes we're able to negotiate our way to a better deal, but oftentimes we're just not a big enough force to get the sort of break we need. This is where a logistics 3PL comes in handy. You're more likely to strike a deal when you have familiarity, repeat business and a good reputation on your side.
Cerasis estimates that a 3PL or large shiper "can save an extra 18 to 25% off already heavily discounted freight rates if they routinely make multiple shipments to multiple locations and work with numerous freight carriers."
Watch this: TEDx Talk - The Art of Negotiation | Maria Ploumaki
8
Surcharges
Additional fees, also called "accessorial charges," may be included if you request extra services that aren't typically included in the base freight price. According to Cerasis, the most common accessorial fees are fuel surcharges, which tend to be tacked on to every shipment these days. Other examples include palletizing, shrinkwrapping, inside delivery and lift gate service.
Tip: If you notice certain surcharges becoming the norm for your moves, negotiate with your carrier to get these fees lowered to a flat rate per move, or waived entirely.
Suggested Reading:
A Beginner's Guide to ICC Incoterms 2010
Can Expedited Shipping Be a Strategic Supply Chain Solution?
Best Expedited Shipping Options from Asia to the US