The morning of Friday, December 14th, started out just like any other normal Friday at East West Manufacturing, although a Quarterly Review meeting was on the schedule for the entire staff. As the East West team gathered in the conference room, Jeff, EVP, noted that Scott, CEO, was running a little late. Jeff began to hand out a list of top ten goals for 2012 to review when not 5 minutes later, Scott walks through the door dressed as Santa!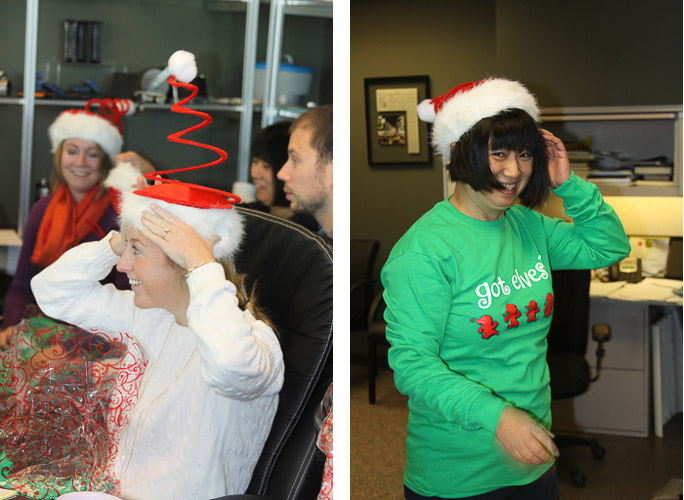 Scott apologized for being late due to his "other Santa duties" and sat down in front of a shocked staff. Scott proceeded to explain that one of the goals for 2012 was "to have more fun" and that's exactly what was planned for the day! Scott informed the team that there was a bus waiting outside that was going to take the staff shopping to nearby stores to purchase items for two charities and a special local refugee family. After shopping and lunch, the East West team would drop off the gifts to the charities and family, and then end the evening at Twain's, a billiards and restaurant. Scott opened his Santa bag and handed out specially designed shirts for the team and springy Santa hats! It was time for the East West elves to get to work!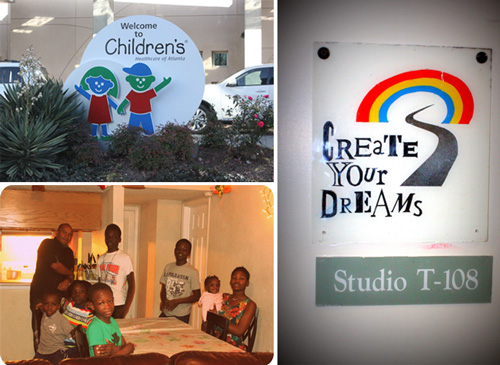 The two charities that were chosen for our adventure were Children's Healthcare of Atlanta (CHOA) and Create Your Dreams (CYD). Children's Healthcare of Atlanta is a not-for-profit organization that provides specialized care to kids from all walks of life. Create Your Dreams is a wonderful organization that is a long-term, youth enrichment program, dedicated to nurturing the talents and dreams of students living in under-served areas of Northwest Atlanta. Their mission is to keep children in school and graduate with a pathway to college. The special refugee family East West sponsored consisted of 8 children ages 18 months to 16 years old and 2 mothers who came from the Democratic Republic of Congo escaping genocide. A list of needs for each charity and family were divided up among teams and each EW team focused on fulfilling their list of specials wants and important items for the holidays.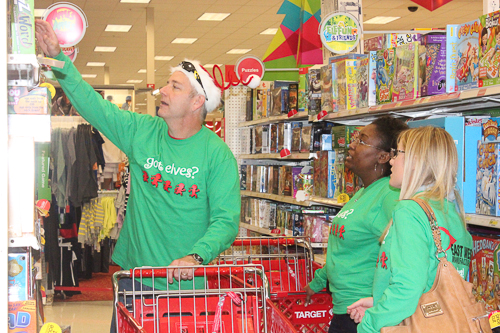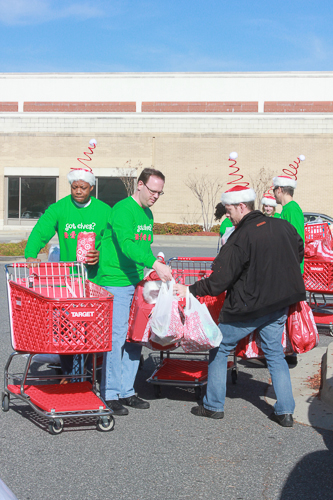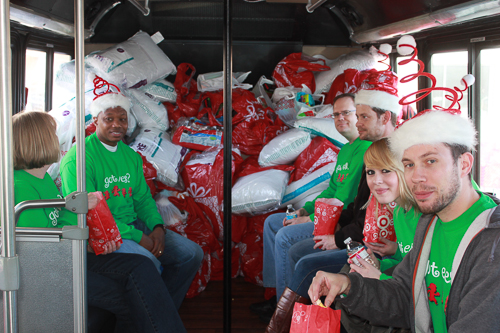 After a shopping excursion at the local Target, Old Navy, and Sports Authority, the East West elves were ready to drop off their donations! Our first stop was Children's Healthcare of Atlanta, followed by Create Your Dreams at the King Plow Arts Center. One of the last stops for the day was to visit the refugee family. Scott dressed back in his Santa suit followed by the East West elves off the bus Santa's sleigh to deliver the presents to the family. It was an incredible experience to watch the children open the gifts of toys, soccer cleats, clothes, and food and to know to that East West could bring such joy to a family in need.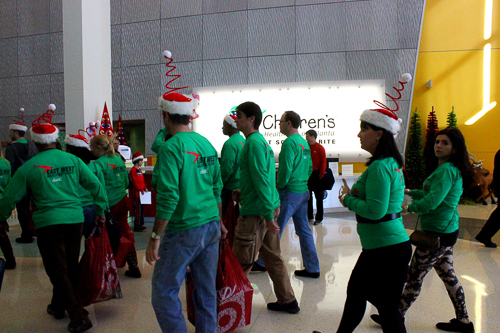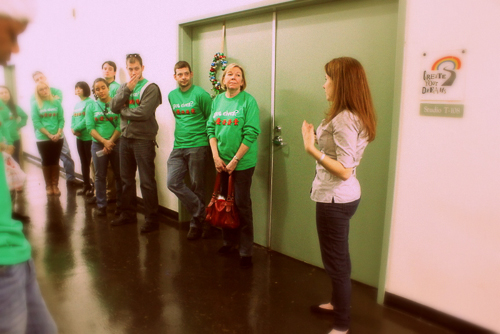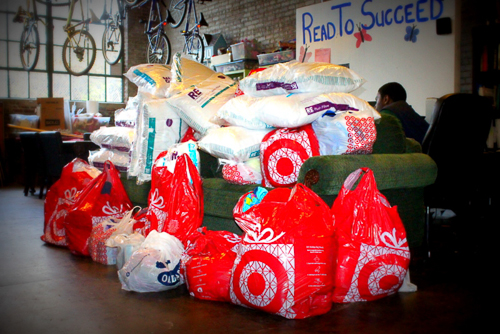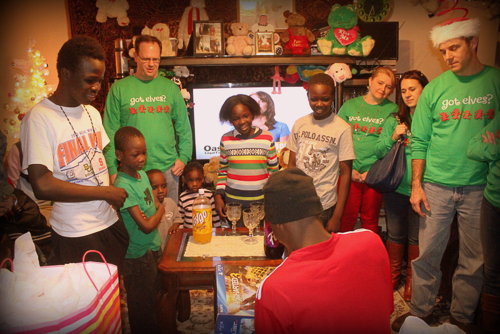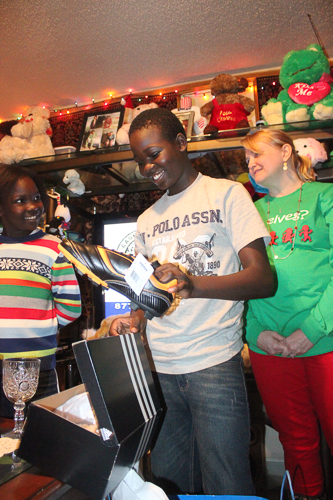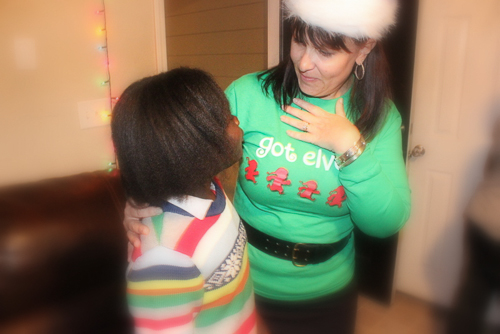 It was finally time to wrap the day up and the East West team hopped back on the bus to have dinner and holiday cheer at Twain's in Decatur, GA. It was a perfect way to end the day with some fun and games. The East West Holiday Party for 2012 was unlike any we've ever had before. Instead of having a formal sit-down dinner to celebrate the holidays, the usual East West party budget was put towards those in need. It was an "Upside Down Christmas" for East West and one that will be remembered for many years. Who knows, it could be the start of a new holiday tradition for East West Manufacturing!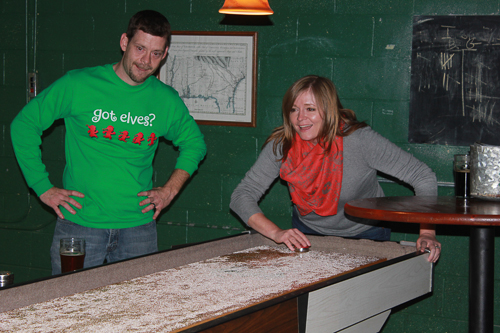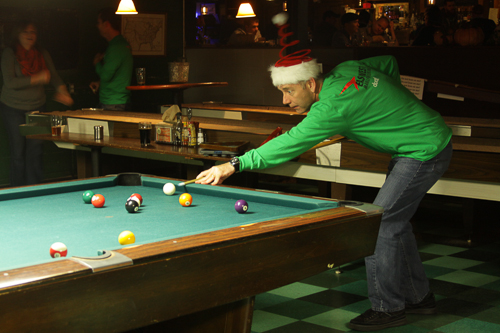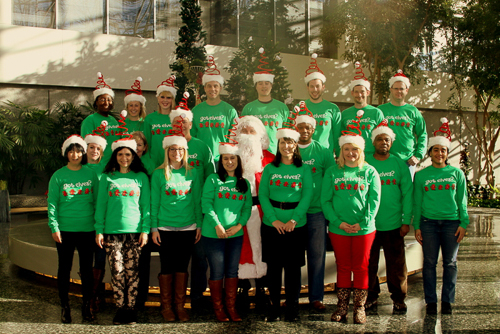 More information on Children's Healthcare of Atlanta and how you can help: Children's Healthcare of Atlanta Donation Site
More information on Create Your Dreams and how to donate: http://createyourdreams.org/