Chinese New Year (CNY) goes mostly unnoticed here in the US, but there is a very good reason you should pay close attention to and plan for the largest Chinese holiday of the year.
Chinese New Year is the most important traditional Chinese holiday. During the weeks surrounding Chinese New Year, workers from all over China travel home to celebrate the lunar New Year with their families. For some, this is the first time in a year or more that they have been able to visit with their families and return to the villages in which they grew up.
If this is your first Chinese New Year then you may be wondering why we are bringing this up now, in September. As you may or may not have heard (and we know there are plenty of horror stories out there), all this travel means that business in China comes to a screeching halt for the durations of CNY. Factories stop producing; ships stop sailing, and most importantly almost all exports from China and the surrounding areas stop altogether.
So what does this mean for you? With a little planning and some help from East West, CNY can be little more than a passing blip on the screen. We have years of experience planning for CNY and know how important it is to eliminate any possible down time.
To make CNY planning a breeze we have developed a simple tool to help you develop a plan: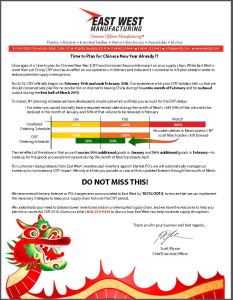 East West understands your need to balance lower inventories and to have access to an uninterrupted supply chain. We have the resources to help you plan for a successful CNY in 2015. Contact us today at 404.252.9441 to see how East West can help you minimize the impact of CNY.
Visit our Chinese New Year webpage for more information: www.ewmfg.com/chinese-new-year