What are Conductive Inks?
When we really get down the meat of it, conductive inks are simply printed products capable of conducting electricity by infusing silver flakes and other conductive metallic materials into the ink itself. While most metal materials maintain a solid state at normal temperatures, infusing liquid inks with flaked or powdered metallic nanoparticles facilitates electrical connections by creating conductive pathways once the ink is printed onto a substrate.
Conductive inks can create electrical conductivity on surfaces in a wide range of applications, and the list is expanding as the technology becomes better understood. A few examples include:
Membrane Switches
Medical Electrodes
Capacitive touch film sensors
Screen Printed Antenna's
In Mold Electronics
E-Textiles
There are five primary types of inks typically used for screen-printed electrodes and biosensors.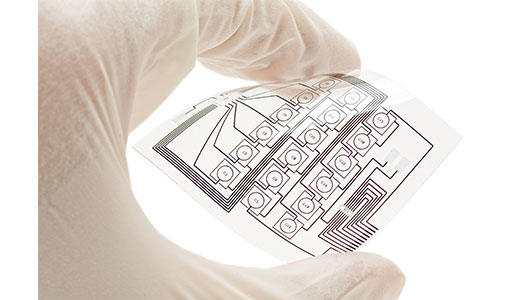 Silver Conductive Ink
Silver conductive inks are still considered the top dog in printed, flexible electronics for many reasons. From a cost perspective, it is less expensive than other materials such as gold which once dominated the printed electronics market. But when we look at silver ink through a performance lens, you'll see this low cost is complimented by high thermal and electrical conductivity. Plus, silver nanoparticles have a low melting point, which is beneficial because when producing thin conductive films because it can be done at a much lower temperature.
Radiolucent Ink
You will find radiolucent inks are much more common in medical devices than other industries. This is because they are permeable to one or more forms of radiation which makes them ideal for facilitating many of the critical functions required. Think: electrodes used in EKG/EEG procedures, or the pads used on AEDs and defibrillators.
Carbon Ink
Carbon inks are exceptionally lubricious, so applications which require thermal stability and low friction are particularly suited for this type of ink. Applications utilizing potentially damaging solutions pair well with carbon's low reactivity to solvents and other chemicals. You may also see times when carbon is overprinted onto silver. This is because silver can be very brittle, and the carbon acts as a scratch resistant barrier.
Zinc Ink
Zinc-based conductive inks are utilized as electron transport layers in printed electronics. They allow processing temperatures as high as 80° C, making them excellent for electron extraction layers in solar cells, as well as other high-temperature conductive printing applications.
Dielectric Ink

Dielectric inks play a critical role in the protection and enhancement of other conductive materials. These inks, which are not conductive, are created through blending existing conductive inks, such as silver, with a dielectric coating designed to create an insulation layer. Take silver inks, for example. They can be made more durable through the application of a dielectric coating. We see dielectric inks frequently used in the creation of flex circuits and membrane switches. You will notice when a dielectric ink is being used on a membrane because of its different color (green and blue are typical).
Conductive Ink Application Solutions
Many industries have begun to see the value of conductive inks for cost reduction in applications that use more expensive conductive metals. Forward-thinking organizations and industry leaders utilize this science every day to create new, beneficial technologies that change the landscape of technology.
If you are unsure what ink systems would be the best choice for your product, your manufacturing partner is your best resource. Start a discussion, and they will be able to provide guidance.