Think eco-friendly and manufacturing don't mix? Think again.
Thanks to a combination of education and consumer demand, more and more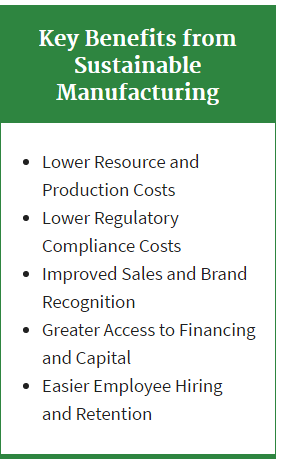 companies are embracing sustainable manufacturing practices. But sustainable manufacturing isn't just about good public relations and building public trust. Companies have discovered they can increase efficiencies and reduce costs as they pinpoint waste in their manufacturing processes. It also puts them on the leading edge when it comes to complying with regulations and other restrictions.
Companies that include sustainability as a strategic pillar in their corporate ethos are finding that the value enhances their global competitiveness. In 2016, Site Selection magazine introduced the Sustainability Rankings, demonstrating the importance that companies are placing on the issue when looking to expand or relocate facilities.
Courtesy of EPA
But achieving sustainable manufacturing shouldn't be viewed as an overlay. Instead, it's more of an overhaul. It starts at the beginning — by designing and producing products that are easy to recycle when they reach the end of their usefulness.
Computer maker Dell Inc. began taking an environmentally intentional approach to product design more than a decade ago. "If you don't think about it at the beginning, with the design, it becomes a lot more complicated later on," Scott O'Connell, Dell's director of environmental affairs, told the Wall Street Journal in 2016.
Think of it as end-of-life planning for your product. When you make it easy for consumers to recycle your product and it's very likely they will.
There are a few items to think about when designing your product to be recycled:
Use materials that are easy to recycle, and make sure they're labeled as such. That single step goes a long way toward the product eventually finding its way to the recycling bin rather than the landfill.
Design with the use of recycled materials in mind. That's the REUSE part of the "Reduce Reuse Recycle" mantra, and it could save you money.
How easy is your product to break apart? The simpler your product the better. Use fewer parts, and try snap fit components rather than using screws, glues or adhesives, which pose challenges for recyclers.
Design your product for repair rather than discard. Can you make it easy to take apart, with pieces that can be replaced? I read about a knife designed to come with two blades so that once the consumer was unable to re-sharpen a blade, they could swap out the dull blade with the sharp one and send the first one back to be professionally sharpened.
If possible, use minimal or no paints or finishes. If you must use a finish or paint, find those that are compatible with recycling.
Don't forget your packaging. How strong does the packaging need to be? Keep it simple, using recycled materials that are also easily recycled whenever possible.
Another thing to consider when thinking about sustainable manufacturing is the waste generated during the manufacturing process itself. Hopefully, by-products can be pushed back into the manufacturing stream. If not, look for eco-friendly ways to recycle any waste material.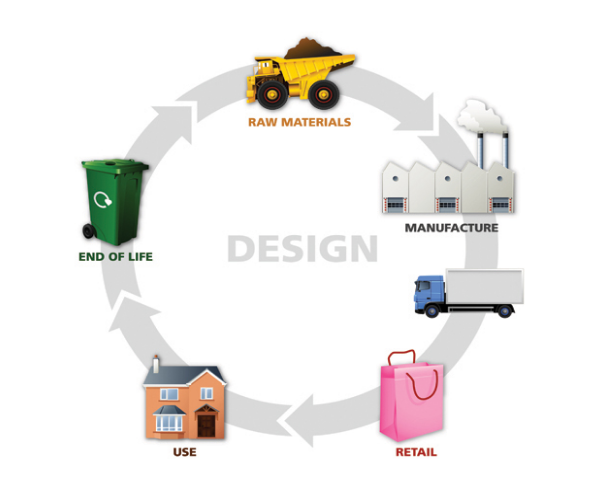 Illustration courtesy of British Plastics Federation (BPF)
One resource you'll want to check out as you embark on designing your product for recycling is the Institute of Scrap Recycling Industries (ISRI). The organization's Design for Recycling® initiative encourages manufacturers to think about the ultimate destiny of their products during the design-stage of a product's development. We also recommend browsing the Environmental Protection Agency (EPA) web page which includes a glossary of terms related to sustainable manufacturing. It's a good starting point and reference. And check out this Design Products for Sustainability webpage from the British Plastics Federation (BPF), with an interesting case study about sustainable material sourcing for coffins. (Piqued your interest, didn't I?)
Not every product can be made with recycled or eco-friendly materials, but as we face a world with diminishing natural resources, its good policy — and smart business — to look at doing everything you can to limit the impact of your product development and manufacturing on the environment.
Read more: