You've done your research and have decided it is time to switch to a new supplier. Maybe you are looking to reduce your risk by moving out of China, or perhaps you'd like to gain a competitive advantage with new pricing, or you're considering the need to diversify your supply chain. Whatever your reason may be, moving production doesn't have to be a headache. To help create a seamless transition, we've outlined several of the crucial steps and questions you'll need to consider before switching suppliers and moving to a new manufacturing location.
First Steps
Visit the New Factory to Audit
Be sure to pay a visit to the new factory and see things with your own eyes. Does the new factory have the capacity to meet your production demands? Take the time to inspect the machinery and other equipment. Ask yourself how your supply chain would look different using the new supplier.
Ask About Quality Processes
Know what quality systems, standards or certifications are in place (ISO, UL, Six Sigma) and if their certifications meet your product requirements. Ask the prospective manufacturer how they handle quality issues. They should be able to walk you through the process, even providing a timeline goal for resolution. Issuing a quality alert to the factory shouldn't take more than 24 hours, and 48 hours to initiate a CAPA. And what's their goal for resolving a CAPA?
Review Contractual Obligations
There's a chance you may have some type of agreement with your current supplier involving components, finished goods, or even inventory. Will you be responsible for purchasing all the components bought to manufacture your product? Will you be able to transfer remaining inventory from your previous supplier to the new one?
TRANSITIONING
Be Aware You'll Need to Retool
This process is not terribly expensive for retooling PCBs, but you won't be able to use the tooling created at your current supplier at the new location. Know how long it will take for the new supplier to build a new tool so you can consider the timeline for production to begin at the new facility.
Packaging May Need to Change
If you're moving your production from one country to another - perhaps from Asia to somewhere nearshore, you may have to consider how the product is packaged and how to best protect your product when shipped in a container or even during air transit. Keep in mind any products that require markings noting the country of origin, such as "Made in China," will need to be altered as well. This may include stamping needs as well as packaging design changes.
Protecting Your IP
You likely have patents and trademarks on the products you've been manufacturing. Don't forget that most of these rights are not internationally protected, so you'll want to get everything squared away prior to starting production. Do some research and work with a reputable law firm who is familiar with the intellectual property protection laws of country you will now be doing business in to ensure your IP is thoroughly protected.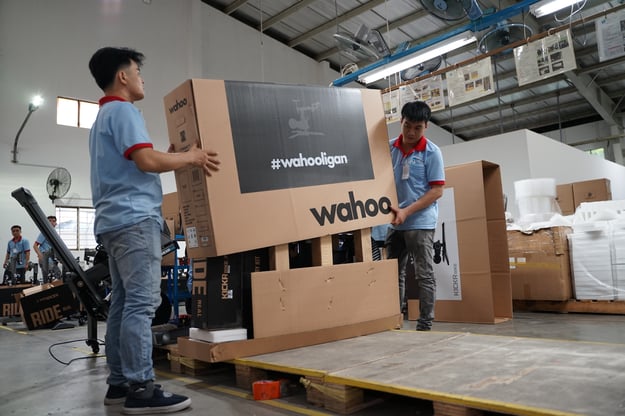 FINAL CONSIDERATIONS
Get Documentation Ready Early
Don't rely on your previous supplier or current manufacturer to hand over the documents for your project. Many times, companies depend on their supplier to create their documentation without realizing they don't own or have possession of the files. You'll want to take pre-emptive measures and put together a comprehensive documentation package containing drawings, test requirements, bill of materials, etc. Don't forget to sign an NDA with a new supplier as well.
CREATE AN INVENTORY BUFFER
Consider creating an inventory buffer to cover the time during the transition. Switching suppliers is not a one-day process and it takes time to get everything into place. Keep a close eye on inventory and safety stock levels so you can continue to meet your customers' demands without sacrificing support. An overlap of 3-6 months of inventory should be sufficient to see you through the changeover.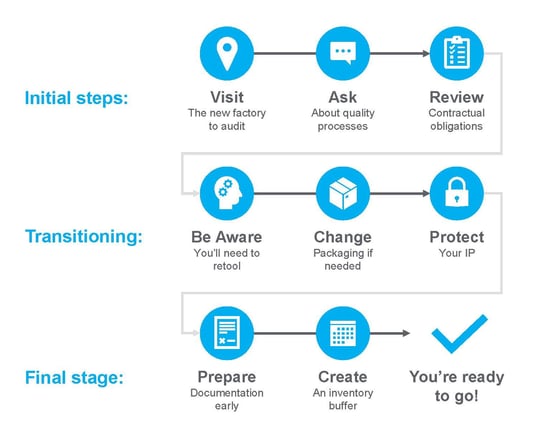 ---
When done right, transitioning to a new supplier should minimize risk and have little impact on production. Making a switch make seem difficult at first but the rewards of improving your supply chain, increasing production efficiencies, and potentially lowering your overall cost can yield better quality, increased ROI, and aid growth for your business.