Consumers are a demanding bunch. They want what they want and they want it now! They also want to know where their product is at all times. Think about it: If you can implant a chip in a dog and know where it is when it runs off, why can't you do the same thing with a load of product on a ship, train or truck? Or even a specific product on a pallet or in a box?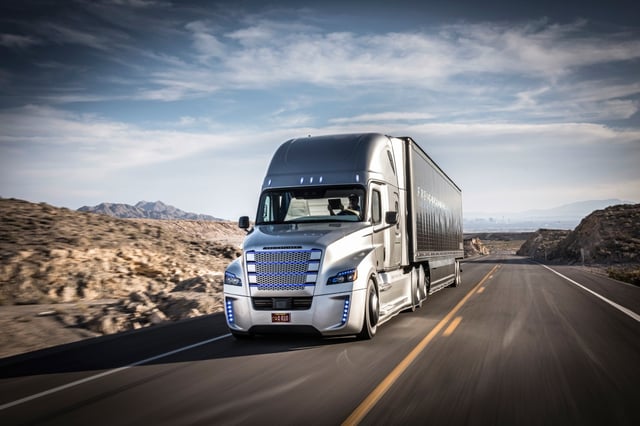 The Freightliner Inspiration Truck on a U.S. Highway near Las Vegas, Nevada. On May 5, 2015, Daimler Trucks introduced the Freightliner Inspiration Truck, the world´s first autonomous truck to be granted a license for road use. (Photo courtesy of Daimler)
Consumers expect real time information/visibility when it comes to their supply chain and logistics. But how do you deliver on the customer's expectations? A couple weeks ago we wrote about disrupters to the supply chain. One of the biggest disrupters is connectivity, also known as the Internet of Things (IoT).
Bringing IoT to bear upon your supply chain will be transformational because it applies real-time data onto factors affecting supply/demand. Improved information translates into better decision-making and greater efficiency. The result? Savings of time and money.
A simple example of leveraging IoT to increase supply chain efficiency is the use of connected products and ordering/reordering software. For instance, when inventory at a customer's warehouse reaches a predetermined level, the product is automatically reordered. The same type of process works for dealing with product performance or defects. Data on the units is collected, analyzed and acted on automatically. Formerly mindless tasks are now performed by computer which also cuts down on inevitable human error.
Similarly, shippers can achieve greater logistical efficiency in meeting customer demands for "more product now" — whether a new order, replenishment or corrective action — by implementing digital freight matching (DFM) software. DFM technology allows shippers to find drivers with less-than-truckload (LTL) freight, matching the equipment, date and routes needed to get their product to the customer. Digital freight matching provides benefits to shippers and drivers in several ways:
DFM → Shippers:
Better rates – technology lowering operating costs for drivers, lower costs passed on to the shipper.

Better tracking – knowing where the delivery is at all times.

No middleman, fewer fees – according to an article in The Economist, brokers often charge as much as 45 percent of the delivery cost.
DFM → Drivers:
Better data, fewer "wasted" trips – allows a driver to know whether he can pick up a load at the other end of his delivery.

Faster payment – delivery confirmations via smartphone.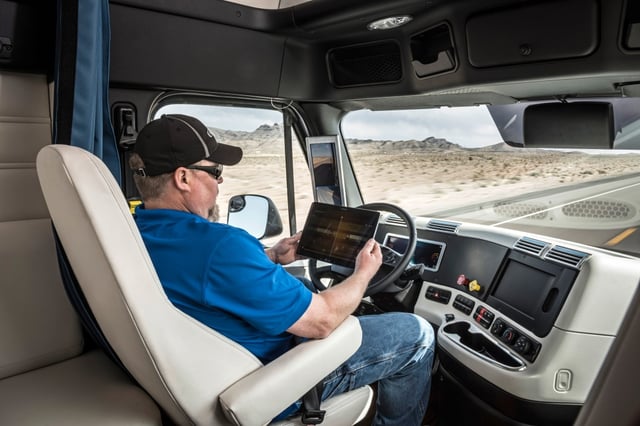 Inside the cabin of Daimler's Freightliner Inspiration truck, the first licensed autonomous truck in the U.S. (Photo courtesy of Daimler)
There is so much written on this subject but one of the most objective and comprehensive reports I've run across is by PwC's Strategy&. Published in September 2016, the report describes the "era of digitized trucking" and how the logistics chain is being transformed.
"This digitized trucking, and the logistics industry of which it is a part, is still at least a decade in the future, but parts of it are already being put in place — thanks largely to two major global trends that are transforming the trucking industry. First, efforts on the part of regulators around the world to manage climate change and to save energy and resources are forcing the industry to develop cleaner, more efficient trucks and optimize the use of heavy vehicles. Second, social and cultural changes are opening up new markets and increasing expectations for the efficiencies to be gained through autonomous vehicles and the digitized supply chain.
The effect of these trends isn't just a matter of how trucks move down the highway, or how the global supply chain is managed. Rather, digitized trucking will transform how virtually every stakeholder in these linked businesses — original equipment manufacturers (OEMs), logistics companies, warehouses, and local delivery businesses — will operate. Some stakeholders will see a wide range of new business models open up, while others will likely struggle as their roles in the logistics chain are diminished."
Here's a terrific graphic to illustrate how connected trucks will operate: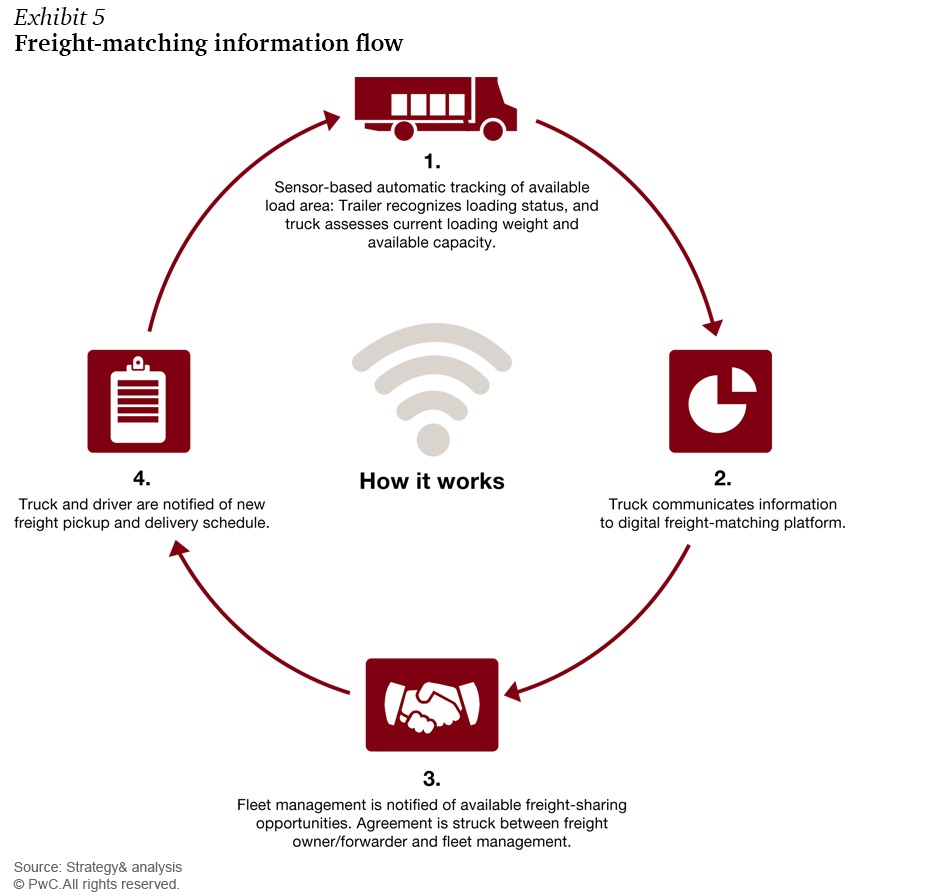 The Strategy& report breaks down the ways the physical trucks themselves will transform the industry, as well as looking at ways the logistics chain is likely to adapt to factors like Smart cities and other disrupters in the next 10 to 15 years.
What does all this mean to you? It's very likely you're going to see changes in the way your suppliers do business in the coming years. If you're a fan of innovation and technology, you're probably pretty jazzed. If you're not, it's time to study up and prepare to embrace the coming change. Read that Strategy& report and talk to your supplier, your shipping and logistics folks. Don't wait for someday. See if you can implement any of those strategies — now. It could save you time and money, and put you out in front of your competitors.
Read more:
5 Tips for Building Supply Chain Redundancy