Lower cost. That's the goal of every sourcing or procurement manager, right? Well, it's certainly one goal. But how is cost measured? How great is a cheaper part or component if you can't get it on time or it isn't up to spec?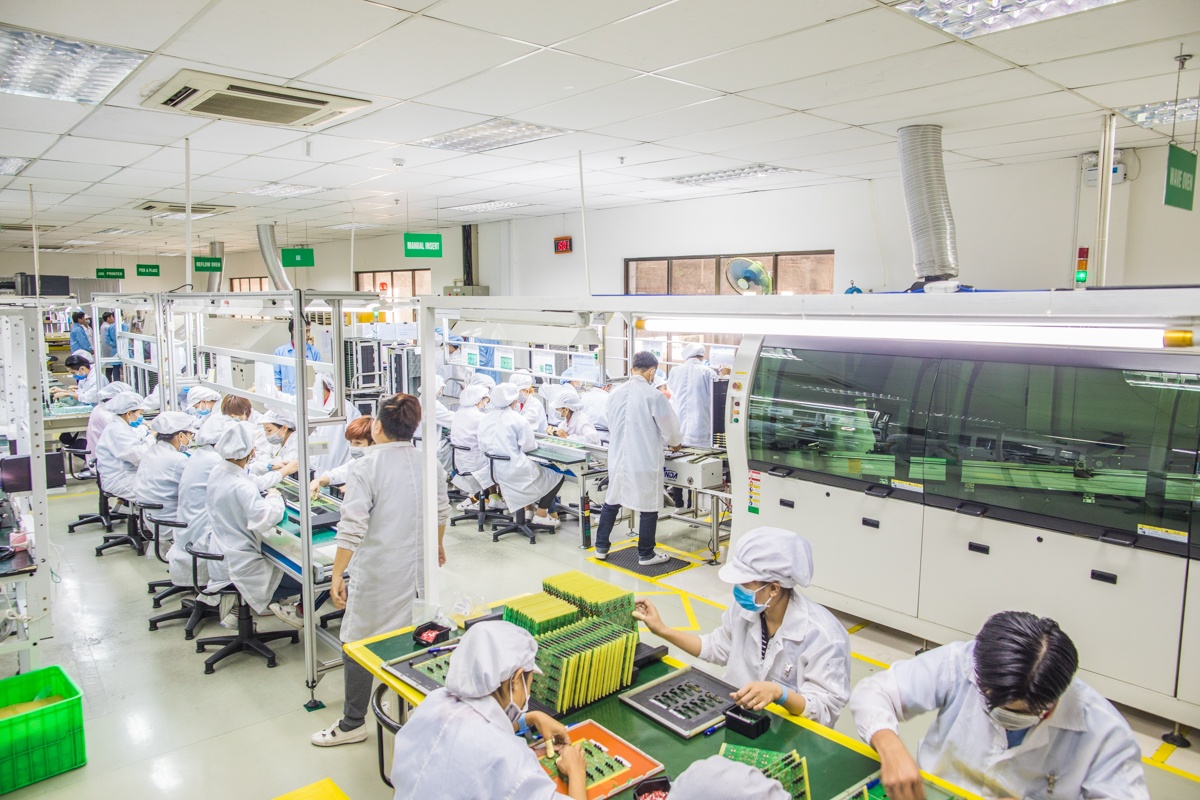 In a 2017 White Paper, "Procurement's Next Frontier," Accenture researchers wrote:
"In the next several years our research suggests the definition of "value" will evolve from a focus exclusively on cost reduction and savings to work that helps differentiate the company strategically. Procurement increasingly will be evaluated by more advanced measures, ones that are intimately linked to the company's strategy and financial metrics."
For this to occur, there is a greater than ever focus on supplier relationships. Questions of quality, trust and transparency become especially vital when lower cost isn't the overarching metric separating good from better from best.
There are few industries feeling the heat more than those engaged in Electronics Manufacturing Services (EMS). The global electronics shortage is just one challenge facing EMS suppliers. More competition, rising costs for materials and labor, and yes, unrealistic customer expectations sometimes have EMS suppliers wishing they could take an extended holiday.
Before you dash off looking for an EMS supplier, do an assessment to find out what you really need.
Figure out these three things:
Understand your core competencies. In other words, what do you do well?
Analyze all the relevant factors, figure out what works best for you — onshore, offshore or a combination of the two.
Having determined the answers to questions one and two, decide what you need from a supplier.
The infographic below has questions or items to consider that will help narrow your focus as you tackle your to-do list.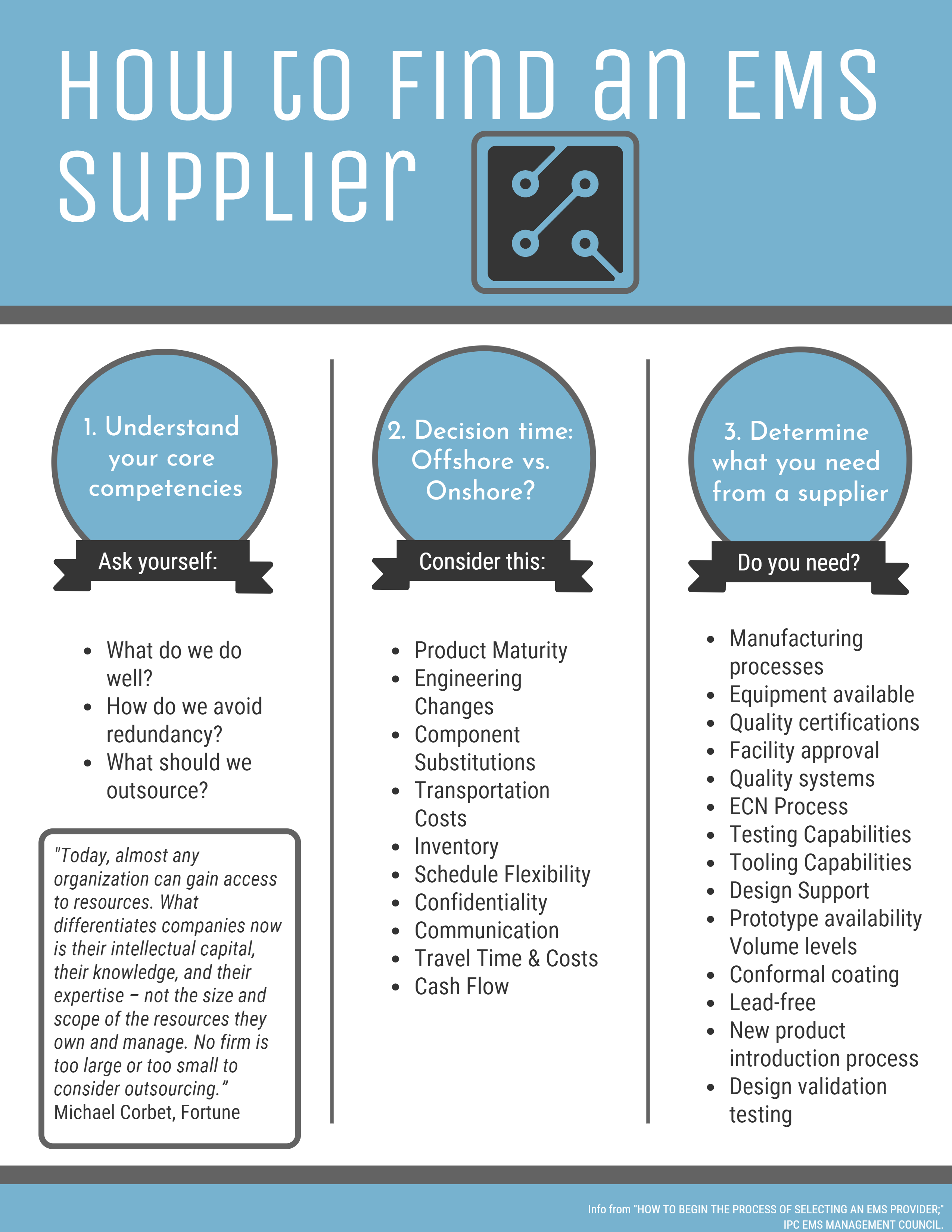 The information in our chart comes from an excellent White Paper prepared in 2005 by the IPC Management Council. It remains a relevant guide to helping find an EMS provider, whether onshore or off.

Many, if not all, of the objections to offshore EMS sourcing can be solved by planning well ahead — providing your manufacturer with

agreements authorizing component or material substitutions

as needed, or

supplying accurate forecasts and purchase agreements

for long lead time components

. A mature product is a better fit for overseas sourcing/manufacturing for a number of reasons as there are fewer changes to be dealt with. Distance can make frequent changes feel insurmountable. They're not, but they can definitely present a challenge.

An experienced EMS supplier will know how to walk you through that decision-making process so you can make the best choices for your business.

Alright, you know what you're looking for. Now how do you find them?
Step 1 - Get online
That's how we find everything these days, right? Really dig in using precise search terms. Does your product have to do with "power conversion" or "power management"? Include those phrases in your search terms so the companies with the specific capabilities you seek will pop to the top. The more precise you can be, the better shot you'll have of finding what you're looking for.
Step 2 - Look for Professional Associations
These organizations represent the very people you want to speak with. Check out the IPC website. They have a list of global electronics industry associations, including links to organizations worldwide.
Step 3 - Ask for Referrals
Talk to your contacts in the industry, especially those you know produce quality products. Ask for names of experienced and reputable EMS suppliers or contract manufacturers. Even if you think it's a long shot, you have nothing to lose by asking — then following up on the recommendation.
Step 4 - Do Your Research
Homework time. Visit the websites of the companies on your list. Do they offer downloads about their products and services? Download their material and give it a read. Most likely you'll get a follow up message or call. If you don't and you're interested, contact them and get the conversation rolling.
Step 5 - Meet & Greet
Whether your supplier is in the same city, country, hemisphere or around the world, you really need to visit the suppliers you're really interested in. Shake hands, look them in the eye, see their facilities. It's not just about making sure they have the capability they say they have. You need to know if you 'click' with these folks.
Questions to consider:
Do they have experience with manufacturing quality products? Especially making the thing you want or something similar.
Can they offer

q

uality engineering support? It's so valuable to have engineers on the staff who know you, know your product and possess the know how to make your product better.
Are they one trick ponies or do they have a breadth of manufacturing capabilities that can help you scale?
Will they be able to do the required testing for the certifications you need? Do they experience jumping through the necessary hoops to achieve UL-certification?
Hopefully you have more than a handful of suppliers with positive answers to the questions you've asked. Gather your information together and think about being in a relationship with that company. You're going to be talking with these folks a lot.
What sort of chemistry do you have with the people you'll talk to on a regular basis?
What is their company culture like?
Are they organized? Do they respond in a reasonable length of time when you contact them?
Do they have good customer-facing processes?
All other things being equal, you want to find a company that meshes well with yours. Remember you're looking for a company that doesn't just provide the lowest price, but one that becomes a strategic partner that provides quality, timeliness and the ability to grow with you.