Every year the US-China Business Council surveys its membership about areas of concern, business performance in China and priority issues.
The most recent findings were released in December 2017 and, to the surprise of no one, an overwhelming number of respondents remained troubled about intellectual property (IP) protection. Though it was number 5 on the list of Top 10 challenges for American companies in China, a whopping 94 percent of members say they are "somewhat" to "very concerned" about IP regulation enforcement.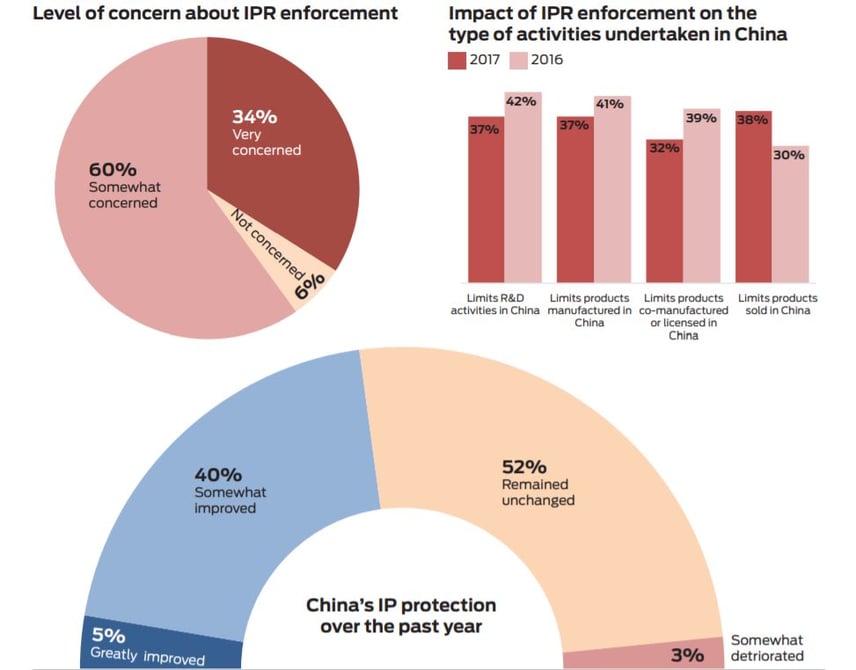 © 2017, US-China Business Council
Additionally, only 40 percent of respondents believed that China's IP protection had 'somewhat improved' over the past year while 52 percent felt the climate was unchanged.
***Click here to check out the complete USCBC 2017 Member Survey***
As the report stated, the perception of lax IP protection leads companies to make business decisions limiting their risk exposure in the market by reducing the types of products sold in China and the R&D they're willing to do there. And these are companies already doing business in China! What are you supposed to think if you're a company looking to scale, knowing that it would be much more cost-effective to go overseas, when you hear stats like that?
For starters, take a deep breath.
Yes, protecting your IP is a critical component of overseas manufacturing. But we've got some thoughts on ways to do it: some of it falling to you, some falling to your contract manufacturer.
You will want to familiarize yourself with the way IP protection is handled in China. Once again, we turn to the USCBC for an excellent and thorough summation of IP Best Practices. This is the part that falls on you. Download this document, study it and hang onto it for future reference.
The top takeaways?
Do your homework.
You need to know the IP assets and IP risks involved.
You need to know what controls are in place and whether they provide enough protection.
It's on you to communicate with your entire team, all stakeholders, about the absolute importance of protecting your intellectual property. Don't be shy. Harp on it constantly.
Document your policies - this is a

critical preventative move

in the event of an infringement or theft.
But, you don't have to go it alone. We've identified five reasons why working with a contract manufacturer with good connections in China, or anywhere overseas, is one of the best ways to protect your intellectual property.
They've built strong relationships with suppliers
Experienced contract manufacturers have invested years in building a robust supplier network. They've done the due diligence. They've cultivated trust. They know their suppliers, and often have their own facilities in country. Your CM has a process of qualifying suppliers. They investigate their customers, the company's history, financial strength and quality management capabilities. This process has a way of uncovering any carelessness a supplier might have with the customer's IP.
They source strategically
Contract manufacturers understand that sourcing components from multiple suppliers reduces the risk of any one facility having exclusive access to your product design or proprietary information. This includes the employee level: not giving any single employee visibility into the entire process limits the opportunity to steal your IP.
They have resources on site
At least one local sourcing agent or engineer should be stationed on site by your contract manufacturer to oversee production and ensure no obvious IP issues. It is HIGHLY recommended that you visit the supplier yourself, if your contract manufacturer permits. You should be able to see where your product is being made and it's always better when you have a personal relationship with your supplier management.
They have experience
Presumably, this is not your contract manufacturer's first rodeo. Trust them to do the job you hired them to do. They know where to look for red flags. They've seen and heard it all, so you don't have to.
They have the legal expertise to protect you
This falls into two categories: contracts and patents/trademarks/copyrights.
Contracts - Your CM will draw up contracts with the suppliers, typically a non-disclosure agreement (NDA), non-circumvent or other types of agreements which will include an IP protection clause. The terms are also included on purchase orders and severe penalties are imposed for any breach of the agreement.
Patents/Trademarks/Copyrights - Proper planning provides protection. (Try saying that three times fast!) But seriously, before beginning production, protect your IP by registering for patents and trademarks in your home country and in the country where your products are made. Chinese courts will back you up if you've done your homework and protected your IP in advance.
Finally, if you didn't click on the link previously, here's another link to the US-China Business Council page on best practice for IP protection. It's thorough. It's comprehensive. It's just like you should be about protecting your intellectual property.
Read more about the ways an experienced contract manufacturer can help enhance your business development: