You're excited! You've placed your first purchase order (PO) with your contract manufacturer. But what happens next?
We're glad you asked that. We have a couple resources to answer your questions about what happens during the purchase order confirmation process and why you might experience delays in confirmation.
First let's look at the process (and by the way, there should be a process). There's an awful lot of information to keep track of and people being people and human and all, stuff can be forgotten, misplaced, entered incorrectly...the list goes on. You want to work with a contract manufacturer that has a good procedure for keeping track and monitoring your purchase order. We've made an example of the purchase order confirmation process and the steps that should be part of it.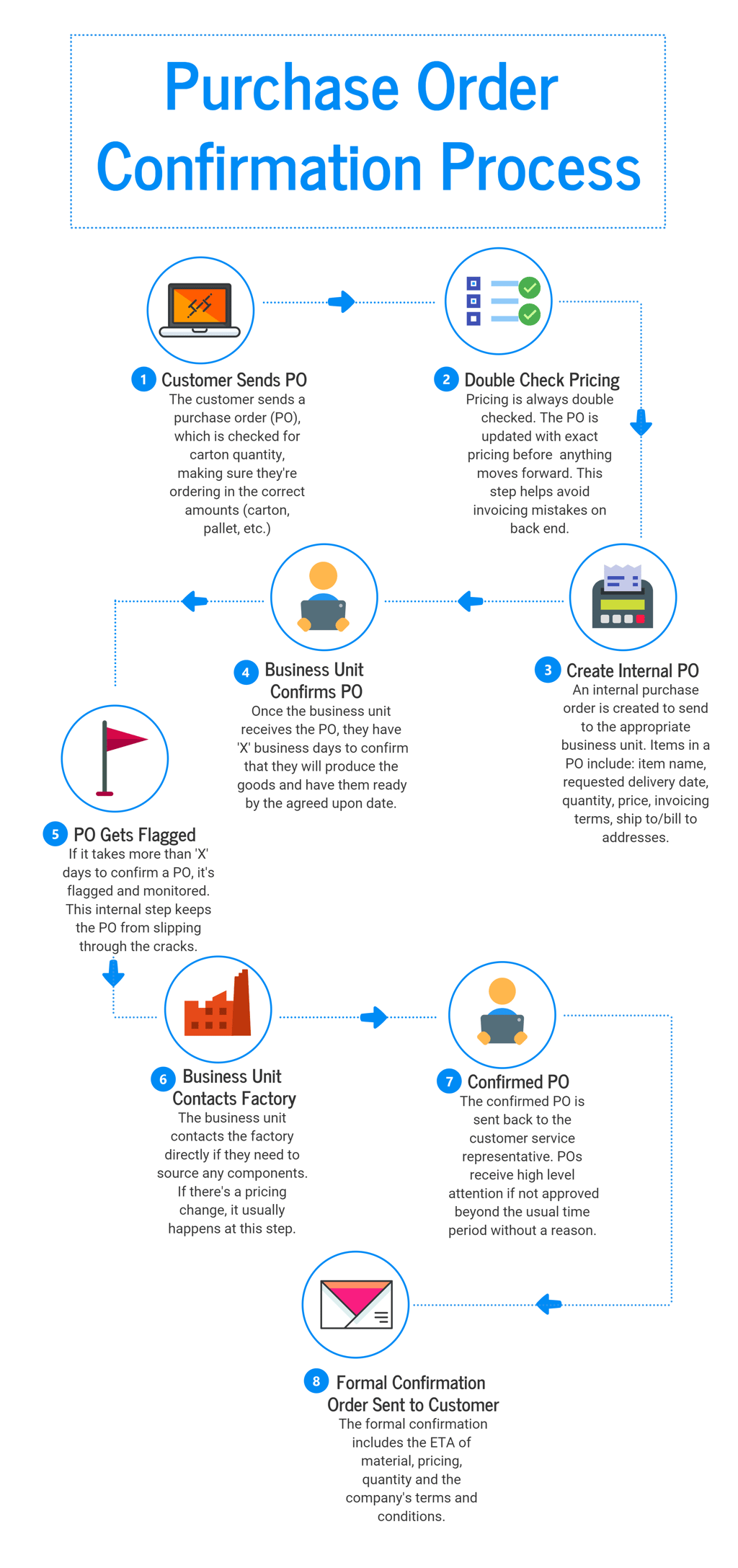 So that's a high-level view of the purchase order confirmation process. Obviously, every company has their own series of steps and we didn't get into too much detail about ours because that doesn't really matter. The important element is that the company you're working with has a system. As it said in step five of the infographic, you don't want anything — especially an important document like a purchase order — to slip through the cracks.
Reasons for Delays
Of course, POs aren't always confirmed in five business days. Delays can occur for any number of reasons.
There are the dreaded holiday delays — and in China, this is serious business. Chinese New Year and Golden Week can have an adverse effect on the confirmation timeline (and everything else). We've written extensively about the subject. Your best resource is our Chinese New Year/holidays landing page.
Holidays happen in the U.S., too. Have you ever noticed how difficult it is to get anything accomplished the week of Thanksgiving, Christmas or New Year?
Sometimes material availability causes delays, like what's going on with the electronics components shortage.
And sometimes, there are pricing negotiations that will slow down a PO. In the following video, our Senior Customer Account Analyst talks about delays that can happen because of pricing, and how your contract manufacturer can be an advocate:
When I was talking with Allison, she stressed the notion that when you put good in, you get good out. That's the whole point of having a purchase order confirmation process. The good actions — like making sure the customer is ordering in the right amount, double checking the prices, including all the basic info like addresses, contact info on both sides, invoicing terms — helps ensure that the process runs smoothly and that the good result is your confirmed PO, moving toward production. And that's what everyone wants.
Ready to start the purchase order process but not sure where to start? Click on our Purchase Order download below: