How does East West Manufacturing deliver the highest quality products, services, and supply chain solutions in the industry? We have a World Class Quality Management System in place and utilize our Product Development Plan-Do-Check-Act Continuous Improvement Process to ensure we produce our customers products to their specifications at the highest level of quality time and time again.
The East West Quality Management System
Our Product Development Plan-Do-Check-Act (PDCA) Chart is below along with the acronyms of the methods and tools utilized during each stage.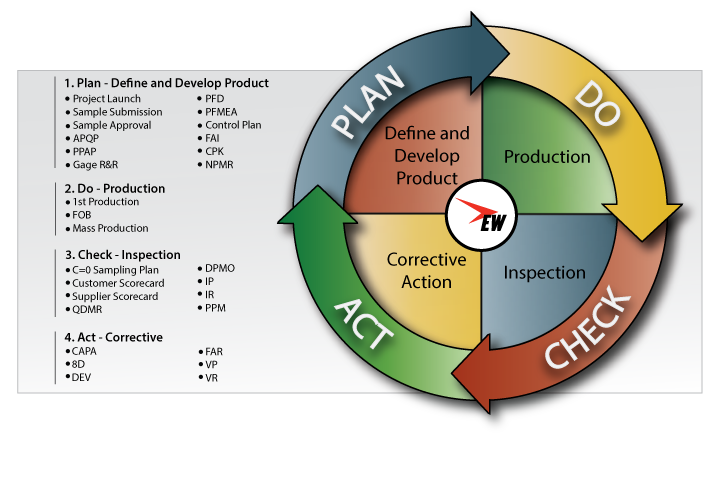 1. Plan - Define and Develop Product
Project Launch – Date the project was launched at East West. This includes issuing the PO, item set up, outlining tasks, and providing launch milestone dates.
Sample Submission – Date samples should be submitted to the customer; after review by engineering at East West.
Sample Approval – Date customer provided formal approval and product is released into production.
APQP - Advanced Product Quality Planning - Project management method to design and develop a product and related process.
PPAP – Production Part Approval Process – Typically associated with the automotive industry standards (supply chain). This process shows that all customer engineering design record and specications are properly understood by the supplier and that the process has the potential to produce product consistently meeting all requirements during actual production. Includes Validation Protocol and Product life-cycle testing
Gage R&R – Gage Repeatability and Reproducibility – A statistical tool that measures the amount of variation in the measurement system. Influencing factors include measuring instruments, the operators, the test methods, the specications, and the parts themselves.
PFD - Process Flow Diagram/Chart - A visual method to describe sequential or related work activities.
PFMEA – Process Failure Mode and Effects Analysis – From Aerospace and Automotive backgrounds. There are (3) types: Systems FMEA, Design, FMEA, and Process FMEA. (FMEA) is a step-by-step approach for identifying all possible failures in a design, a manufacturing or assembly process, or a product or service.
Control Plan – Control plans list the product and process characteristics monitored during the manufacturing process, including measurement methods and necessary reaction plans for deviant conditions. CP's play the important role of sustaining product quality long after a manufacturing process is developed and launched. Also known as "Process Control."
FAI - First Article Inspection – One of the primary methods for the "inspection and testing of vendor components." The rst article inspection of pre-production samples should determine if the product meets acceptance requirements and quality control requirements. Sometimes known as FAI or FAIR (report). The aerospace equivalent to the PPAP.
CPK/CP – Process Capability Index. These are Six Sigma statistical tools used together in quality management to ensure a production process has met the specification limits defined for a particular process or products. Used together, CP is how capable your process is (minimal variation = better CP). CPK measures process variation.
NPMR – Non-production metric report – Internal dashboard to measure performance of launching products against customer expectations.
2. Do - Production
Pilot Production – Initial sample of production parts (smaller than entire order) completed and inspection ready provided to customer.
Production – After PPAP and Pilot Production are approved product goes into full production.
3. Check - Inspection
C = 0 Inspections – Zero Acceptance Number Sampling Plan (C=0). Rather than checking every part, a select sample of parts are inspected. Supplier provides lots or batches to the customer who approves/rejects.
Supplier Scorecard – Typically an ongoing monthly measurement of supplier performance on the following metrics: Quality, On-Time Delivery, and Cost. Additional metrics may include: Fill-rate, Vendor response time, Customer complaints.
Customer Scorecard – Similar to Supplier Scorecard with customer focused metrics.
QDMR – Quality and Delivery Metric Report - used to capture ongoing data for the EW customer, EW Business unit, supplier quality, and delivery performance.
DPMO – Defects per million opportunities – Six Sigma calculation measures the error rate of a production per one million opportunities.
IP - Inspection Procedure – A "quality policy" defines the general directives and goals in terms of quality that are laid out by a company's management and formalized in a written document. The "inspection procedure" refers to the approach and operational organization used to achieve the goals set by the quality policy.
IR – Inspection Report (EW Terms) Samples, sizes, (major, minor, critical)
PPM Trend Analysis – Parts per Million metric tracked and graphed to provide defects.
4. Act - Corrective
CAPA or CLCA - Corrective Action and Prevention Action or Closed-Loop Corrective Action System – An investigation process to identify, analyze, and correct a root cause problem with a product or process, attempting to prevent their reoccurrence. CAPA is a concept within Good Manufacturing Practice (GMP), is central to driving continuous improvement, and is required by ISO 9000.
8D, or 8 Disciplines to problem solve – credited to Ford Motor Company. The 8 disciplines are:1. Establish the Team
2. Dene the problem
3. Containment Action
4. Identify Root Cause
5. Choose and verify Corrective Action (CA)
6. Implement and Validate CA
7. Prevent System Recurrence
8. Congratulate the Team – share the knowledge
DEV – Deviation Request – A request by a supplier to ship a substitute, non-conforming, or non-compliant product.
FAR – Failure Analysis Report – process of collecting and analyzing data to determine the cause of failure.
VR – Validation Report – Accepted protocol agreed upon by customer and supplier.
For more information on East West's Quality Management System and Quality Policy, visit our Quality webpage here.