Manufacturing nearshore doesn't have to mean you give up sourcing components in Asia. On the contrary, you may be able to save a great deal of money by utilizing both Asian suppliers and nearshore factories.
Though there are so many moving parts behind the scenes, let's walk through a high level example on what this could look like.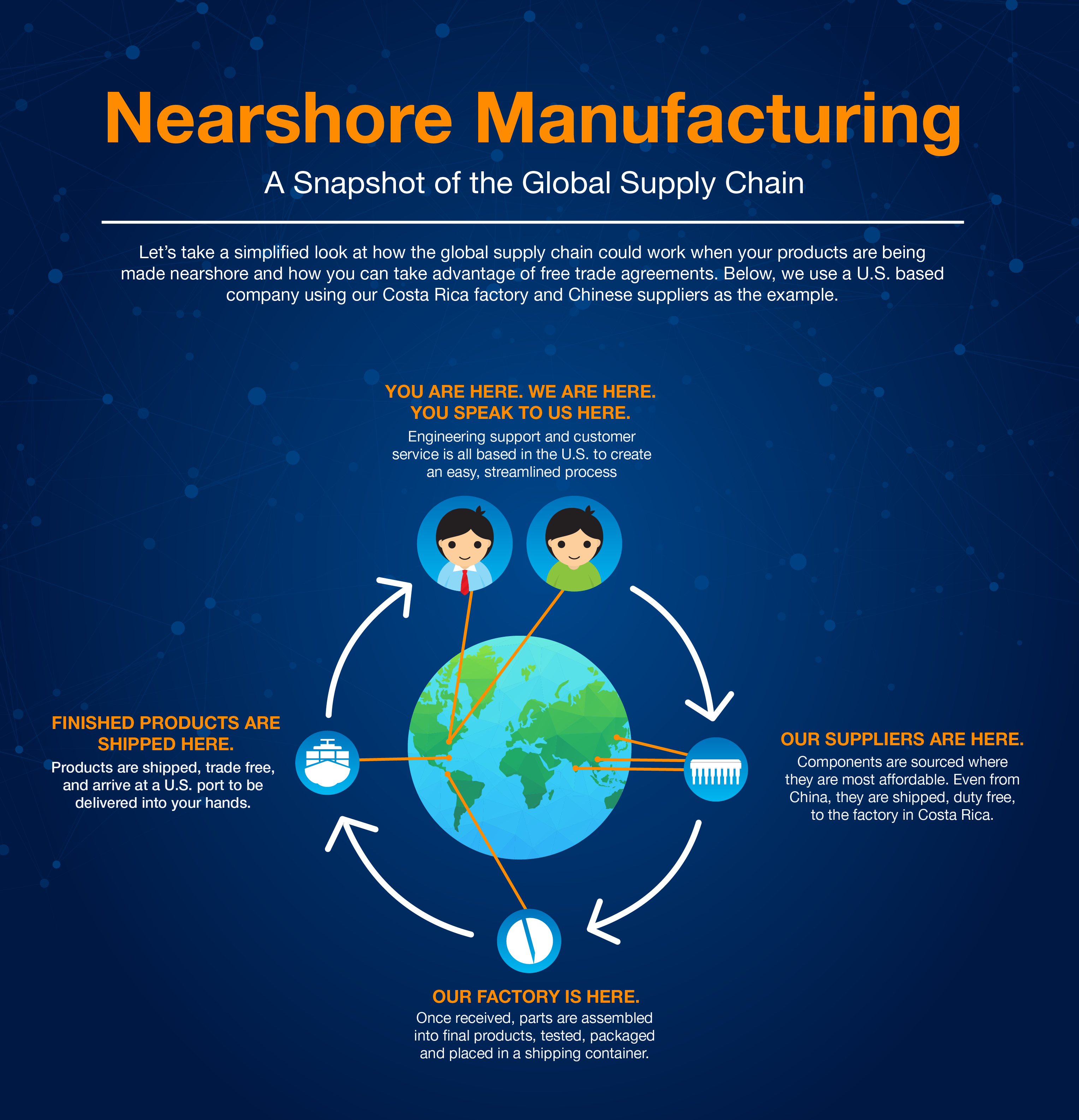 Say you've hired East West as your contract manufacturer. Great! Happy to be working with you! Now you are receiving all the benefits that come with U.S.-based customer support and, even better, an entire domestic engineering team in your arsenal. That's step one. Your company and East West are both in the United States, so communications is a breeze and we have the ability to easily meet in person when needed. We've had many conversations about your required capabilities and have agreed the best place to produce your product is at our nearshore factory in Costa Rica.
Now it's time to source your components. We have a vast network of suppliers around the globe whose strong relationships we have cultivated throughout the years to ensure quality and dependability. We have developed a team at East West who works with these suppliers directly in their countries and time zones, including throughout Asia where many parts can be purchased inexpensively. Because we work with our suppliers directly, you don't need to worry about communication burdens often felt by doing business in the Eastern hemisphere. As an added benefit, free trade agreements between China and Costa Rica allow us to ship these components directly to our factory without the expense of additional duties.
Once all components have been received in Costa Rica, the staff there (whose labor rates are on par with China) will begin final production. After all testing and quality procedures are finalized, items can be made ready to be sent back to the U.S. and into the hands of our customers. Because Costa Rica has ideal connectivity to both the Atlantic and Pacific oceans with close proximity to the U.S., lead times are mere days rather than weeks. Remember what they say: time is money.
Are you curious if the capabilities we have in Costa Rica would meet your needs? We've put together this free overview to help: