Raise your hand if you thought developing your product was going to be easy. Yeah, that's what I thought.
Product development takes time, creativity, resources and more time. One really vital piece of the development process is product testing for quality, reliability and durability. You need to find out whether your product will do what it's supposed to do — that's quality. You also need to learn whether it will do what it's supposed to do over and over again, even when conditions aren't ideal — that's reliability and durability.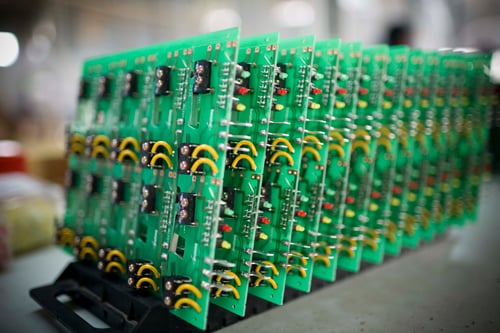 PRODUCT TESTING
Some products, like Class III medical devices, require something called "Premarket approval" (PMA), the process of scientific and regulatory review administered by the Food and Drug Administration (FDA) to evaluate safety and effectiveness. Class III devices are those that support or sustain human life, are of substantial importance in preventing impairment of human health, or which present a potential, unreasonable risk of illness or injury.
But what about products that don't require FDA tests or approvals? Where do you go and what do you do when you're looking for solid, third-party validation to back up the claims you're making about your product?
Step one: GOOGLE. Seriously. Get online and start researching. Talk to people in your industry. Find out which product testing labs other folks are using.
Product testing is something that may be done either in-house (you or your manufacturer do the tests) or it's outsourced to an independent product testing agency. As much as you might think you want to be in control of the product testing, trust us: there are good reasons to outsource testing — chiefly cost. Maintaining a testing lab is expensive. It requires dedicated space, equipment (which must be maintained and repaired), upgrades, labor, training and certifications.
Types of testing include qualilty assurance, product reliability and lifecycle testing.
Testing is usually done during the development and manufacturing phases of product development. The outcome criteria are based on realistic expectations of customer use. Questions you need to ask include:
How will this part or product be used?

What sorts of pressures does it need to withstand - thermal, weight, etc.?

How long should this product last?
The components that make up the product are selected based on the answers to the customer use profile. Perhaps the electronics or the raw material needs to be a certain grade or quality. Those items will be taken into account. Let's say you're making a medical device, for example. Components in medical devices must meet a higher standard than those going into a non-medical consumer electronics product.
During the manufacturing process, it's part of the quality process to test a product's functionality off the line. The quantity of items tested is determined in advance. It's also wise to test your product at the system level as the components are only as good as the sum of all the parts working together. Determine what the end results should look like and design the test(s) to rigorously examine how well the product/part performs.
Unlike quality testing, the purpose of which is to find defects early in the product development process, the main reason for reliability testing is to measure performance and endurance over the long haul — preferably in similar operational environments. When looking at the reliability of a group of products over a lifetime, you might hear experts describe something called the "bathtub curve."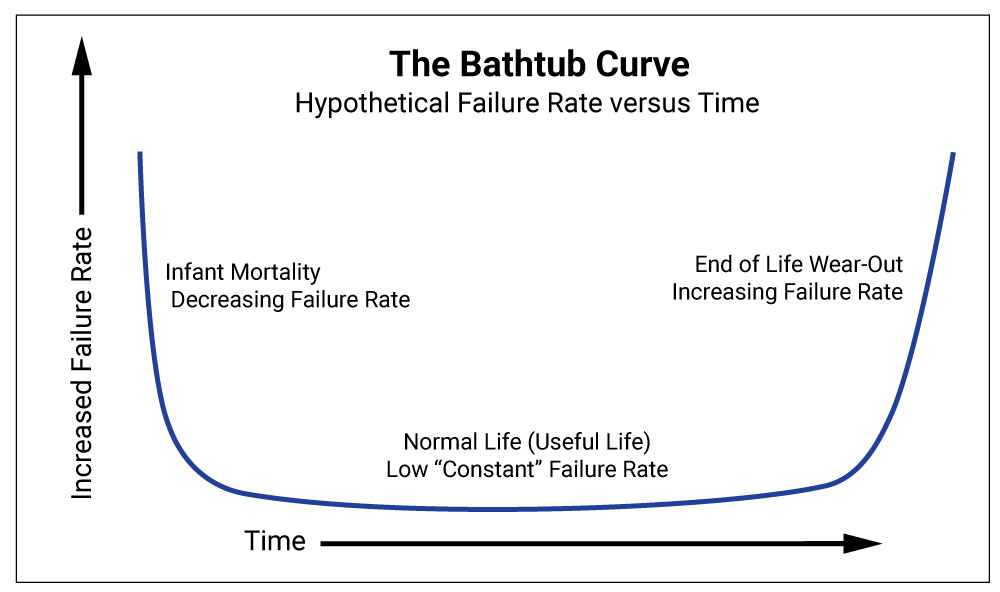 The bathtub curve shows the decreasing failure rate during the early "infant mortality" days of the product, leading to the normal (AKA useful) life of a product population and, finally, the onset of the end of life wear-out.
Stress testing from the earliest product development phase is meant to find design weaknesses and specific assembly and material problems. Highly Accelerated Life Testing (HALT) and Highly Accelerated Stress Test (HAST) introduce the types of real life problems a product may encounter during its lifecycle, without waiting the life of the product. For example, if corrosion could occur during the life of the product, the test would introduce corrosive material (salt water, for example) to the part/product to see if or how much the performance is affected.
Reliability testing is done for three specific reasons:
To examine a product's endurance under certain conditions.
To identify the failure rates of the product.
If possible, to determine preventative measures that can increase the product's reliability and lifespan.
Typically, reliability testing will examine five areas:
Vibration
Temperature and humidity
Time duration
Number of test cycles
Duration
To learn more about how to build your own product reliability testing process, we recommend this blog post, What Is Reliability Testing, by Jit Gupta at NTS, a privately held test, inspection, and certification company, with more than 50 years of experience.
Read more: