If you haven't read the ominous sounding phrase "the rise of the robots" over the past five years, you haven't been reading the same stuff I read on a daily basis. A replacement for the now overused phrase needs to be found, at least that's what I was whining to a friend this morning after I read "the rise of the robots" in yet another story about how robots were the "next big thing" in manufacturing.
My friend asked me how I would replace it. But I wasn't ready to provide an answer. I was still in full rant mode. When I finally settled down, I suggested "onslaught of the robot army" since that's the tone the "rise of the robots" crowd seemed to be taking – robots as warriors ready to take not just our jobs, but our families, our lives! (Have you watched the BBC's Humans??) Whew. Rant over. I'm better now. I'll attempt to get to the point.
The use of robots in our daily lives, including in manufacturing is growing – and growing at an exponential rate. So yes, they are "on the rise." They've also been around for a long time. In fact, many of the manufacturing jobs that were lost in the last two decades have been due to automation, innovation and technology.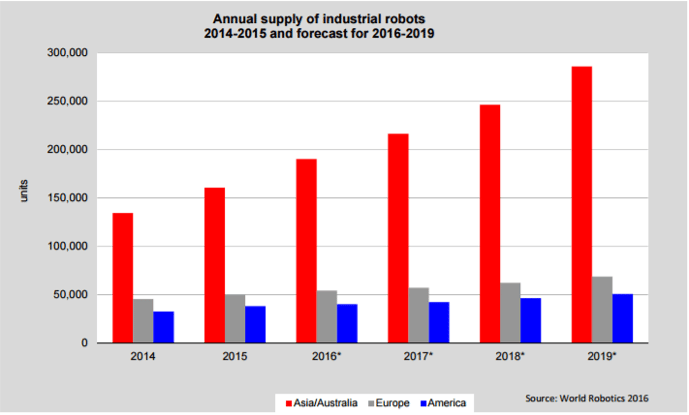 Here are some facts straight from the Executive Summary World Robotics 2016 Industrial Robots report, produced by the International Robot Federation, a trade association.
"In 2015, robot sales increased by 15% to 253,748 units, again by far the highest level ever recorded for one year. The main driver of the growth in 2015 was the general industry with an increase of 33% compared to 2014, in particular the electronics industry (+41%), metal industry (+39%), the chemical, plastics and rubber industry (+16%). The robot sales in the automotive industry only moderately increased in 2015 after a five-year period of continued considerable increase.
China has significantly expanded its leading position as the biggest market with a share of 27% of the total supply in 2015."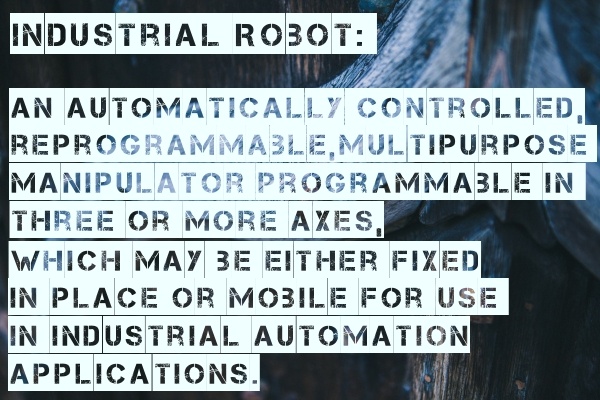 It's not difficult to understand why robots are so valuable in manufacturing. Cost is obviously a huge motivator for any company turning to that type of automation. Robots may need maintenance but they don't require vacation or sick leave.
Look at that definition. They're "reprogrammable." A few changes to the software, maybe change out the tool on the arm and hello! You've got a newly trained "employee" ready to work as many shifts as it's motor can handle. Humans are still needed, but not as many. And those that remain need a different, more technical set of skills. Robots have certainly changed the manufacturing landscape, and those changes will continue. Employees will adapt to their new mechanical co-workers and will likely be very grateful for them.
Here is a roundup of news stories about robots and robotics, and the effect they are having on the present – and future – of manufacturing.
New York Times writer Farhad Manjoo provides an exceptionally well-reported overview of robots and manufacturing and how China has already adapted to this trend. [Note: We disagree with his take that Chinese-built robotics components are not very good. A well-established contract manufacturer is capable of turning out components of the highest quality, meeting an array of global standards and requirements.]
Heidi Ledford, for the weekly science journal, Nature, writes about the use of robot technology, including drones, in plant biology
Fast Company writer Rina Raphael reports on a U.S. industrial sewing robot startup that could disrupt the fashion industry.
Here's a fascinating piece from the BBC, courtesy of Jane Wakefield, about how the European Union is looking at robot rights, hammering out language for "legal status" for robots.
And lest white collar workers get complacent, thinking robots won't affect them, here's a Computer World story by Sharon Gaudin about a news story written by … a robot:
It's clear from this quick aggregation of recent news, and our previous blog post about robotics blogs worth following, that robots and robotics are making their presence felt across industries. How will your company or idea be influenced by robot technology? Let us know in the comments section below. And please join us on our Facebook page for more conversation about this incredibly important topic.
Photo of Lexus ES Production courtesy Toyota Motor Co.
Ready to talk to a robotics supplier? Click on our link below to learn what questions you need to ask: