As you may or may not know, shipping goods internationally can get to be incredibly expensive, but there are ways to save money while ensuring your goods make it from point A to point B on time and intact. Keep reading to delve into our top 11 tips to start reducing your international logistics costs immediately.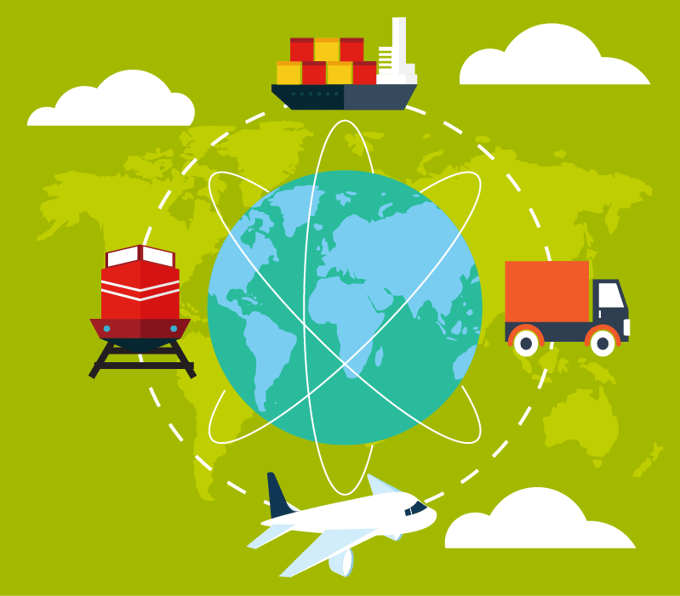 Photo Source
1 |
Plan Ahead
Getting intimate with your production schedule, shipping options and associated transit times allows for planning your international logistics accordingly. Last-minute scrambling almost always results in missed deadlines, higher costs, or both (gasp). While planning, be sure to account for any international holidays – take Chinese New Year, for instance – that could affect shipping schedules and booking availability. Talk to your contract manufacturer about any upcoming holidays or events that you should know about for the sake of accurate planning.
2 |
Save Air Freight for Emergencies
BREAKING NEWS: AIR FREIGHT IS EXPENSIVE. Chances are this isn't news to you. But you may still be surprised by just how many companies rely on air freight, even in non-emergency cases. The good news is that air freight is mostly avoidable as long as you plan ahead (cough, our first point, cough). Of course, things happen, and sometimes air freight truly is the one and only solution. Just remember: failure to plan means more air freight. Period.
3 |
Ship FCL Whenever Possible
Shipping goods in full container loads (FCL) is more cost-effective than shipping less than a container load (LCL). In addition to lower per-piece costs, FCL also means your goods are loaded according to your specifications and aren't sharing space with other vendors' goods. While shipping LCL is typically uneventful, your goods do run a higher risk of in-transit damage or customs clearance holdups caused by another vendor's goods in that container. While making FCLs your default shipping method is ideal, LCL can be a better option at times.
Read More: FCL vs. LCL: Sometimes an LCL Shipment is Your Best Option
4 |
Ask about Consolidation
Unless you place orders in full container loads, consider asking your supplier what consolidation options you have, aside from LCL. It could be that they have other customers in your region and can consolidate your goods with these shipments to save money. If you aren't in a rush to receive the product, it may be worth waiting a bit longer for consolidation to cut freight costs.
5 |
Opt for the 40-Foot Container
When presented with the option of shipping a 40-foot or 20-foot full container load, shipping a 40' makes more sense cost-wise, as the cost of a 20' container is typically about 80 percent of the cost of a 40' – and you can only fit half the amount of goods. This drives your freight cost per piece up significantly. If it makes more sense for your product to ship in these smaller quantities, keep on keepin' on. But it's good to know that there is cost-savings potential in ordering in 40' quantities instead. Something to keep in mind though: it's usually worth the extra cost to ship product earlier in a 20' than waiting longer to fill a 40' if you think the timeline could be tight.
6 |
Don't Overlook Efficient Packaging
Protecting goods with extra dunnage is one thing, but paying to ship air is simply a waste. If your supplier is packaging the goods for you, request to see the packing plan and ask if there are any ways to increase efficiency to lower freight costs and maximize space. Of course, ocean and air freight are handled differently. If you're shipping a 40' container the rate is fixed, whether the goods max out the weight or you're shipping a container of feathers.

Air freight is what will get you, though. Shipping lighter boxes is more cost-effective, but don't forget about that dreaded dimensional weight! Shipping a gigantic, one-pound box will be prove to be decently expensive since, in this case, you're paying for the space the box consumes rather than its weight. Dimensional weight is calculated differently for air freight and courier moves, so ask your supplier or forwarder for clarification if necessary.
7 |
Take Advantage of the Good Deals Your Supplier Gets
If you're working with a contact manufacturer who's been in the game for a decade or longer, you can bet they've established strong relationships with their logistics partners. You can also bet they ship a LOT of goods, and they may have negotiating power that your company lacks on that specific lane (for instance, from Ningbo, China to Ontario, Canada).

If you think handling your own freight could save you money, go ahead and crunch the numbers. In our experience, it's not too often that our customers find better international freight rates than those we can offer, simply because of our high-volume, discounted rates.
8 |
Trust Best Shipping Practices
Whether you choose to handle your own freight or not, you can always turn to your contract manufacturer or supplier for advice, especially when it comes to regions you aren't so familiar with (maybe you've never shipped goods from Vietnam to Europe before). Let their experience guide you so you can rest easy that your goods reach their destination in the most efficient way possible.
9 |
Know Your Inland Transit Options
While ocean transit options may be limited (we can't be the only ones waiting for that speed boat option to become available), inland transit is another ball game. If you're not in a position to pay for air freight, or you simply don't want to go that route, there are alternatives.

You can ask that goods be booked on the fastest ocean transit possible (for example, a direct sailing rather than one that transloads at various ports along the way). Once goods are offloaded at port, you can have them put on the rail (also called mini land bridge – or MLB – service) or full truckload (FTL) service, which offers a faster transit time than the rail.

If the volume doesn't warrant a FTL, you can either ship less than a truckload (LTL), which means your product will be consolidated with other goods, or pay a premium for a dedicated truck, which means the driver takes your goods, by themselves, directly to the destination with no other deliveries along the way. Dedicated trucks will be quicker, but at a higher cost than LTL. Weigh each option based on your unique budget and deadline.
10 |
Ask about Hybrid Options
Many freight forwarders offer unique intermodal solutions, like carefully planned combinations of air and ocean freight to get your goods from supplier to customer. Imagine this scenario: the air freight quote has given you sticker shock, but you know that ocean freight will take too long. It's possible that a forwarder can find the best route, combining ocean and air freight with a dedicated truck to deliver your order as quickly and cost-effectively as possible. One example is international freight forwarder DB Schenker's Skybridge service.
11 |
Insure Your Cargo
All this effort exerted to achieve cost savings will be in vain if you fail to insure the cargo! If your contract manufacturer or supplier is handling transit, you can ask for validation that their cargo insurance is up-to-date and fully covers the value of your goods. In this case, If something were to happen, your contract manufacturer would bear responsibility for filing a claim. If you choose to handle the logistics yourself, it then becomes your responsibility to obtain cargo insurance. If you don't, you could wind up in a mess. Seriously. A major mess.
We hope these tips prove useful when it comes to saving money on your international logistics. Don't forget to plan ahead and know what your options are. Don't assume that the obvious answer is the correct solution for your particular situation. Remember, it never hurts to ASK if alternative solutions exist. Follow this advice and you'll find yourself at the office like....

A Beginners Guide to ICC Incoterms 2010 [Chart]
FCL vs. LCL: Sometimes an LCL Shipment is Your Best Option
How Does Global Shipping Work?