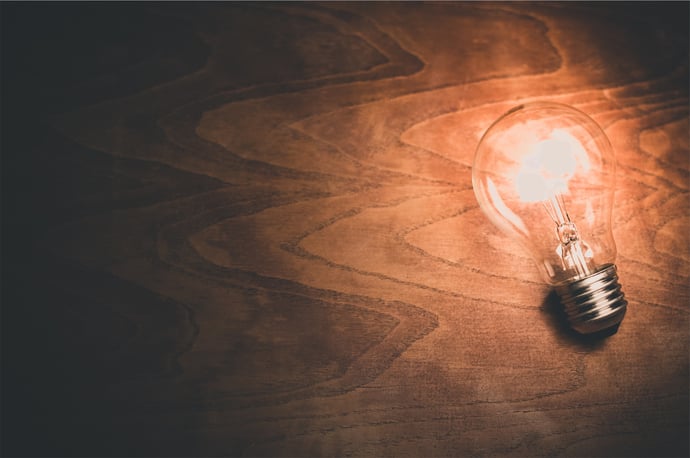 Whether you are looking for inspiration, guidance, tips, best practices or the latest industry developments and trends, there are a host of people and companies in the manufacturing sector publishing and sharing outstanding content on Twitter. Below we've compiled a list of 20 manufacturing thought leaders you should be following.
Please tweet to us if you think a manufacturing thought leader is missing from this list!
Tweet to @eastwestmfg


Strategies / Trends / Best Practices / News
Travis Hessman
Website: newequipment.com
Follow @TmHessmanNED
Travis Hessman (self-proclaimed tech geek, lit nerd and caffeine addict) is Editor-in-Chief at New Equipment Digest, the industry's most preferred product magazine for 75 years. As the leading monthly source of information on innovative products for general industry, NED serves more than 200,000 plan operations, maintenance, engineering, production, purchasing and administrative personnel in more than 100,000 facilities throughout the US.
Jim Tompkins
Website: tompkinsinc.com/category/blog
Follow @jimtompkins
Jim Tompkins is a global supply chain and business strategy expert, CEO of Tompkins International, noted speaker, authority on logistics, supply chain, material handling and leadership. He is based in Raleigh, NC.
Patricia Panchak
Website: industryweek.com
Follow @PPanchakIW
Patricia Panchak is Editor-in-Chief at IndustryWeek, where she covers world-class manufacturing trends, strategies, best practices and policy issues that impact manufacturing competitiveness.
Quality Digest
Website: qualitydigest.com
Follow @QualityDigest
Chico, CA-based Quality Digest is dedicated to promoting continuous improvement in quality management, manufacturing, test and measurement, healthcare, supply chains and services.
Manufacturing.Net
Website: manufacturing.net
Follow @MnetNews
Manufacturing.net offers the latest news, trends and business analysis on manufacturing and product development. Subscribe to their email newsletters and check out their site for free webinars and other useful resources.
IndustryWeek
Website: industryweek.com
Follow @IndustryWeek
IndustryWeek is a trusted resource for manufacturing business leaders exploring the issues, strategies, trends and technologies that build more competitive and profitable companies.
David Greenfield
Website: http://t.co/JS474ZP2K4
Follow @DJGreenfield
David Greenfield is an Atlanta-based journalist/editor covering industrial technology & trends for automationworld.com. He is also a professional musician.
HVAC Info
Website: bit.ly/1AnjaQC
Follow @HVACRR
HVAC Info provides live content curated by top HVAC influencers.
Associations / Organizations
SME
Website: sme.org
Follow @SME_MFG
SME is where the manufacturing industry comes together to learn, explore and celebrate the human quest for innovation, just as it has for more than 80 years. SME is based in Dearborn, Michigan.
The National Association of Manufacturers
Website: nam.org
Follow @ShopFloorNAM
The National Association of Manufacturers is the voice of all manufacturing in the US. Its focuses are leading innovation, creating opportunity and pursuing progress.
The Association for Manufacturing Technology
Website: AMTonline.org
Follow @amtonline
The Association for Manufacturing Technology represents and promotes US-based manufacturing technology and its members—those who design, build, sell and service the continuously evolving technology that lies at the heart of manufacturing.
MAPI - Manufacturers Alliance for Productivity and Innovation
Website: mapi.net
Follow @MAPI_Mfg_Info
Arlington, VA-based Manufacturers Alliance for Productivity and Innovation is focused on promoting manufacturing best practices and economic forecasting.
Tech
Plex Systems
Website: plex.com
Follow @plexsystems
The Plex Manufacturing Cloud ushers in a new era of ERP with a complete system designed to power today's modern manufacturer by connecting every manufacturing operation in the cloud for maximum efficiency, productivity and visibility, while supporting continuous innovation.
Medical
Qmed
Website: qmed.com
Follow @QmedNews
LA-based Qmed is a news, information, technology, and supplier resource for the medical device industry. They have the world's only directory of pre-qualified suppliers to the medical device and in vitro diagnostics industry.
Medical Design & Outsourcing
Website: medicaldesignandoutsourcing.com
Follow @MedTechDaily
Medical Design & Outsourcing educates on technical advancements in design, development and contract manufacturing of medical devices and equipment.
Manufacturers
Jabil
Website: jabil.com
Follow @jabil
Jabil is a global manufacturing partner combining expertise in engineering, design and supply chains for the world's biggest brands.
Deloitte Manufacturing
Website: deloitte.com/manufacturing
Follow @DeloitteMFG
Check out Deloitte Manufacturing's Twitter account for industry insights in aerospace & defense, automotive, chemicals, forest, paper & packaging, industrial products & services and metals.
Sanmina Corporation
Website: Sanmina.com
Follow @SanminaCorp
Sanmina creates the world's most innovative optical, electronic and mechanical products.
The Rodon Group
Website: rodongroup.com
Follow @rodongroup
The Rodon Group is a Hatfield, PA-based manufacturer of high volume, custom plastic injection molded parts and offers a turnkey manufacturing solution for various industries.
Rethink Robotics
Website: rethinkrobotics.com
Follow @RethinkRobotics
Founded by Chairman and CTO @rodneyabrooks, Boston-based Rethink Robotics developed Baxter, the world's first robot with common sense for manufacturing and research.
Remember to tweet to us @eastwestmfg if you think we should add someone to this list of manufacturing thought leaders you should follow on Twitter!