When companies are looking to reduce costs, their first focus is often what product design changes can be made to reduce material costs. Many completely overlook the option of refining the product's packaging design instead. Improving and optimizing packaging design can not only save a company boatloads of money, but it can also provide better product protection and a reduced carbon footprint. Break free from the "we've always done it this way" mindset and analyze whether your product packaging is as efficient as possible. Below are 7 surefire ways to reduce packaging costs!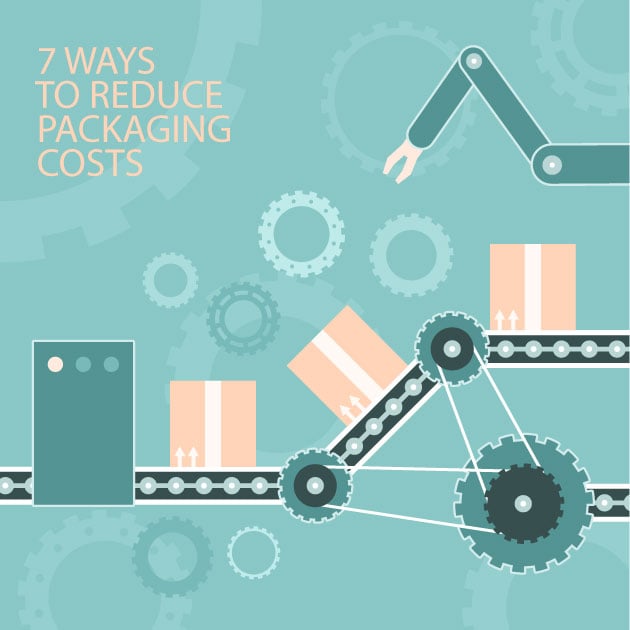 1. Prioritize Research and Development
A box is a box, right? Wrong! All packaging is not created equal. Dedicate time to thoroughly research and test multiple design and material options. Putting the time in up front will save you from headaches like damaged goods, unhappy customers, packaging redesign and sourcing new materials because you skimped the first time around. Packaging should be efficiently designed, yet strong enough to survive several journeys (air, sea, rail, road) before reaching the final destination.
Factors to Consider:
Total cost of materials
Tamper-proofing
Durability for transport
Ease of handling
Aesthetics
Government regulations
2. Identify Necessary vs. Unnecessary Costs
Itemize costs to determine if the packaging you are using (or the design you are considering) is the best solution for your product. Which elements are necessary for performance, and which are purely aesthetic? Are some design features actually more costly than their true added value? Pinpoint elements that can be improved or eliminated altogether. Then you can allocate money where it counts (where value is added). Consider all factors and rank each by cost and value added.
Factors to Consider:
Do you need an inner carton and an outer carton?
Is all the information printed on the box necessary? Limit to vital information only.
Is full color printing worth the cost? Black and white may do the trick.
Does the packaging need a clear viewing window, or would a photo on the box suffice?
Does each box need a label, or can that information be printed directly on the box instead?
3. Think Big / Pack Small
Less packaging = lower material costs! Use a CAD system like Solidworks to calculate the required dimensions and strength for your packaging. You don't need heavy-duty packaging material for something lightweight unless it is extremely fragile. Be cautious without being excessive. How much tape does that box really need? Your primary focus should be to protect the product inside. If you succeed, you're guaranteed to save money on damaged goods, product rework and customer returns. One great example of reduced materials without compromising durability is redesigned plastic water bottles that now use about 20% less plastic than before.
Factors to Consider:
Inner carton dimensions
Outer carton dimensions
Carton dunnage needed
Carton stacking configuration on pallet
Container loading configuartion
Container dunnage needed (if any)
4. Drop Some Weight
Opt for lightweight packaging materials wherever possible. This will improve the ease of handling and (most likely) reduce shipping costs. But don't forget about dimensional (volumetric) weight, the amount of space a package occupies in relation to its actual weight. Just because product is lightweight doesn't automatically mean it will be cheaper to ship than heavier goods.
5. Always Be Testing
Think about how your product will be shipped and handled. Will it spend 5 weeks on a container vessel? Will it be subject to high temperatures? Explicitly outline your testing specifications around these factors. Properly testing and making continuous improvements to enhance performance will save you money in the long run.
Factors to Consider:
Pressure of stacking
Vibration
Impacts
Climate changes
6. Rethink the Way You Buy
Order packaging in smaller batches if you are trying to keep inventory lean. This will reduce excess or obsolete inventory, especially if your company plans to rebrand or change artwork designs in the near future. Or you can go in the opposite direction and ask your packaging supplier for price breaks for buying in bulk. Many printing companies offer high volume discounts but don't advertise them. It doesn't hurt to ask, especially when there is cost-cutting potential.
7. Go Green
Let's face it: Going green will become a US Environmental Protection Agency (EPA) requirement eventually, so it's wise to get on board now to avoid having to redesign and re-source materials down the road. Don't panic, though – using recycled materials in your packaging is usually less expensive than using virgin material.
Reduce Waste
Consumers are becoming increasingly passionate about sustainability and are often more willing to support eco-friendly companies. Design packaging that is easy for consumers to collapse or disassemble for recycling. Some countries (including Germany and England) have established strict regulations on consumer product waste, and the US will likely follow suit in the near future.
Choose Sustainable Materials
Opt for more environmentally friendly packaging. Forget blister packs and clam shells (people hate them anyway). Here is a better alternative. Avoid using those dreadful packing peanuts and Styrofoam inserts, both of which actually are recyclable, though recycling options are limited and most end up in landfills, where they could take more than a century to biodegrade. Also steer clear of multi-layered packaging (think potato chip bags). Use recyclable kraft paper air bags or natural fabric dunnage over rigid foam dunnage.
As new technologies are developed and new products become available, upgrade your packaging. Get into the mindset that this is an area for continuous improvement. Make a point to revisit your packaging designs on a regular basis to identify areas for improvement and cost-saving opportunities. The trick is not to compromise the performance of your packaging to save a few bucks! Performance should always be your number one priority.
(This article was originally published on September 1, 2015.)