How would you describe you or your company when it comes to technology?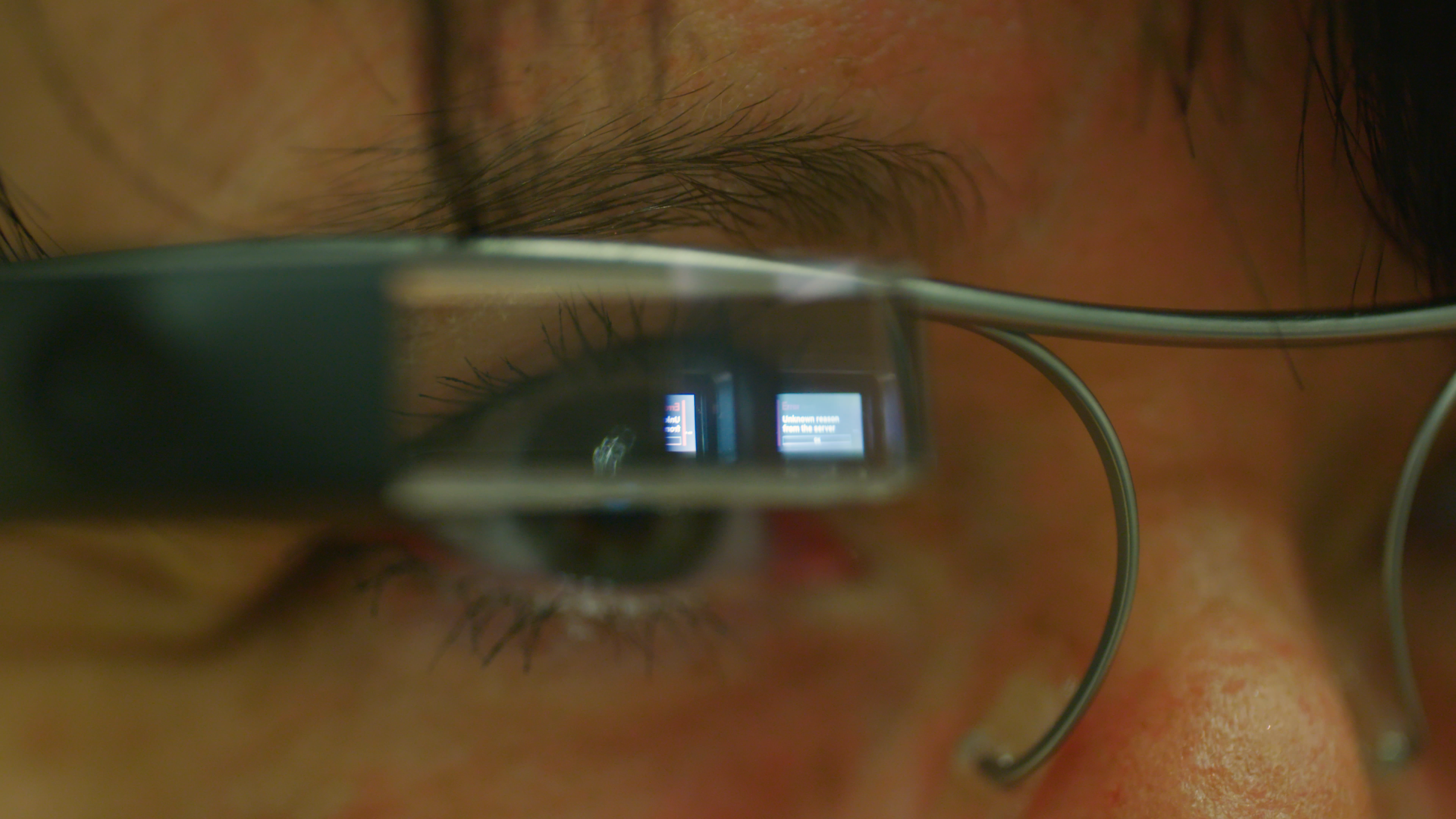 Photo courtesy of DHL
Are you a gung-ho, early adopter, ready to invest in the latest and greatest software or hardware promising breakthroughs in efficiency or capability?
Are you cautious, preferring to watch other companies around you try out innovative technologies that still might have kinks to work out?
Or are you adamantly opposed to introducing new technology to your processes that are working just fine, thank you very much?
I ask because a technology that truly is the stuff of science fiction is probably going to be knocking on your door THIS YEAR, and if you're type 2 or 3, you'll need to think now about what your answer will be.
Virtual/Augmented reality (VR and AR) — using technology to see something that literally is not there — is coming to a manufacturing facility near you. It's actually already there, but according to PwC, more than one in three manufacturers will implement virtual or augmented reality in manufacturing processes in 2018.
One in three.
Perhaps it will be something relatively simple, like what logistics giant DHL recently accomplished by introducing "Vision Picking," pilot programs of workers wearing smart glasses with visual displays of order picking instructions along with information on where items are located and where they need to be placed on a cart. The smartglasses freed pickers' hands of paper instructions and allowed them to work more efficiently and comfortably.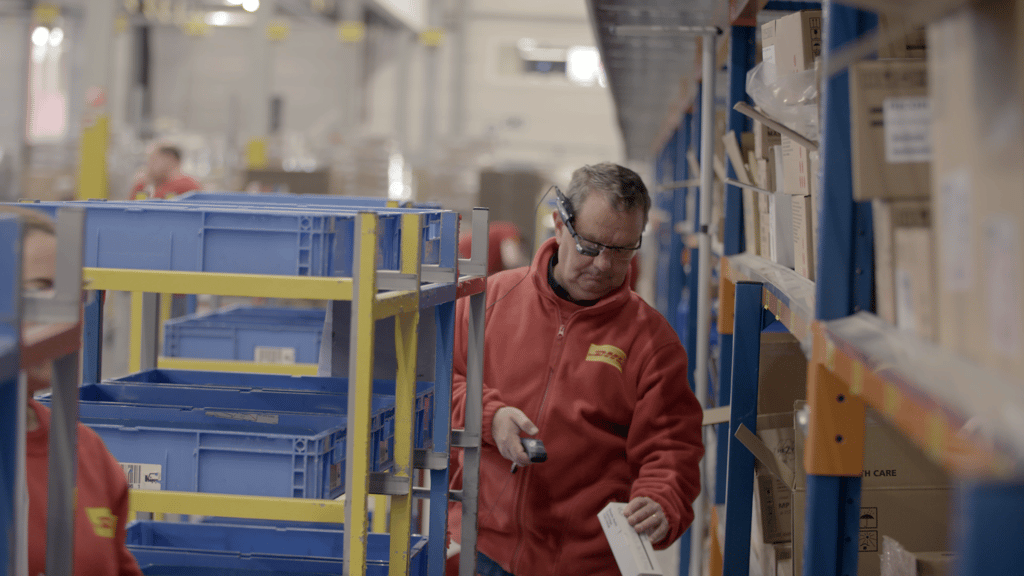 Photo courtesy of DHL
In fact, the test cases demonstrated an improvement of productivity by 15 percent, on average, with higher accuracy rates. The use of smartglass instructions also cut onboarding and training times by half. That's not an insignificant figure considering the much-discussed skills gap.
"Digitalization is not just a vision or program for us at DHL Supply Chain, it's a reality for us and our customers, and is adding value to our operations on the ground," says Markus Voss, Chief Information Officer & Chief Operating Officer, DHL Supply Chain. "Customers have been very happy about the productivity gains and are equally excited about using innovative technology at their warehouses."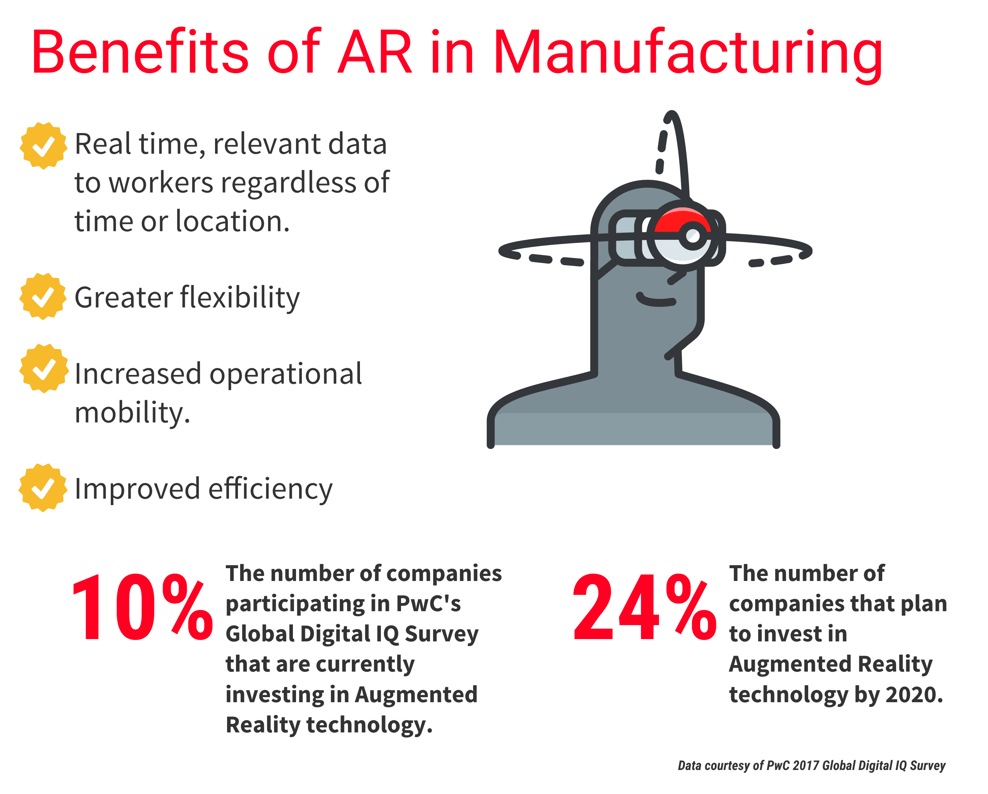 AR has the potential to disrupt manufacturing from start to finish:
assisting with product design and development,

increasing efficiency and accuracy in assembly or repair,

training employees,

improving safety on the factory floor.
Currently the most common devices in the AR adoption revolution tend to be handhelds — phones, tablets — but with better technology, companies are investing in wearable devices like DHL's smartglasses, smart watches, AR headsets and helmets.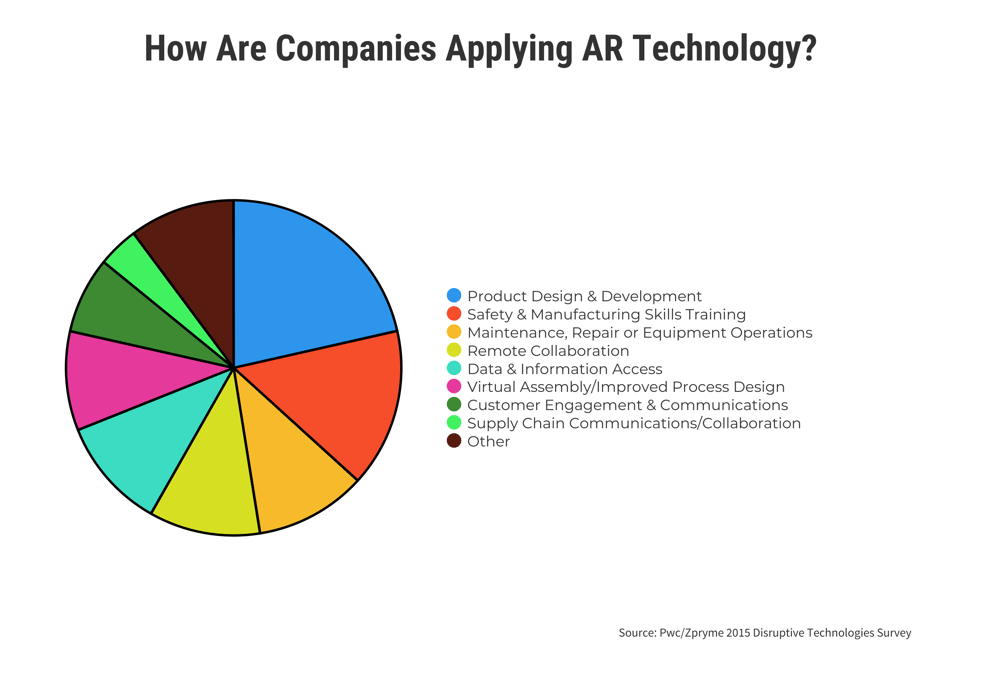 In a move very similar to DHL's, automaker Volvo is testing AR technology with workers wearing Microsoft HoloLens headsets. The headsets display assembly instructions, freeing the workers from having to refer to static documents, either paper or on a computer/tablet screen. An additional bonus is that instructions are easier to update and disseminate using AR.
Maintenance support technology got a boost from AR at Mitsubishi Electric. A 3D model of manufacturing equipment allows users to confirm the order of inspection on an AR display, entering the inspection results by voice command. Similarly, Airbus uses AR in its manufacturing processes, specifically in quality inspections of bracket installation in fuselage assembly. By placing an overlay of a virtual image of the assembly on the actual assembled product, as in the photo below, the engineer can quickly spot mistakes.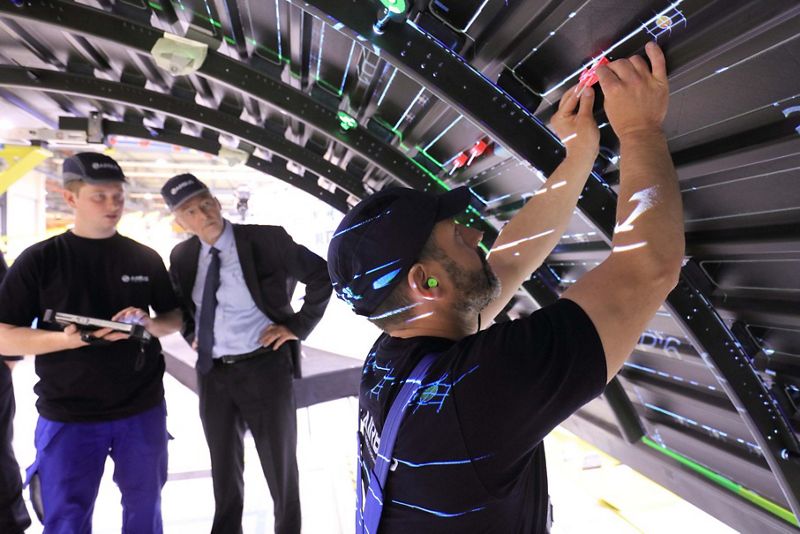 Photo courtesy of Airbus
But for all the excitement over the potential that AR can bring, there are real challenges to widespread adoption. Differences still exist in the capabilities between AR platforms and operating systems. There are no data or hardware standards. Cybersecurity will always be an issue as will the ever-present resistance to change, especially learning how to use new hardware. Finally, many current employees simply lack the technology skills required to use AR.
That last challenge could become manufacturing's ace in the hole when it comes to attracting highly coveted millennial workers to the industry. Remember: they're the generation of workers who don't know life without the Internet or smart phones. Just a few years ago they helped normalize AR gaming by wandering through urban environments trying to capture cartoon characters while playing Pokemon Go. As Baby Boomers retire in droves, who better to fill those positions now requiring high tech skills than young workers looking for a challenge in an industry willing to embrace technology?
Read more about innovative technology and its affect on manufacturing: