We've all been there: needing something to deliver in record time, then realizing, with a cringe, that expedited shipping comes at a pretty premium. But sometimes it simply must be done. This often happens on a much larger scale when buyers need product in a jiffy. The situation becomes a bit more complex when the goods are literally on the other side of the planet, but these days you'll find several expedited shipping options, including a few cost-effective solutions that didn't exist a decade ago. With several options on the table, you'll be able to balance urgency with cost to choose the best route (pun intended) for your in-demand goods.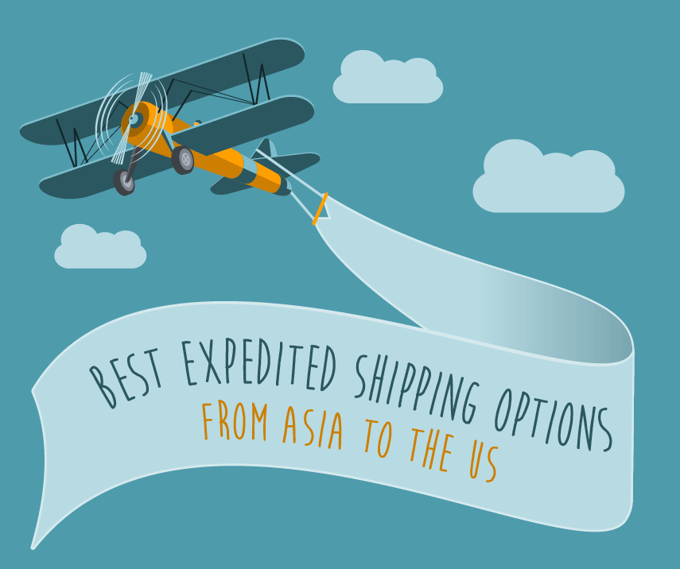 Photo Source
Air Freight
The word expedited may conjure up bad memories of air freight for some, but the world of rushed delivery has come a long way. Although air freight is very common, there are other options out there. When shipping product by air, plan to send only the minimum amount required to get by until the next ocean shipment arrives. Basing this calculation on accurate daily run rates and real-time inventory levels can save thousands of dollars. If the minimum amount still ends up being a really large shipment, chartering a plane is also an option.
Pros: Probably the fastest and most reliable service you'll find
Cons: Cha-ching! This option will put a serious dent in your wallet. Potential delays if product misses a connecting flight.
Courier Service
Courier service differs from air freight in that you'll be arranging shipment with a courier, such as FedEx, UPS or DHL, rather than a freight forwarder.
Pros: Fast service, easy to arrange online, no need to coordinate with a freight forwarder. Consistent transit times and guaranteed delivery options, easy to track
Cons: Typically only a viable option for smaller shipments. Customs clearance can be a pain, and you lose the tailored service a forwarder offers.
Read More: Air Freight & Courier from China – Basics, Strategies & Issues
Hybrid Options
Several freight forwarders offer unique intermodal solutions, like carefully planned combinations of air and ocean freight to get your goods from supplier to customer. Imagine this scenario: the air freight quote has given you sticker shock, but you know that ocean freight will take too long. It's possible that a forwarder can find the best route, combining ocean and air freight with a dedicated truck to deliver your order as quickly and cost-effectively as possible. Think of this as the "middle of the road" option in terms of transit and cost. One example of a hybrid arrangment is international freight forwarder DB Schenker's Skybridge service.
Pros: Customized to fit your needs with a combined ocean/air/truck/rail routing
Cons: More expensive than ocean freight, longer transit time than air freight
Direct Vessel
Most cargo vessels sailing from Asia stop at several ports along the way to their final destinations to pick up and drop off containers (known as transshipping). Booking space on a direct vessel (no stops) can shave at least a few days off transit time. For example, a vessel sailing from Ho Chi Minh City, Vietnam, might call on ports in Singapore or Malaysia on its way to the US. While the majority of transshipments are completed smoothly, there is potential for delay with each additional stop. Direct shipments eliminate this concern.
Pros: No possible delays at other ports along the way, fastest ocean option
Cons: Less common, fewer sailings, may not be an option for all ports, could come at a premium
Read More: Transshipping's Disadvantages
Route through US West Coast
Of course, if the goods' final destination is on the west coast, this option won't prove useful. However, if the destination is in the midwest or on the east coast, routing goods through the USWC can slice 7 to 10 days off transit time (just make sure the longshoremen aren't striking before pulling the trigger). Once goods arrive stateside, you'll have several options to swiftly get them delivered – see below for details.
Pros: Faster than shipping to USEC port, variety of options on the domestic end
Cons: Comes at a premium once you factor in inland transit, not an option if shipping out of India
Domestic Expedited Shipping Options
Once goods reach the US, you have several expediting options domestically. These range from a dedicated truck to single or team truckers and vary in terms of transit time and cost. However, all of these choices are faster than MLB or LTL services.
Single or Team Truckers
If cargo must travel a substantial distance from port but MLB (rail service) is too slow to meet your delivery due date, you can opt for single or team trucker services. Team truckers may cut an additional 1-2 days off inland transit time, but they come at a premium (of course). It's important to note that team truckers aren't always a realistic option. For instance, you couldn't book team truckers for a shipment from LA port to Dallas, TX, because the distance is simply too short to justify the use of dual drivers.
Dedicated Truck
If goods are only traveling a short distance, you can book a dedicated truck, which means the driver takes your goods, by themselves, directly to the destination with no other deliveries along the way. Dedicated trucks are quicker than LTL services, but – you guessed it – they come with a higher price tag.
Conclusion
When you realize expedited shipping is a necessity, DON'T PANIC. As you've learned, alternatives to air freight do exist. Ask your logistics contact or freight forwarder to lay out all the possibilities so you can weigh each option based on speed and cost, find the right balance and trust that you'll have product in hand in no time.
11 Tips to Reduce International Logistics Costs
A Beginner's Guide to ICC Incoterms 2010 [Chart]
FCL vs. LCL: Sometimes an LCL Shipment is Your Best Option