The highly competitive landscape of global manufacturing has changed the game when it comes to international logistics. Expedited shipping was once reserved for emergencies only – but this isn't the case anymore. Some companies are leveraging their resources and incorporating expedited shipments in their supply chain strategies to stay competitive and meet demanding deadlines. Read on to learn more about how you can shift expedited shipments from an emergency-only solution to a strategic problem-solver.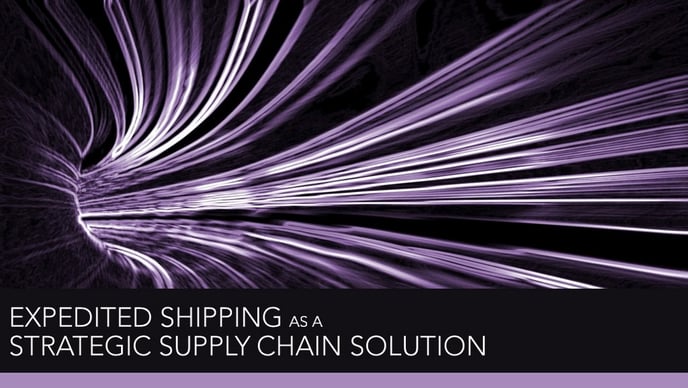 A Changing Landscape
Gone are the days when regular use of expedited services was reserved only for buyers of perishables and retailers stocking up for the busy, holiday sales season. As markets become increasingly saturated and competition continues to intensify, companies are learning to adapt and finding new ways to create value for their customers.
For instance, e-commerce sites are relying more and more on air freight and other expedited shipping services to shorten transit times and get goods in customers' hands faster than ever before (still awaiting the advent of those drone deliveries, though).
Although expedited shipping comes at a premium, the cost is often offset by the benefits,including increased flexibility and lean inventory maintenance. As logistics providers have come to recognize buyers' changing needs, they've responded by adding new expedited services, from Matson's expedited ocean transit (you can even get a guaranteed ocean delivery date) and various air/ocean/truck hybrid options. Read more about these services below.
A Wider Range of Options
Your available shipping options are no longer limited to bank-breaking air freight or slow-as-molasses ocean transit. Even courier services like UPS have developed innovative alternatives to balance speed and cost. Below are just a few examples of expedited options to consider to better manage your supply chain.
Air Freight
The word expedited may conjure up bad memories of air freight for some, but the world of rushed delivery has come a long way. Although air freight is very common, there are other options out there. When shipping product by air, plan to send only the minimum amount required to get by until the next ocean shipment arrives. Basing this calculation on accurate daily run rates and real-time inventory levels can save thousands of dollars. If the minimum amount still ends up being a really large shipment, chartering a plane is also an option.
UPS Preferred Multimodal Freight Services
UPS is one courier company who has expanded its offerings to include innovative shipping options "that bridge the gap between the speed of air freight and the economy of ocean freight," according to their site. By utilizing their Preferred Multimodal Freight service, you can book a shipment LCL, FCL or with an option that utilizes UPS road freight networks, rail service, air, and ocean transport to offer you a combination of freight options to get your shipment there faster and at reduced cost. You can even book with a guaranteed delivery date so you can rest assured your shipment will arrive on time.
Team Truckers
One worthwhile expediting option – and air freight alternative – is team trucking. Maybe you'd normally send your goods on the rail for a long cross-country trip, but you need to meet a tight deadline or you simply need more time for quality inspection pre-shipment. In this case, you can opt for a team trucking service. Team truckers can cut an additional 1-2 days off inland transit time, but they come at a premium (of course). It's important to note that team truckers will only be booked for significant distances since they simply aren't efficient for traveling short distances. One example of this type of service is Schneider's Team Expedited.
Hybrid Services
Several freight forwarders offer unique intermodal solutions, like carefully planned combinations of air and ocean freight to get your goods from supplier to customer. Imagine this scenario: the air freight quote has given you sticker shock, but you know that ocean freight will take too long. It's possible that a forwarder can find the best route, combining ocean and air freight with a dedicated truck to deliver your order as quickly and cost-effectively as possible. Think of this as the "middle of the road" option in terms of transit and cost. One example of a hybrid arrangment is international freight forwarder DB Schenker's Skybridge service.
Benefits of Using Expedited Shipping as a Supply Chain Solution
Lean inventory maintenance
Reduced inventory carrying costs
Shorter time to market
Meet tight deadlines
Fewer touch points than standard freight services (ideal for delicate goods)
Extra attention and personnel means increased security
Additional time to focus on more critical matters like quality control
Case Study #1 : Expedited Shipments Help Skincare Product Reach New Markets
One of our customers received the opportunity to sell their skincare product on a home shopping TV show. That home shopping magic caused an enormous, and somewhat underestimated, spike in sales. As a result, we were air freighting their product from Vietnam directly to the show's distribution center for several months to keep up with demand.
These rushed shipments actually evolved into a smart strategy for our customer, allowing them to satisfy demand as it presented itself, rather than tying up cash in large piles of inventory only for the goods to collect dust (and eventually become obsolete) if sales dipped.
Our customer's sales were through the roof, the TV show was pleased, and their product got tons of press. This grabbed the attention of companies in other markets (including Korea and Australia) they had not yet tapped. Their ability to meet demand, well, "on demand," enabled our customer to win business they hadn't even considered before (well, also the fact that they sell an amazing product, but you see my point).
Case Study #2 : Electronics Company Uses Expedited Shipments to Improve Cash Flow
Another customer, an electronics company, opts for expedited shipments as a strategy to improve their financial well-being. Since East West manufactures their products in Vietnam and ships them to the US east coast, they're up against 40+ day transit times to their facility.
To alleviate the strain of tied-up cash due to in-transit inventory, this company decided to ship expedited service (ocean transit from Vietnam to the US west coast + team truckers to the US east coast) to reduce total transit times and deliver goods (and thus, invoice their customer and get paid) sooner.
This approach has proved successful and helps them meet or exceed their customers' expectations while freeing up cash and maintaining a leaner inventory.
Conclusion
Changing your perception of expedited freight will allow you to see the (sometimes hidden) advantages to incorporating this option into your supply chain strategy. Focus on the benefits while weighing the costs. Do the advantages offset the cost enough to warrant going that route? The answer could very well be a big, fat NO, but it's definitely worth exploring.
As logistics providers continue to adapt to evolving market needs, more creative options will surface to meet your unique needs without emptying your wallet. Be open-minded, and think outside the box (or shipping container).
Best Expedited Shipping Options from Asia to the US
11 Tips to Reduce International Logistics Costs
A Beginners Guide to ICC Incoterms 2010
FCL vs. LCL: Sometimes an LCL Shipment is Your Best Option