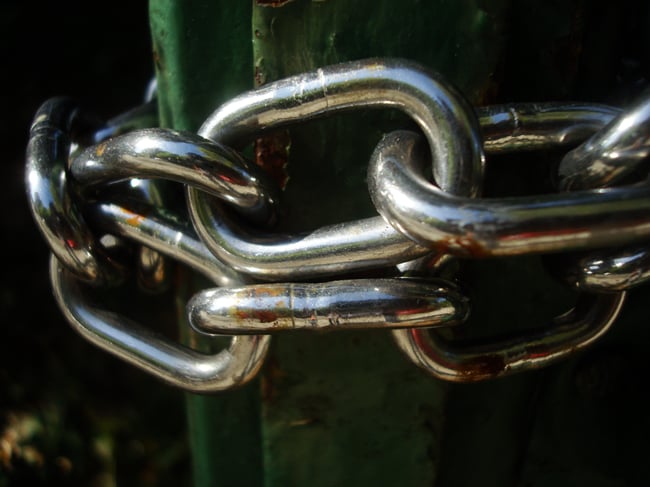 Seriously. If you haven't taken the time to perform a Value Chain Analysis, you could be missing major opportunities to add value for your customers and increase your competitive advantage. Value Chain Analysis (VCA) is a strategic process in which a company identifies the activities that add value to its final product or service and then analyze activities to reduce costs or increase differentiation. The key objectives of VCA are to improve your competitive advantage and add greater value for your customers.
The Value Chain (see image below) was first introduced by Michael E. Porter in 1985. The chain is comprised of primary activities that add direct value to your product, as well as support activities that add indirect value. It's essential to note that primary does not mean more important in this case. Support activities (technology, for instance) can add substantial value to your end product or service and should not be overlooked.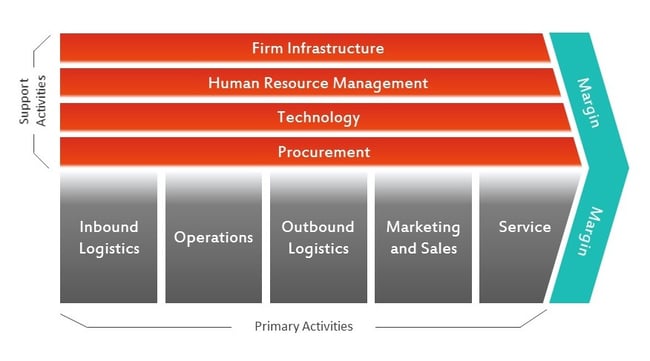 Getting Started
So, you know you should be adding value, but where do you even begin? Before diving into a VCA, you need to determine where your competitive advantages lie (or where you want them to lie) – in cost or in differentiation. Do you want to focus on reducing costs or distinguishing yourself from your competitors?
Below are the steps you'll need to follow to complete a VCA for cost advantage and differentiation advantage, followed by a manufacturing industry example. Keep in mind that while you're adding value currently, the goal should always be to maximize value wherever possible.
Value Chain Analysis: Cost Advantage
As its name suggests, cost advantage means selling your product or service at a lower price point than your competitors by cutting costs in various activities. This may be the best approach for your company, but it is certainly not the proper route for all. Here is how to approach a VCA for cost advantage:
1. Outline primary and support activities. What activities does your company engage in that play a role in your customer's overall experience? This will include sales, marketing, order fulfillment and customer support, among others. These activities vary from company to company and industry to industry, so look closely at how your company operates.
2. Rank the importance of activities relative to product cost. Which activities or processes affect cost the most? Assign cost breakdowns to each activity to identify the main sources of cost and recognize inefficiencies.
3. Identify cost drivers. The cost of each activity is driven by certain variables, such as labor costs, manpower, IT capabilities or cost of raw materials. Identifying these variables allows for further breakdown of cost allocation and the opportunity for improvement.
4. Find links between activities. Most costs do not occur in a vacuum; rather, they span multiple activities in a sort of chain reaction. For example, more efficient packaging design could cut material costs as well as shipping costs – two wins with just one modification! Discovering these links can lead to greater cost savings overall.
5. Look for cost-reduction opportunities. Look back at your top value-adding activities and cost drivers within each, as well as existing links, to discover areas that need improvement. Then go one step further:
Prioritize opportunities
Assign responsibility to team members
Outline action items
Set deadlines for each action item
Value Chain Analysis: Differentiation Advantage
Differentiation advantage is focused on product features, performance and customer satisfaction rather than lowest attainable cost. Here is how to approach a VCA for differentiation advantage:
1. Pinpoint activities that enhance value for your customer. Whereas VCA for cost advantage focuses primarily on internal activities that affect cost, differentiation advantage is focused exclusively on those activities that directly contribute to customer value. This could include customer service, marketing efforts and brand development. For example, some brands have cult followings because customers truly feel their products or services enhance their lives (we call this value).
2. Brainstorm strategies for improvement. Which changes will add the most value for your customers? Do they care about interesting product features? More product variety (size, color, application)? Add-ons or new, coordinating products? More creative packaging? Customization options? Better customer service or a more generous return policy? Consider all possibilities.
3. Decide the best differentiation strategy. Whittle down your options to determine which approach is best for your unique product or service. It may make sense to implement multiple strategies, either simultaneously or in succession over a specified period of time. Your chosen differentiation strategy should be viable for long-term success. For instance, if you decide that the best strategy is to shift to a no-questions-asked, lifetime product return policy, can your bottom line truly sustain this over the next 30 years?
Now you can get started on your own VCA to improve your competitive advantage and focus on maximizing customer value! In the meantime, check out these additional reads: