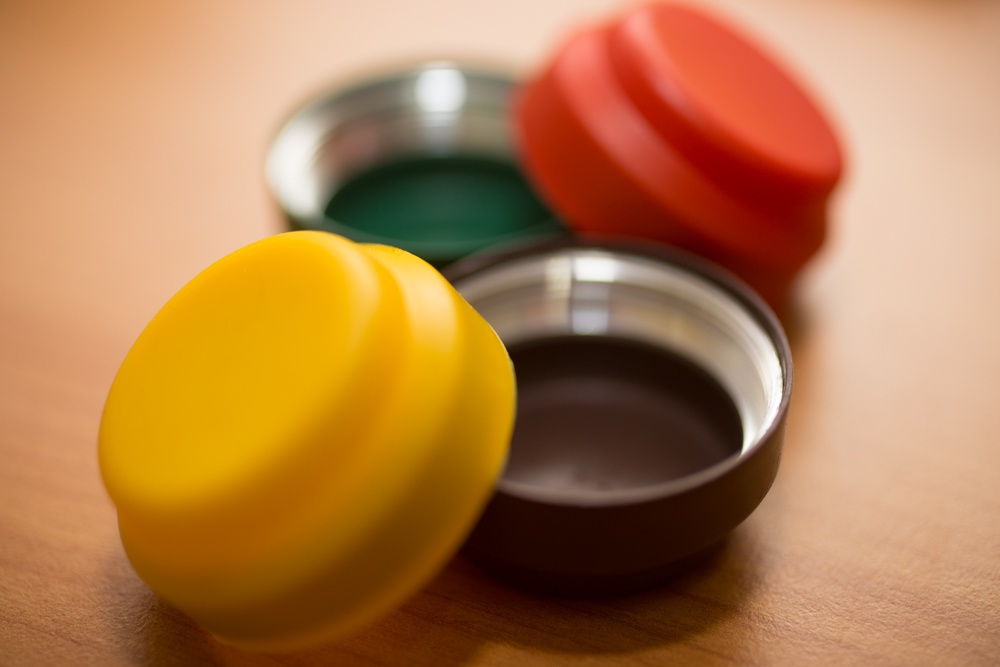 Looking for a rubber component supplier can be a daunting task. The process is so multi-layered with discussions of materials (there are a bunch of them) and manufacturing processes (there are a bunch of those, too). And the variations of materials and processes makes for a fairly complex decision tree. But if you like asking questions, it'll be right up your alley. We've got two sets of questions for you. First up, questions that will help you identify the right manufacturer. Second, questions to help you figure out the right material for your part or product. Let's get to it!
Questions to Ask a Rubber Components Supplier/Manufacturer
1 | What manufacturing processes do they offer? The more processes they offer, the better. Here's a list of typical rubber manufacturing processes:
Compression Molding
Extrusion
Over Molding
Injection Molding
Blow Molding
Rotational Molding
Vertical Injection Molding
2 | Does the supplier have experience in the manufacturing process you need and have the right equipment and capabilities (tool shop, presses, molds)?
3 | Does the supplier have engineering and quality support available and on-site?
4 | What types of materials do they work in?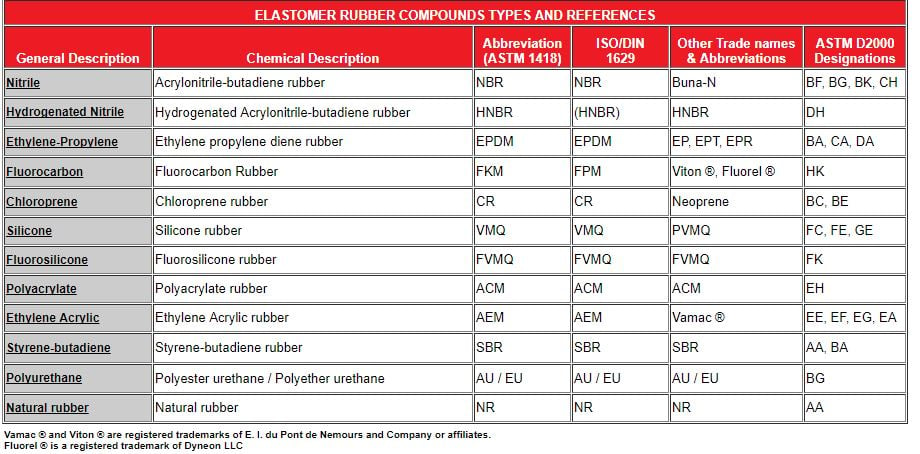 Chart courtesy of Datwyler Sealing Solutions USA, Inc.
5 | How close is the supplier to the raw materials?
In 2016, the top three countries in natural rubber production were:
Thailand: US$4.4 billion (36.8% of total natural rubber exports)

Indonesia: $3.4 billion (28.1%)

Vietnam: $904.1 million (7.5%)
Locating your rubber component production close to where rubber is being made makes a lot of sense from a supply chain perspective.
6 | Do they have a control process for batching (to ensure raw materials are measured & mixed accurately)?
7 | What is the inspection process: IQC – QC – and Finished Goods Quality Inspection?
8 | Is there a Quality Laboratory with the proper testing equipment?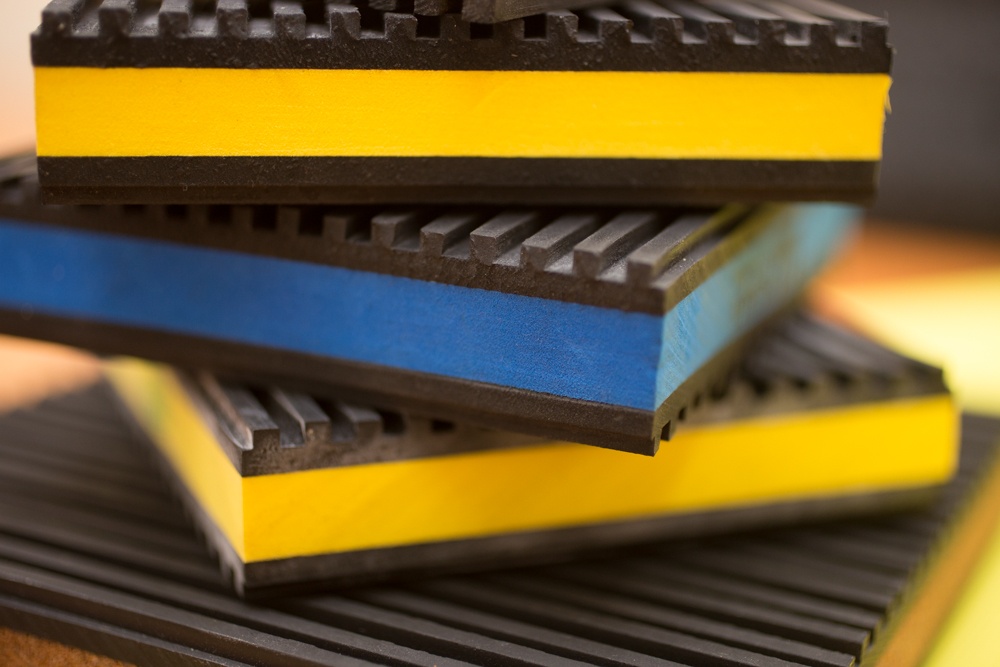 Selecting the Right Rubber Material and Manufacturing Process: What to Ask
There are a lot of variables that go into choosing a material and a process, but one question in particular will drive the decision making process: What is the application? What will your product be used for?
Once you've answered that question, additional questions will follow:
What type of environment will the part be used in? What are some of the stressors? How long will the material be exposed to the stressor?
What are the highest/lowest temperatures (approximate) the material may come in contact with?
Will the material come in contact with flame or flamable materials?
Will the part be exposed to sunlight or UV light for extended periods?
How much pressure/compression will the piece need to withstand?
How much elasticity does the material need to have? Does the material need to rebound to its original shape after compression? (This is typically the case with mating components.)

Is the product or component subject to shear forces that could cause tearing?

Must this material be applied to a metal surface?
Will the part be be exposed to vibration or abrasion?
What should it feel like? Soft? Hard?

Will the part interact with humans?

Will the part/product come into contact with chemicals or chemical solvents?

Is oil or grease (petroleumn, cooking oil, other lubricant) present in the application?

Will the part have extended contact with water?

Does the application require electrical resistance?
The chart below provides an idea of each material and its resistance to heat, cold and other properties.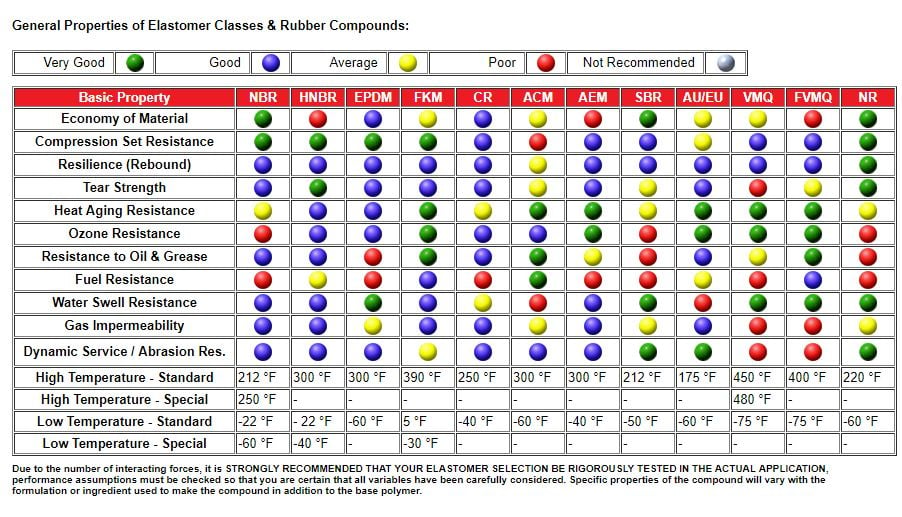 Chart courtesy of Datwyler Sealing Solutions USA, Inc.
Of course, you'll want to ask for references and samples. Check with your network to find out who they're using. There are plenty of rubber component supplier out there, it's just a matter of finding the right one. With a good bit of leg work, and your lists of questions, you'll be in production in no time.
Are you ready to scale up production? Download our free guide below: