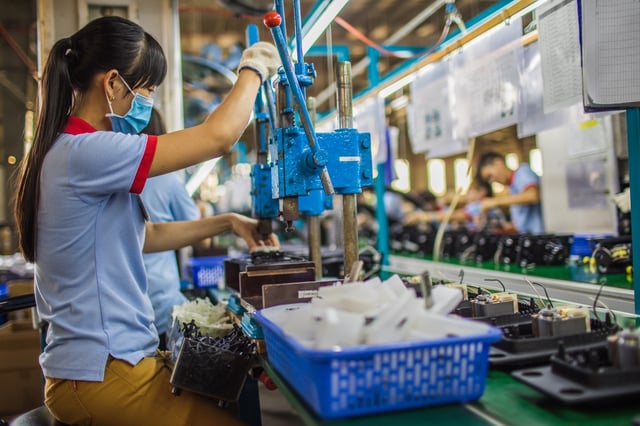 (Manufacturing Day is observed on the first Friday in October)
It's safe to say that manufacturing and the issues that surround it are even more important today than they were when Manufacturing Day (MFG DAY) was inaugurated in 2012. The themes of jobs, workforce education, the skills gap, trade, taxes and infrastructure were regularly trumpeted during the 2016 presidential campaign and they continue to dominate discussions at the federal, state and local level. Just two weeks ago, Wisconsin Governor Scott Walker signed legislation providing $3 billion in incentives to Foxconn to build a $10 billion LCD screen factory that is supposed to create 13,000 jobs over six years.
The pundits will argue the merits of the Foxconn deal, some detractors estimate that it will take 25 years for the state to break even, but let's not kid ourselves, there were many states that would love to have landed that project. And that leads to some pointed questions. Americans say they want the return of overseas manufacturing jobs but do they have the will to pay for it, either in such incentive packages as the one in Wisconsin, the realignments necessary in public education or in higher prices for American-made goods? Time will tell.
But to paraphrase Shakespeare, we come to praise manufacturing, not to bury it! Indeed, we are manufacturers. We are innovators and makers of things and we proudly partner with companies all over the U.S. to bring their products to market. We are excited about playing a role in the making of products that have the potential to change people's lives for the better.
Like many of you, we're doing our part to address the critical issue of workforce education and minding the skills gap. At our Atlanta headquarters we have interns, including four students from a local high school and three students from different universities in the region. Like you, we want to pass on our knowledge to what we hope will be the industry's workforce of the future.
NOT A SECOND TIER CAREER
Our interns are learning that manufacturing isn't just about the factory floor, though internships on the line are essential and lead to good-paying and rewarding careers. In the case of our high school interns, they're learning how a global contract manufacturing company operates. They're discovering the intricacies of supply chain and logistics, marketing and accounting. Meanwhile our college interns work closely with our engineering team, getting real-world experience while helping solve product development challenges for customers.
These internships are vitally important to the industry's future. A study by Deloitte and the Manufacturing Institute projects 3.5 million U.S. skilled manufacturing jobs will need to be filled between now and 2025. MFG DAY is one way the next generation of manufacturing workers are introduced to our industry.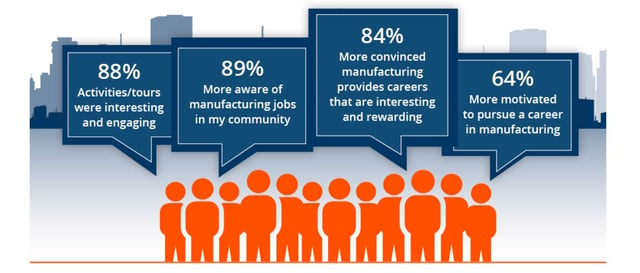 Statistics from surveys taken after MFG DAY 2016 show that exposing students to manufacturing jobs has an immediate, positive effect. But it's up to those of us in the manufacturing industry to reclaim the narrative. It's a story worth telling. A simple Google search brought up headlines that demonstrate the degree of technical sophistication involved in manufacturing:
How IoT Can Drive a Productivity Revolution in Manufacturing
Bringing Artificial Intelligence to Manufacturing
NASA Engineers Test First Multi-Alloy 3D Printed Rocket Part
Manufacturing jobs shouldn't be presented as a second or third choice career. While some factory jobs don't require a college degree — experienced welders can make $90,000 or more a year — today's manufacturing jobs often require technical skills that call for certifications or training beyond high school. For those inclined toward higher education, there's always a need for trained engineers. Just like other industries, manufacturing has jobs for workers at every level of the training spectrum.
Learn more: Why Blue Collar Industries Are Facing Such a Massive Skills Shortage
INNOVATION INTO PRACTICE
Finally, I often wonder whether people working in manufacturing — from the CEOs and executives to the managers and workers on the line — consider their work 'of value'? It would be very easy to look at fasteners, box builds or plastic injection molded parts and think that your contribution to society is inconsequential. But I would caution against that.
Manufacturing puts innovation into practice. Yes, the world needs the people who can conceptualize life-changing products, but the world also needs people to make those things — to make the invisible, visible.
Here's what Jeff Sweeney, one of our co-founders, says:
"I view manufacturing as a tangible, enduring, and very visible value-add. While it sometimes can be difficult to put one's finger on the "softer" value adders like R&D, Promotion, and Distribution, the value added via "making something" is clearly identified.
While it is partially perception, there is also a very real side to this visibly added value. Whether it is the manufacture of components, sub-assemblies or finished goods, the conversion of materials into higher-level, produced goods is the result of human input.
This input creates tangible value in the conversion of the goods in question, but also generates a ripple of additional value-add via the well-known multiplier effect (where worker's wages earned in performing this manufacturing value-add are spent on other goods and services generated by others, and so on).
Further, there is intangible value also created by the direct and immediate feedback and sense of accomplishment that comes with being part of the process to convert materials and parts to a higher-level — i.e. involvement in the "maker" process creates personal satisfaction that is difficult to equal outside the manufacturing realm."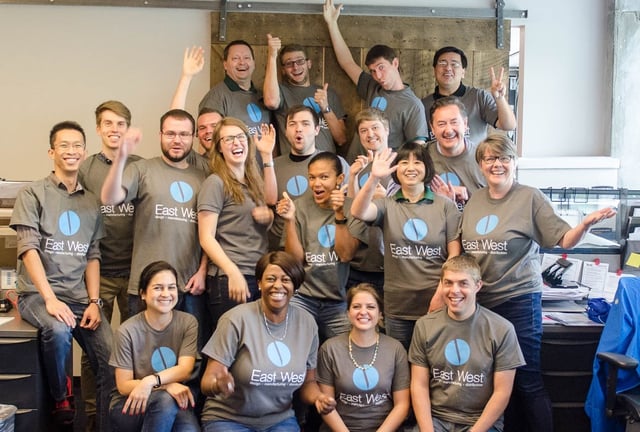 The ability to create sets us apart from the rest of the animal kingdom. The further abililty to mass-produce our creations takes creativity to another level. Manufacturing means that your drawing on a napkin can become a product in the hands and homes of millions of people around the globe. And that can't happen without people who are dedicated to their work in the industry, whether in North America or around the world. We are proud to call ourselves manufacturers. We hope, on Manufacturing Day and every day, you feel the same way.
Read more: