Normally at the start of a manufacturing relationship, the contract manufacturer will ask the customer for a spec sheet — a report showing a variety of acceptable tolerances for the part or product. But if it's a new product, or an older product that has undergone tweaks or changes through the years, there might not be a neat, up-to-date report.
That's where motor reliability testing comes in. Reliability testing is an essential component of the manufacturing process. The test results provide information — pure data — that helps direct the design and manufacture of your product.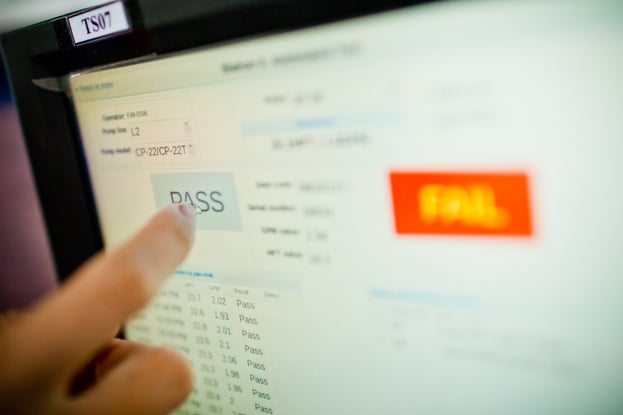 A contract manufacturer can test the original part or product to determine a baseline. Then, based on the test results and the customer's goals, the CM will develop a plan for product design and development. Is the customer trying to reduce noise, meet a regulation or standard? Maybe they want to value engineer the part or product. Often, it's a combination of things.
Manufacturers provide varying degrees of reliability testing. In the case of EC motors, you'll want to find out whether your prospective CM has the following testing capabilities:
dynamometer
airflow chamber
ALT/HALT
thermal shock testing.
Let's break down these different tests to find out what they do and why it's important.
DYNAMOMETER
A dynamometer is a device used to measure force, torque or power. Having a dynamometer on site for testing allows the manufacturer to quickly baseline-test motors that OEM customers send so they can properly characterize the customer's current motor characteristics (such as the speed vs. torque curve), then design their own motor that will meet or exceed the customer's existing motor solution. The OEM customer may or may not provide good data sheets for their existing motor solution. With on-site dynamometer testing, the CM can generate the performance data and prepare a side-by-side report comparing motor performance curves in graphical form.
AIRFLOW CHAMBER
An airflow chamber allows the CM to generate the pressure versus airflow curve for an OEM fan or blower solution if the OEM customer doesn't have good performance data for their current fan or blower. With current airflow data, and a clear understanding of the customer's design objectives (whether increasing airflow, lowering noise, reducing wattage, smaller footprint or any combination of these), the CM can engineer a customized fan or blower solution to best meet their needs.
ALT/HALT
These two acronyms stand for Accelerated Life Testing (ALT) or Highly Accelerated Life Testing (HALT). ALT or HALT testing are performed on new or customized motor, fan or blower solutions to make sure the product will work in the intended environment over the long haul. The CM works with the customer to run specific tests under highly stressed conditions (extreme cold or hot chamber, frequent on/off cycling, etc.) to simulate the worst-case application conditions, looking for ways to improve the design for longer term reliability.
THERMAL SHOCK TESTING
Thermal Shock Testing is a type of ALT/HALT testing during which the motor, fan or blower is subjected to changes from very low temperatures (typically -35 to -40 C) to very high temperatures (typically +60 or +70 C) in very short time durations. These tests cause the materials used in the motor, fan or blower to expand and contract. The test is meant to simulate applications with rapid temperature changes, which can lead to premature failures if not properly accounted for in the design. The results identify potential areas where the design can be improved.
So what's the bottom line when it comes to reliability testing?
First, the tests provide valuable information you'll need to ensure you're getting the most efficient, well-designed and constructed product to the market. This isn't a place for shortcuts. You want to make sure your contract manufacturer can perform these tests. Most motor manufacturers will have a dynamometer, and most fan/blower manufacturers will have an airflow chamber. But finding a contract manufacturer with multiple manufacturing and design capabilities means you're more likely to find the reliability testing capacity you need all in one place.
For more reading about the design and manufacturing process check out these posts: