That idea that was scribbled on a napkin late one night or that popped in your head one morning in the shower is finally ready to come to life. You have discovered an amazing idea for a product and you've done some research. It's clear this product needs to get in the hands of thousands, possibly millions of people. You're past the initial idea phase, maybe you even have a working prototype you've proudly shown off to potential buyers. But where do you go from here? Are you ready for product manufacturing now?
We've compiled a quick checklist of items most frequently requested by contract manufacturers who
are approached by entrepreneurs looking for information to help quote their product and get it into production.
If you can tick these items below off the list, chances are you're going to find a manufacturer who will be not just impressed, but willing to spend some time to talk more in depth with you about your project and the best way to get your product mass produced.
Strategic / Marketing Plan
Do you have a marketing plan in place for how you will spread the word of this fabulous product?
How will you sell your product?
Does your plan include market analysis, competitive landscape examination, pricing strategies, potential sales channels, etc.?
Lori Greiner, star of Shark Tank and an inventor herself, recommends: "You need to arrange for the sale of your product before you arrange for 10,000 of them to be manufactured. That's where entrepreneurs hurt themselves," Greiner says. "They put out thousands and thousands in inventory, which they haven't sold."
Strength of Ownership / Leadership
Will your new product be a part of a startup or join other products at an existing company?
A company that has a few to several years of operations already under its belt offers a little more credibility and project viability to a manufacturer. That's not to say startups with new products won't be successful, but it's crucial that a newer company with a brand-new product has done thorough research and analysis on how their product expects to perform in the marketplace.
Funding
Will you be paying out of pocket for the manufacturing of products?
Or do you have other sources of capital, possibly through crowdfunding, to get this project off the ground and running?
Perhaps you have had success with major institutions who have been willing to invest in this product to seed its success. It's possible your project may need a tool made for $10K, $20K or even $100K+. Get a plan in place and nail down the funding details before you begin your search to have your product manufactured.
Shipment History
Have you already manufactured some of your products and shipped them from elsewhere, or will you need an initial production run to begin with?
How many pieces of your product are you looking to purchase for your first order?
If you've already produced and had product shipped, what was the market feedback?
Here's where having a Marketing/Strategic Plan in place can help again. Knowing what the market demands your product will help determine the estimated volumes needed for first production runs, and possibly future production orders.
Is there Intellectual Property (IP) Protection in Place?
Is there any other product like yours currently on the market, or is your idea truly one-of-a-kind?
If it is indeed unique, check out the U.S. Patent and Trademark Office website and confirm there isn't a patent already on file for a product out there already related your idea. If you are ever in doubt of whether your product has been previously trademarked or not, seek out an attorney who specializes in patents and IP law to help ensure your product idea will be protected.
2D/3D Drawings
Have you worked with an engineering firm or had outside engineering assistance to help nail down the design of your product?
If your idea is still drawn on that napkin, it's time to make the smart move to invest time and hard-earned money to work with an engineering company that will mock up your idea into 2D and 3D drawings. Engineering drawings could include time-saving information that helps the manufacturer prepare the most accurate quote on your project. Details might include the product's material and finish, any tolerances required, assembly instructions, packaging requirements and more. Prepare in advance for possible questions from the manufacturer after submitting a drawing package.
Fit
Depending on the nature of your product, be sure to do your research on the best manufacturer for your project. Have a cool idea for a device that can speak to other wireless devices in your home? Seek out a manufacturer who specializes in the Internet of Things (IoT). Have an aluminum die cast thingamajig? Look for a source who has extensive knowledge in metal products. The better fit with a manufacturer, the more expertise they will be able to bring to the table, the better value for you and your project.
So how does it look? Is everything crossed of your list?
Here's a helpful infographic to show when it's time to engage with a manufacturer: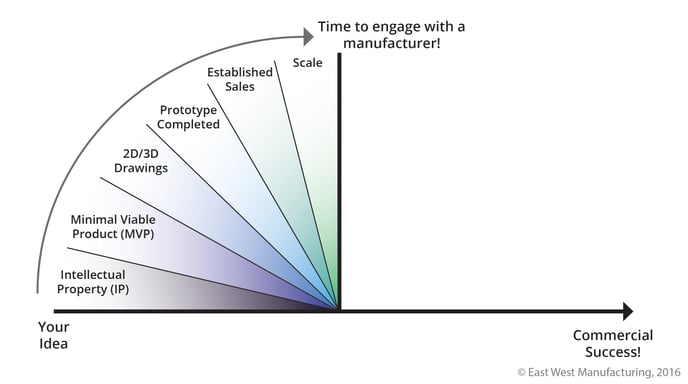 When you're ready to reach out to a contract manufacturer for mass production, it's essential to select the one that best suits your needs. In addition to ensuring a solid quality product, the right manufacturer can help with Design for Manufacturing (DFM), IP Protection, offer engineering services and possibly have "feet on the street" in other countries to help competitively source materials.
Dreaming, developing and eventually getting your product manufactured can be a long road with plenty of twists and turns. But with lots of careful preliminary research, in depth planning and professional consulting in specific areas, it's highly likely you'll be able to enjoy a path to success and have the pleasure of watching your idea turn into reality.
Additional Reading Sources: