Virtual reality used to be relevant to the gaming industry alone, but the times, oh my, they have changed. This technology has the potential to reshape major industries, from healthcare to industrial design to hospitality. While the potential undoubtedly exists, the technology remains largely underutilized in most industries. Its coming-of-age is now underway, allowing companies to digitally see and interact with their designs, as well as troubleshoot potential issues, pre-production. Read on to learn what this could mean for the global manufacturing sector.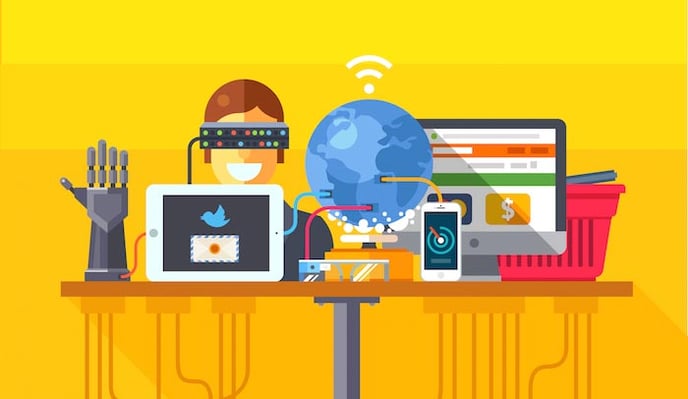 Image Credit: VRS
What is Virtual Reality, Exactly?
Virtual reality (VR) is defined by the Virtual Reality Society as: "the term used to describe a three-dimensional, computer generated environment which can be explored and interacted with by a person. That person becomes part of this virtual world or is immersed within this environment and whilst there, is able to manipulate objects or perform a series of actions."
So, essentially, a virtual environment is created, and users can then connect and interact with the environment and its objects in a sensory way, as though they were physically present, all thanks to some mind-blowing computer technology. Pretty neat and totally revolutionary! The VRS does a wonderful job explaining the ins and outs of this technology – learn more from them here.
What Are Its Implications for Manufacturing?
I'm so glad you asked, because VR technology has many useful applications, from improved worker safety to increased efficiency from both a process and product design perspective. Let's explore a few of these applications now.
Predictive Analytics and Big Data
Predictive analytics aren't a new concept by any means, but virtual reality has created a fresh approach to this trusted technology. One of the downfalls of the world we live in is the uncertainty of outcomes, of what the future holds. This is where predictive analytics takes the stage. The ability to anticipate an outcome before it happens is extremely valuable, and VR technology is making this much easier and more accessible. Engineers are able to design better products while customers can see final products pre-production, ultimately saving everyone precious time and money.
Additionally, big data is becoming even bigger. By that I mean it's more robust, more tangible, easier to visualize and analyze, all thanks to VR. Rather than dealing with figures on paper, analysts can now interact with data in a virtual world in a more hands-on experience that produces greater clarity and opportunity. For example, finding a flaw in your product design could take weeks of "running the numbers," whereas a simulated interaction with the product via a headset such as the Oculus Rift might enable you to spot an issue literally within minutes.
Increased Efficiency and Safety
When talking about VR and its potential to increase efficiency, this not only applies to a physical product, but also to the associated manufacturing processes. By designing and simulating production lines virtually, a production manager can identify bottlenecks, maximize efficiencies and reduce total waste before any physical work begins. As far as products go, VR simulation allows engineers to identify potential material weak spots or air flow issues in the early design stages when tweaks are simpler and less costly.
Safety is another key area where VR has the power to make waves. Simulating various production processes and assembly line configurations allows a user to identify potentially hazardous maneuvers and fine-tune workflows pre-production. Automotive giant Ford, a company leading the way in VR integration, has successfully reduced employee injuries by 70 percent, according to TestDrivenTV. Watch the video below to learn more about how Ford has incorporated VR in several stages of its design and manufacturing processes.


Enhanced User Experience
We all know that the customer is king. Keeping consumers happy and turning them into loyal customers can sometimes be tricky. Luckily, technology is here to help (thank goodness). By allowing engineers and designers to interact with their designs in a real-life way before executing them, VR helps create better products for consumers. Such foresight is invaluable.
Back to Ford and their early adoption of new technologies: Check out how they have used Oculus Rift headsets to improve automotive designs by watching this video. The manufacturer is able to simulate various road and weather conditions (daylight, rain, traffic, etc.) and examine specific details of a car's design, all from a driver's perspective. Members of the engineering and design teams, as well as other key players, can join in to experience the simulation and suggest design tweaks to make a better, safer, more satisfying end product.
Conclusion
As VR devices become more affordable and, thus, more accessible, gamers aren't the only group looking for ways to get the most out of this incredible technology. Although adoption in the business world remains very low, interest is spiking as companies realize VR's true potential. Don't expect to stop hearing about advances in this technology – across virtually (get it?) every industry – any time soon.
5 VR SlideShares You Don't Want to Miss
3 Internet of Things (IoT) Challenges That Cannot Be Ignored
5 Ways the Internet of Things (IoT) is Transforming Manufacturing
Beyond Nest: 9 Ways IoT is Reshaping the HVAC Industry