Sometimes we turn to others for advice. And sometimes those folks steer us in the wrong direction (often unbeknownst to them). After 15 years in the business, we've overheard some pretty terrible advice and actually witnessed it, shockingly, in action. Below we share the top 10 worst manufacturing advice we've encountered. Remember, this is bad advice. Don't follow this advice. I repeat: DO NOT FOLLOW THIS ADVICE.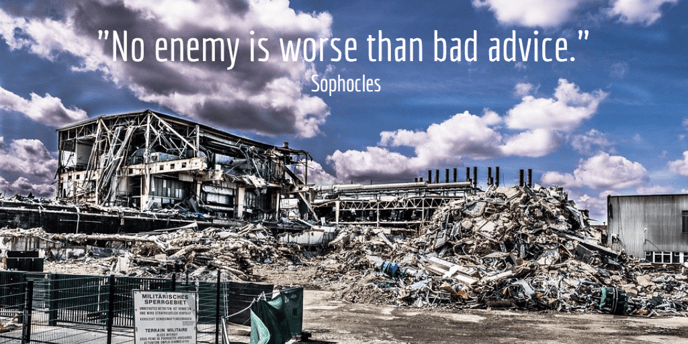 One supplier will do. Finding a great supplier and strengthening that relationship takes time, and it could be easy to call it a day once you've got one stellar partner on your side. But putting all your manufacturing eggs in one basket is extremely risky. You never know what could happen, so be sure to qualify alternate suppliers in case you need a backup in a pinch. Multiple life lines also means more negotiating power when it comes to pricing, production schedules and the like.
Lower cost is always better. We all love to save a dime (especially our customers), but the lowest cost option is not always the best option. Never sacrifice quality for low cost. Even if it seems like the most favorable short-term choice, putting cost before quality will not pay off in the long run. Saving a dime today could very well mean paying back triple those savings months down the road when you are faced with a devastating quality issue.
Do as much in-house as possible. While there is some sound logic buried in this statement, there's a fine line between utilizing your internal resources and attempting to tackle a project that is beyond your company's skill set. Be realistic about your team's strengths and weaknesses. Don't try to be a jack of all trades. There are times when outsourcing certain tasks or projects makes the most sense, even if it comes at a higher cost. Getting the job done well is always more important than getting it done on the cheap.
Don't ask for help – that's a sign of weakness. There's a big difference between giving up and crying for someone to bail you out of a hole you dug yourself vs. seeking guidance from experts to propel your business forward. If you truly want your business to grow, check your pride at the door. This is especially important when expanding operations to a new market, like a foreign country. Enlisting the help of native experts is highly recommended. Do whatever it takes to continue moving forward and make growth a reality. Don't try to do it all on your own.
Just figure things out as you go. There's a reason a business plan is the first step toward launching a company! You need to know what direction you're going in and put real numbers behind it. Do the market research. Create contingency plans. Assemble a crisis management team. Establish long-term goals and visions. Although you'll most likely have to adjust to changes and obstacles along the way, you need to have plans in place before you get started. Work through potential impacts and consequences before making any major decisions.
New investments are too expensive and risky. Sure, significant investments can be expensive and risky, but living in fear of them will only stunt business growth. Expanding our manufacturing capabilities at our Vietnman facility meant doling out a decent amount of cash and manpower for the necessary infrastructure and equipment, but we knew the demand was there. How did we know? Because we did the market research. Because we sat down with our customers and discussed their needs and how we could help them by taking this step. Are the numbers still scaring you? Fix your gaze on the ROI, not the initial cost. Be smart, but don't let fear stand in the way of growth.
Skipping a couple of audits won't hurt. Audits and inspections are one area you cannot skimp on. If you want to be a successful manufacturer, you need to know what's going on in your and your suppliers' facilities. Scared of what you might find? If you're feeling this way, that should act as a glaring red flag. Choosing not to look will only exacerbate the problem, and it's simply not worth it. Discovering and resolving issues early on is the only way to find long-lasting success.
Documentation is outdated. It would be naive to question the fact that we're living in a digital world, but documentation of processes should not be viewed as a relic of the olden days. Keep in mind that documentation does NOT mean hard copies. Use a digital record-keeping system to document your processes, quality logs, inspection reports, etc. Tracking data is the best way to identify trends, whether positive or negative.
Do only what you're comfortable doing. Well. here's one surefire way to sabotage your business. Getting stuck in the "we've always done it this way" mantra is toxic. This doesn't mean you should go around doing things that go against your corporate values, but try to recognize when a new way of thinking or acting could be the better way. This often goes back to the issue of pride – assuming you have found the right or best way can get you into trouble. Possessing the ability to adapt to the ever-changing manufacturing world is crucial to becoming a key player in it.
3 Tips for Painless Supplier Agreements
How to Change Suppliers the Right Way
The Supplier Dating Game: 5 Qualities to Look for in the Perfect Partner
The Key Benefits of Offshore Manufacturing