Getting from point A to point B is easier with a road map (or Google maps, these days). The same is true when you're making a product. Your manufacturing road map is called a Bill of Materials or BOM. The BOM is an essential tool that directs engineers as they pull together materials and parts for production.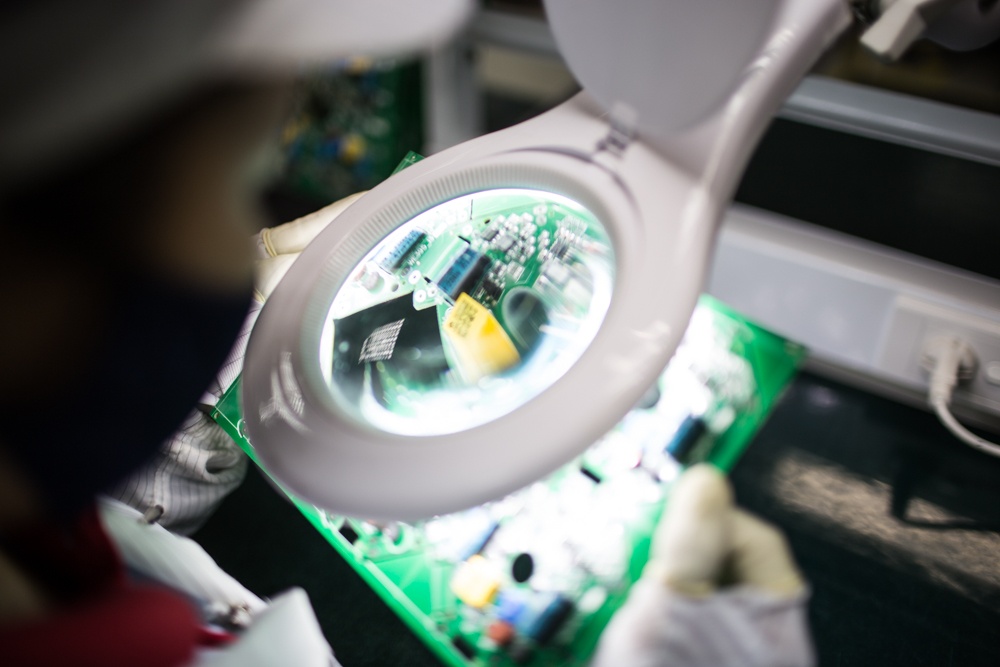 While the steps to building a BOM are pretty basic, the more complex the product, the more complex the BOM. Product designers are responsible for listing every single part/label/finish, no matter how insignificant it might seem. An accurate BOM is critical to successful production.
Let's pretend… You're building an electronic product, but you forget to list a small plastic connector on your BOM. You'll discover just how important that piece is when you get to the production phase and it's missing. The result? You can't start production. You have to order the part. And guess what else? The price of your product will also change. It's a mess.
Your BOM will keep you and your project organized.
If you're working with a company to develop a new product, your project engineer will direct what goes on your BOM. However, if it's an established product out for quote, the current BOM will be given to the new project engineer during the RFQ stage. They will follow the BOM to determine where they'll source the materials, looking for places where they can pull costs out of the product.
Here are items the project engineer will look at during this process:
Material. If you want a part made of plastic, what kind of plastic or what type of resin? Do you need plastic or ABS? Do you need metal or A380 stainless steel?
Do you need certain material requirements? Does it need to be flame-retardant? What strength and durability does your finished product require?
What third-party agency or safety compliance will you need (UL, ETL, RoHS)?
What are your product's cosmetic requirements?
Where will you consider alternatives? For example: Does your product NEED to be DuPont Vamac or will a substitute elastomer be suitable, provided it meets your requirements?
Providing the weight of each component reduces the time it will take to provide an accurate response to your RFQ (Request for Quote).
Remember: Whatever you provide, the more SPECIFIC, the better!
Excel spreadsheets are probably the best thing that ever happened to designers, engineers and project managers trying to keep track of the information necessary for buidling a better BOM.
The following headings should be on your spreadsheet:
Project name

Project identifying number

Project manager/engineer

Date & revision code
Basic column headings should include:
Sequence number

(i.e., 1, 2, 3, etc.)

Part Type

- What is the part?

Part Number

- The reference number on the part

Part Manufacturer

- The company that makes the part

Part Description

- A brief description of the part (i.e., multi-layer ceramic capacitor)

Quantity

- How many parts you need to build your product

Price

- The price of each part

Comments

- Space to jot notes
A bill of materials is unique to each project, so headings will change. You will probably end up adding additional headings for requirements related to your project, maybe tolerances, voltage or current. If you're making a BOM for a PCBA, you'll include the reference designator which spells out where each piece on the board belongs.
Here's a very basic BOM sample (click image to see full size):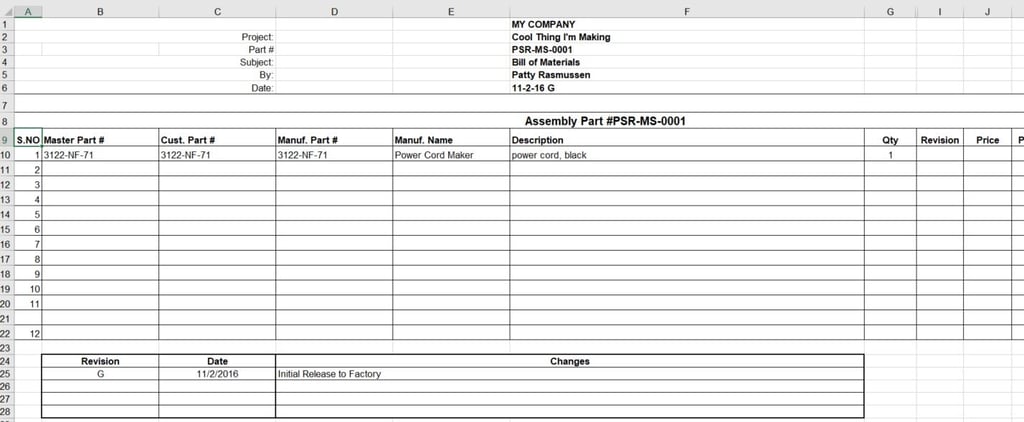 Fill in your spreadsheet by listing the parts from the project's design drawings. This might seem inordinately tedious, but it's essential. It doesn't matter how obvious it seems, list each part used to make your product. (Remember our gut-wrenching example above…) There will be changes. This BOM created a separate box below the list of materials to track revisions.
Some companies use BOM software or even open source software to create their BOM. Whatever you end up using, the final result should be an easy-to-understand document of what you're going to need to make your product.
Read more: