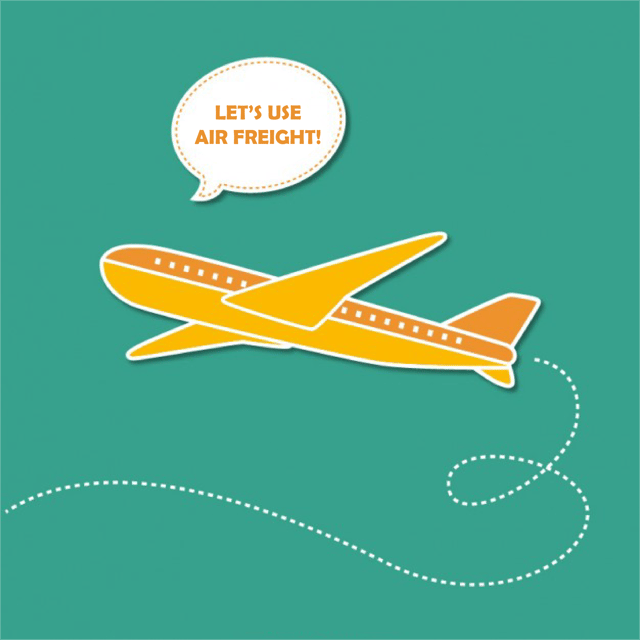 Designed by Freepik
When you manufacture overseas, air freight is generally a luxury you can't afford. After all, one of the main reasons for making your product overseas is to save money. The cost of shipping by air on a regular basis would be exorbitant, and cut into any margin you have built in. But there are times when paying extra for air freight is an absolute must.
Watch this quick, two-minute video with Katie Christman, Inventory/Domestic Logistics Coordinator at East West, as she describes those times when you might want to consider air freighting your products.
As Katie points out, there are many reasons when shipping by air should be considered. And while human error can be a factor, it's not the only reason by a long shot. Let's review:
Promises
Listen: Stuff happens. Misprinted boxes, typhoon season, labor issues at the port…some things you can control, other things you can't. But when you've made a promise to your customer, old or new, you want to keep it. Your customer doesn't care why it looks like the product won't get to them when you said it would, they just want their product. This is especially true when it's a new customer and future business depends on the order you're dealing with today.
Take a deep breath and schedule air freight. You know this isn't the norm, and hopefully it won't happen again, but in the long run, it's better to be safe than having to tell your customer, "Sorry. We won't be able to deliver on time."
Mistakes
If you're the one who made the mistake, just suck it up and pay the freight costs. Call it a teachable moment. It's a mistake you'll never repeat. If it's your contract manufacturer that blew it, hopefully they'll stand up and take responsibility. Owning the mistake means assuming the cost of air shipments necessary to meet the deadlines both parties agreed to.
Holidays
This is where a good customer service representative (CSR) can be a great resource. However, if you overestimated your product readiness or underestimated the time left before deadline, and you find that there's no room on the last vessel for your goods, air freight is an option to consider.
If you decide not to ship by air, remember the following:
It will be at least two weeks before your product get on a ship.

You'll pay a premium due to increased volume.

You'll probably face a slowdown because of increased volume at the stateside ports as well.
Demand
We saved the best reason to use air freight for last — your demand has outstripped supply. This is a great problem to have. Sure, it might cost you a little extra cash right now but your product is a success and you want to keep the product flowing. Here's a true story: One of our customers sold their product on QVC and had to ship virtually all their product by air for the next several months to satisfy demand.
Note: Products that have high seasonal demand can wreak havoc on your forecasts, too. if you're experiencing a rush to stock and distribute inventory before the season kicks off, air shipments can help you meet those deadlines.
Of course the best way to avoid air freight costs is to create accurate forecasts. We have an entire blog post devoted to creating accurate forecasts, but here are some basic tips to move in that direction:
Communicate with your CSR.

They are the experts and track your actual usage. They can help you adjust, plan and ship your inventory based on those figures.

Look at a lot of data.

Our CSRs recommend examining

12 months of sales information

to get a realistic picture of what you'll need to order and when.

Alert your CSR when changes are coming.

Maybe you're expecting orders to go through the roof in December, or a customer has dropped off and your sales are slowing. Communication is part of building an accurate forecast and a good relationship!

Keep manufacturing lead times in mind.

The time it takes to make your product needs to be factored into the forecast.

Accuracy is more important than

frequency

. Creating an accurate forecast once a month is better than an inaccurate forecast coming in weekly.
The decision to use air freight isn't one to take lightly, but it isn't one that you should agonize over either. If you end up having to ship your product by air because of any of the reasons we've listed, just realize that the situation is probably not permanent. Resolve the "crisis" and then resolve to become the best forecaster in the business!
Read more: