Since the beginning of the pandemic, most of us have experienced trying to order items that seem to never be in stock, or if we are lucky enough to successfully place an order, it is met with shipping estimates sometimes months out.
This may be front page news now that consumers are being impacted at such an extreme level, but for those in the world of sourcing and electronics manufacturing, we have been talking about the electronic components shortage for years now. In fact, back in 2018 our Vice President of Supply Chain wrote this article sharing ways to manage your supply chain during this time. The truth is, the Covid-19 pandemic is not the cause of the problem, but merely the final tipping point of an issue already exacerbated by multiple compounding scenarios.

How'd we even get here?
First, we need to wrap our heads around the idea that a large percentage of the labor force, 42% in 2020 according to this Stanford economist), is working from home with another 33% not working at all. On top of that, many children worldwide are still attending school virtually. The BBC recently shared how this shift led to inflated demand for computers, standing desks, lighting, tablets, microphones, better wifi, etc… All of these things require chips, and everyone needed them now.
Second, when murmurs of fluctuations in component availability began to make its way around Zoom meetings, many companies who typically operated in the "just in time" philosophy after finding themselves with a surplus during the recession panicked. They placed large, advanced orders to stock inventory, which left smaller organizations scrambling to hunt down components.
Third, the rebound from the COVID-19 shutdown was faster than expected. While the US was closed for what seems like most of 2020, China was busy deploying 5G technology across its 1.6-billion-person country. A monumental amount of equipment and electronics were required to accomplish this. It isn't just electronics.
Finally, we faced several additional disasters such as the 2020 Texas deep freeze and a fire at Japan's Renesas Electronics Corp earlier in 2021 which both resulted in temporary factory closures, putting chip production schedules behind. Many of these facilities may be back to full production but the damage to supply chain was done and demand still outpaces production.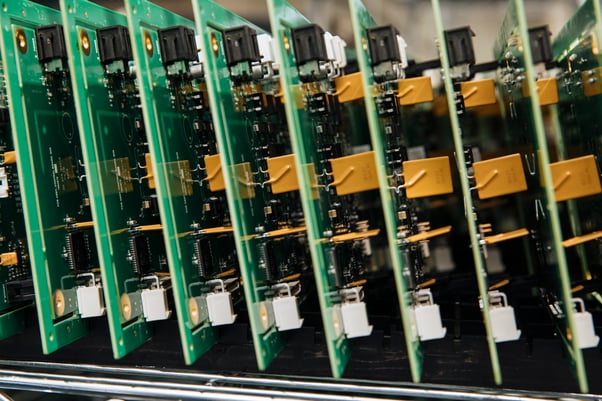 When will we see the supply of these components normalize?
That is a simple answer to a very complicated problem. After speaking with our Vice President of Supply Chain, Steven Lustig, the chip shortage will end when these things four things happen:
Countries such as Malaysia and the Philippines need to be consistently working at full capacity, void of restrictions limiting the number of employees who can work simultaneously at one site as Covid-19 still wreaks havoc on the labor market. These areas in Southeast Asia are often overlooked, but they play a critical role in the supply chain of semiconductors – specifically in the assembly and testing phases.


This season, transportation is an absolute nightmare to put it bluntly. Before things can normalize, we must see stabilization of logistics pricing and shipping bottlenecks. Containers shipping from Asia to the United States are 10x the price from a year ago, and when they do make it to ports, it could be days waiting on the ocean for a spot to dock. When will prices go down? Well, we don't know, but it is inevitable. Look at lumber prices as an example. Between April 2020 and May 2021, cost rose to a staggering 334% its normal price, but have now fallen back to reality. Similar trends are being seen with used car prices, suggesting this is part of the pandemic-induced economic pattern.


Even before the pandemic, it became critical to increase capacity throughout several levels of the electronics supply chain. This is a long and expensive endeavor but is crucial to keep up with advancing technology and the reality that current global capacity falls short of demand. Although this change won't happen overnight, we are already seeing several Asian countries such as Taiwan and China making expansion plans. These plants take years to get online and cost $Billions of dollars to build. Then, you need find employees to staff it in what is now one of the tightest global hiring markets most of us have ever seen.


Rationalization of supply vs. demand. When availability of components tightens, demand spikes. Some overreact and that can lead to unrealistic future orders (false demand) or possibly duplicate orders. Once demand normalizes there may be a backlash of cancelled orders.
We wish we have a crystal ball to tell you the date and time, but these four primary variables are big challenges to predict.
What Should you Do? - Plan
Placing blanket purchase orders as far out as you possibly can should result in you keeping your products in stock. That's a challenge as lead times can easily run over 100 weeks. The best way to keep your place in line is to work with your supplier by sharing as accurate a forecast as possible.
Don't forget that Chinese New Year planning starts NOW! If you rely on a global supply chain (and if you put an electronic chip in anything, you do) remember that you need a plan to keep your lines running as Chinese New Year will shut down operations for at least two weeks putting further stress on a supply chain that has been stretched thin for over a year now.