Setting up an engineering lab may feel like a mammoth task, but the most important thing to keep in mind is that safety should always be your top priority. Protect your employees and keep your engineering lab running efficiently with the following 10 lab safety tips.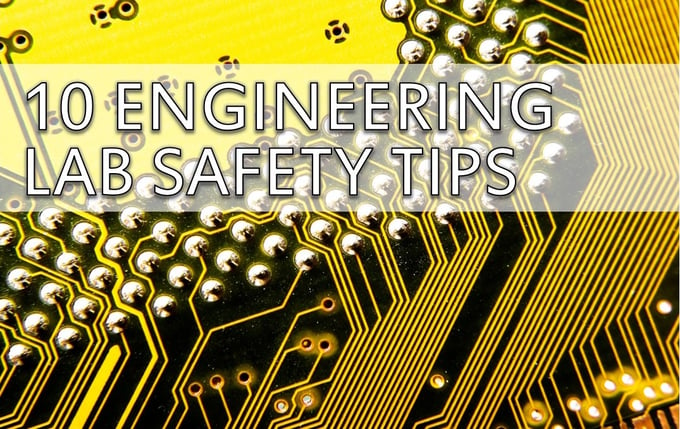 1. Follow OSHA Standards
First and foremost, you need to follow the Occupational Safety and Health Administration (OSHA) laboratory safety guidelines. OSHA makes all their standards and best practice recommendations available online, so check out all their great resources to get your lab in shape.
2. Focus on Training
Establish a culture of safety, which means a culture of following processes. Being lax in this department undoubtedly increases safety risks. Training is the best preventive action you can take. New hires that will be using the engineering lab should receive a formal training session. Designate a head of lab training and maintenance.
3. Make Organization a Priority
Lack of organization and proper storage is a gateway problem that leads to many other safety issues. Aisles and work spaces should be kept clear at all times, and an emergency route and exit should be clearly marked. Here at East West, organization in the lab is extremely important. Everything has a home and is clearly labeled. This keeps things tidy and reduces risks. Remind lab workers to return tools to their homes after use.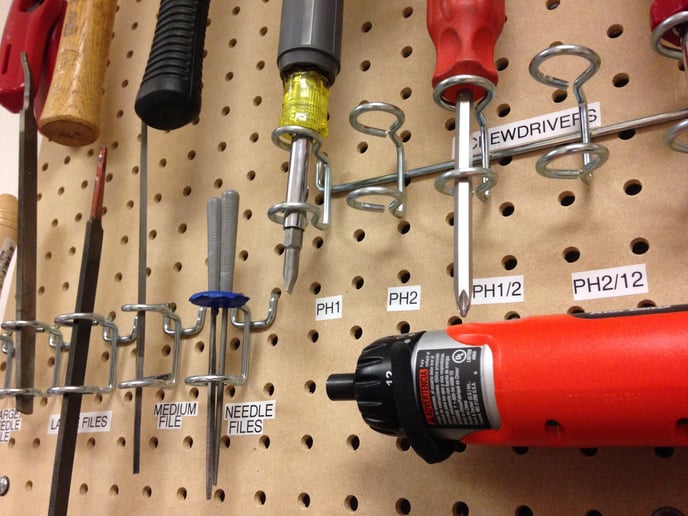 4. Signage is King
Okay, do you really need to label where the screwdrivers go? Yes! This keeps the lab organized. Everything should have a place, whether it is a screwdriver, level or tape gun. Item labels and larger signage to designate specific areas (first aid station, electrical testing station, packing station, etc.) are critical. Be sure to label any chemicals with substance name, hazard information and concentration. Post MSDS sheets when necessary, and clearly label hazardous substance disposal bins.
Emergency procedures and warning signs for potentially dangerous machinery and substances should also be posted. You may think some signs are unnecessary because "that should be obvious," but the best approach is to set up a lab assuming the users are beginners. Like your mama said, it's better to be safe than sorry!
5. Don't Skimp on the First Aid Station
Carefully set up your first aid station in the lab. According to OSHA, employers are required to "provide medical and first-aid personnel and supplies commensurate with the hazards of the workplace. The details of a workplace medical and first-aid program are dependent on the circumstances of each workplace and employer."
Include items that are applicable to likely accidents or injuries that could result from the type of work done in your lab. First aid items should be easily accessible, well organized and clearly marked. Read more in OSHA's Best Practices Guide: Fundamentals of a Workplace First-Aid Program.
6. Familiarize Yourself with the Space
Well, this one seems obvious! But you'd be surprised how many people fail to stop and take a good look around. Knowing where the first aid station, fire extinguisher, fire alarm pull and emergency exit are located will make a major difference (and could literally save a life) in the event of an accident or emergency. Include familiarization in your training program criteria.
7. Know Emergency Procedures
Simply knowing where the first aid station is located does not mean you fully understand emergency procedures. Knowing how to respond in different scenarios, the proper action to take to remedy a situation and how to use various safety equipment (eye wash station, fire extinguisher, defibrillator, etc.) is key. Also note the location of emergency exits and building evacuation protocol should something happen while you are working in the lab.
8. Take Care with Chemical Substances
Store all chemical substances in a designated area with signage posted. Sort substances by reactive class (acids, bases). Post MSDS sheets for potentially dangerous or highly flammable substances, and make MSDS sheets readily available for all substances present. Be sure to dispose of hazardous substances properly in approved and marked bins. If special dumping instructions are required, post them.
9. Wear Personal Protective Equipment (PPE)
Which PPE should be worn is determined by the risk of hazard involved in the task at hand. Wearing equipment such as goggles, gloves or face shields can provide excellent protection and help prevent injury. It is also important to wear appropriate attire; avoid wearing loose clothing, open-toe shoes or accessories that will get in the way, like scarves or jewelry.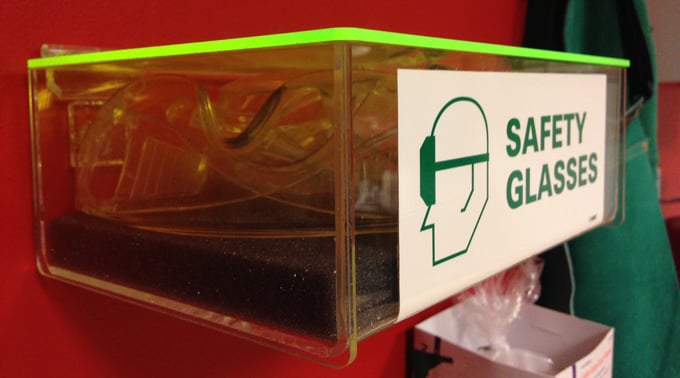 10. Report Safety Hazards Immediately
Quick reporting of perceived safety hazards, including machine malfunctions or substance spills, will help maintain safety in the lab. Create a response plan for different scenarios and task a designated party with resolving any lab issues that arise. The PDCA Cycle is a good place to start when it comes to establishing a continuous improvement process.
Remember: The most costly problem is one related to a safety accident. Take the proper measures to create a safe and functional environment for your employees. Everything else should take a back seat to safety.