Wouldn't it be nice if you could anticipate everything that could adversely affect your business? But let's face it, some things defy imagination.
For instance, on the evening of March 30, 2017, a large fire was set underneath an overpass on Interstate 85, a major artery that cuts through the heart of metro Atlanta. On a typical day, more than 250,000 vehicles, including many commercial trucking lines, used that road. The heat generated by the blaze caused the collapse of the bridge, a 100-foot-long section of the interstate. Ultimately, three sections of northbound I-85 and three sections of southbound I-85, had to be replaced.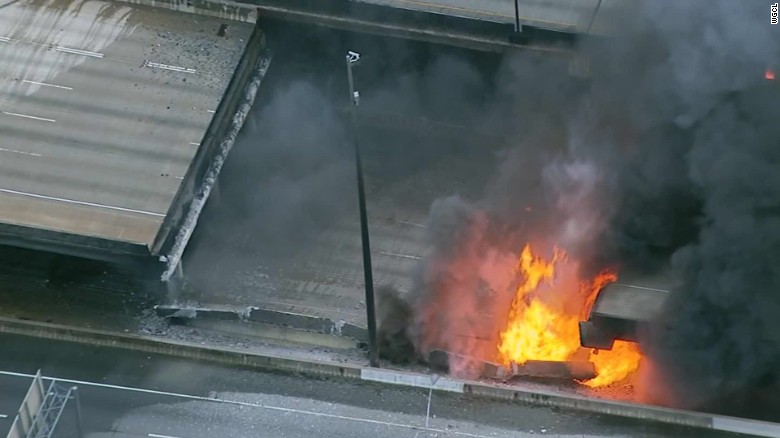 Photo credit: CNN
Companies throughout the U.S. were left wondering how this event — losing a crucial portion of interstate — would affect their delivery times. The disruption was felt throughout the region for weeks as traffic was diverted to other interstates and surface streets. Fortunately, the state's Department of Transportation was able to repair and reopen the road on May 15, five weeks ahead of schedule, but the incident demonstrated how an event in one portion of the country could impact the flow of business across the nation and around the world.
Few mottos are as universally applicable as the one adhered to by Boy Scouts around the world: Be prepared!
It's a fact. Preparation is the best defense against disasters that threaten a seamless supply chain. Smart companies know that whether it's a bridge collapse, a hurricane or striking employees, they need a plan that will keep product flowing throughout the supply network. Protecting your supply chain from disaster means making sure your suppliers are prepared as well.
Natural Disasters

Photo courtesy of Pexels
The good thing about weather events is that typically there's warning; the bad thing is that their behavior can be unpredictable in terms of intensity or location. Meteorologists watching tropical storms turn into hurricanes or typhoons use computer models to project the storm's paths. Wildfires in California are common, but the Santa Ana winds make for a lethal combination. Companies located in areas with a lot of seismic activity know that their facilities have to be to specific codes to withstand occasional earthquakes and aftershocks.
The key to managing weather events and natural disasters is preparation.
Make sure your facility is built to withstand whatever pressure it might come under.
Have access to back-up power to run your facility.
Designate a specific place for employees to shelter in the event of an emergency.
Train your employees in emergency procedures. Hold occasional emergency drills and take them seriously.
Keep emergency supplies on hand (batteries, weather radio, flashlights, first aid equipment, possibly water and non-perishable food).
Maintain up-to-date documents of floor plans, complete with the location of shut off valves, electrical panels, etc.
Man-made
Accidents
The key to surviving a man-made disaster such as accidents stemming from equipment or infrastructure malfunctions is also preparation. This can be more difficult because, as we said at the outset, the failure is often our inability to imagine something could happen. No one wants to imagine the worst-case scenario, but that's exactly what you must do.
Follow all instructions when using any equipment. No shortcuts!
Wear safety glasses and any other appropriate safety gear (hard hat, hearing protection, breathing protection, etc.)
Keep your facility in good repair. Handrails or guardrails firmly attached; no loose tiles or uneven flooring or pavement; ensure your electrical systems are up to code and capable of bearing the load you require of it.
Keep your equipment in good repair. Document all safety checks.
Labor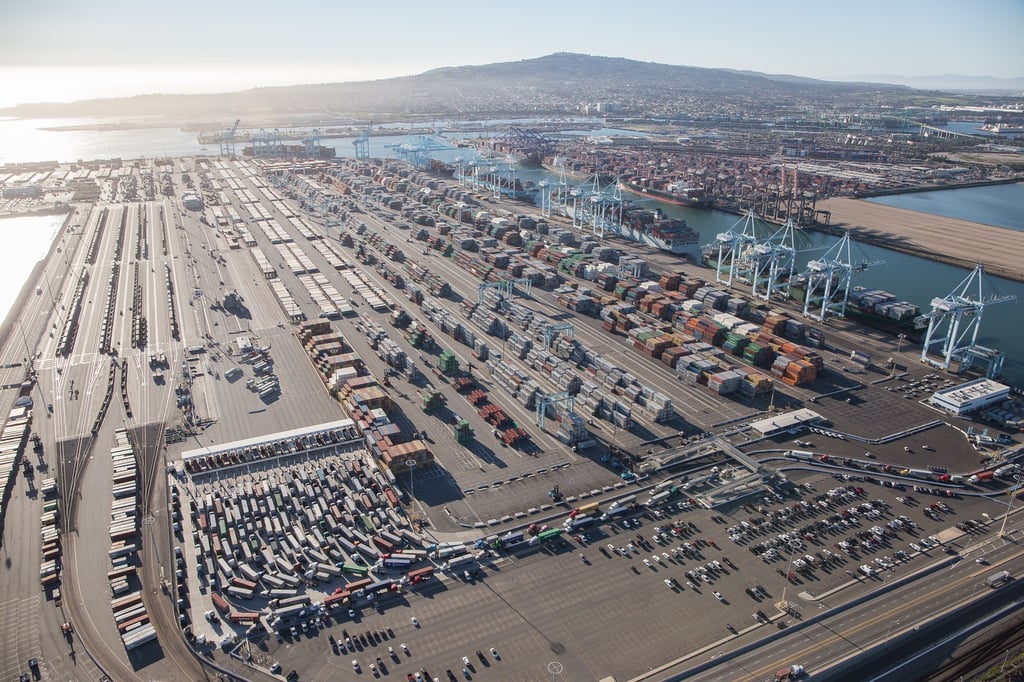 Labor issues can be another type of man-made disaster. Back ups at ports due to strikes (like in the photo above) or worker shortages due to cultural events, on the scale of Chinese New Year, can severely disrupt your company's ability to produce and distribute goods.
In the case of holidays, you know they're coming year after year. Develop a strategy to address the potential worker shortage. In China that might mean trying to employ workers from around your factory who won't travel far for the holiday, or paying a bonus for workers who come back after Chinese New Year. It goes without saying that paying your employees a decent wage, treating them fairly and with respect will go a long way toward holding onto those employees.
Learn more about how Chinese New Year can affect your business!
Recalls
UPS recently published a blog post about the importance of engaging in an exercise of "reverse logistics" to prepare in the event of a product recall. Vignesh Anandan, senior marketing manager for the technology industry at UPS said that the "tech industry can learn a great deal from healthcare when it comes to managing product recalls." Tech companies tend to react to recalls, while healthcare companies have to plan in advance for the potential of a recall because of strict regulatory protocols. "The time to act is when there is no threat on your business horizon," says Anandan.
He suggests the following steps to develop a product recall strategy:
Carry out an assessment that maps the urgency and the scope of a potential recall. Ask these key questions to develop a picture of the level of risk that exists for your organization:
What is the known failure rate of various product components?
What is the performance record of the suppliers providing these components?
How extensive are your internal product-testing protocols?
In what type of environment(s) is the product designed to be used?
What is the carrier's evaluation of the suitability of the proposed packaging?
If there is a product failure, how will it impact the manufacturer and customer?
Understanding the risk is essential to designing your plan. Build a product recall team with input from product development, logistics, communications, finance and legal departments to anticipate every aspect of the customer's needs.
And don't ignore the effect political and economic shifts can have on your business. Transitions in political leadership can bring changes in economic policy. Stay informed. You don't have to be immersed in the 24-hour news cycle, but it is a good idea to read such publications as the Wall Street Journal, Bloomberg or other trusted news sources (Marketplace is also good). The Federal Reserve Board publicizes their meeting dates - which can sometimes corollate with spikes in the stock market.
Develop Your Plan
When developing your plan, you're saying "If this, then this…"
For example, if you know there is a growing shortage of commercial truck drivers and you operate a commercial trucking company, then take steps to discover the resources available to you through education or economic development entities. Many states or community colleges have programs in place to educate potential workers of the benefits of becoming a commercial truck driver, and have created a funnel to train them. The same is true for other jobs in manufacturing that are difficult to fill due to the growing skills gap. You don't have to sit idly by — recruit, educate, train, employ.
Similarly, when you know a storm is coming and that ships carrying your customer's cargo will be unable to get to the port, let your customer know as soon as possible. Get an estimate of how long it will take after the storm passes for your cargo to make it to the port. Have transportation assets positioned nearby to be able to collect the cargo as soon as possible so it can get on the road/rail to your customer.
Here are a few more pointers for your disaster plan:
Maintain an emergency file which includes list of backup suppliers, contact info for insurance, repair/maintenance personnel, contractors.
If you are hit by a disaster, whether natural or man-made, you will need to take several steps immediately:
Assess damage, photos, contact insurers.
Contact customers - inform of disruption, that you're gathering info and will give them a realistic estimate in ** (don't give them false hope of an estimate. It's better to under promise and over deliver.)
Based on information, determine what must occur to restart operations. Personnel required, equipment, other resources?
Once restarted, how long until partial/full recovery is achieved?
Contact customer with a revised estimate of when you'll be operating at 100 percent capability.
The goal is to prepare as best you can — to build depth in your supply chain so that if one supplier is unable to provide your materials or product, there's a back up who can fill the need. We hope that you never have to put this plan into practice but if you do, pat yourself on the back that much of the heavy lifting is already done.
Read more: